Sallie Mae on Google Play

Sallie Mae on App Store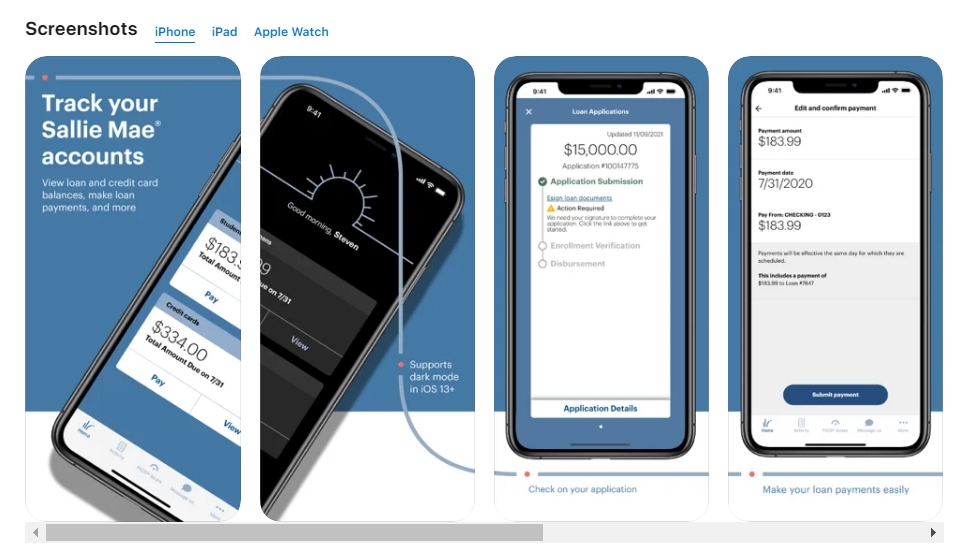 Availability
Sallie Mae allows its borrowers to manage their private student loans through the mobile application. It is accessible for iOS and Android users and is adapted to the Apple Watch. Unlike other private student loan lenders, Sallie Mae's mobile application won a Gold Award in 2017.
If you have Apple Watch, you can pay your Sallie Mae student loan or check the confirmations with it. You simply need to download the application from AppStore and install it on your iOS device, then sync it with your iPhone. Sallie Mae is the first loan servicer proving customers with the availability of smartwatches.
To download the application for Android, you have to go to Google Play and find it there. To run it, you need to install it on your phone.
The mobile application supports iOS 11 and Android Oreo. You can also select a dark mode for your app.
Features
The application of Sallie Mae allows a borrower to keep track of their loans and credit cards. You can set up the auto-debit option directly from the app. To sign in, you need to enter your existing username and password or use your fingerprint.
Within the mobile app, you can:
Check your account and credit cards from the home screen;

Make on-time payments for the loans;

Set up an auto debit from your bank account;

Check the status of your applications;

Get notification on the repayment term;

Track your credit score; and

Contact customer support.