About Lender
Possible Finance is a lending company based in the United States that offers an alternative to payday loans to people in need of financial assistance. They specialize in providing short-term installment loans, which are alternatives to payday loans.
Unlike conventional payday loans, which are typically due in full on the borrower's next payday and often carry exorbitant interest rates, Possible Finance installment loans can be repaid over a longer period in small, manageable amounts of payments. This makes them a more affordable option for borrowers who need to borrow money quickly but can't afford to pay back the loan all at once.
Possible Finance is a payday loan alternative that offers a more flexible and affordable lending option for people who need short-term financial help.
Key Features
Fast Application Process. Possible Finance has a streamlined online application process that takes only a few minutes to complete. Using the Possible Finance app, borrowers can apply for loans directly from their mobile phones.

Instant Decision. After completing the application, borrowers can receive an instant decision on their loan request. This means they can quickly get the money they need, often within minutes.

Flexible Repayment Options. Possible Finance offers installment loans, which allow borrowers to repay their loans over a period of time in small, manageable payments. This is a more affordable option compared to payday loans, which require borrowers to repay the full amount plus interest in a single payment.

Suitable for bad credit. Applying for Possible Finance personal loans does not require a traditional credit check to approve loan applications. Instead, they use alternative data sources to assess a borrower's creditworthiness, which means more people may be eligible for a loan.

Possible App. Possible Finance app allows borrowers to manage their loans and payments directly from their phones. The app also includes budgeting tools and credit education resources to help borrowers improve their financial literacy. It is available in Google Play Store and in App Store as well.

Low Fees. Possible Finance loans involve no late or penalty fees. However, your bank may still charge your insufficient funds fees. Origination fees of 2% may apply.
Pros and Cons
Pros
Cons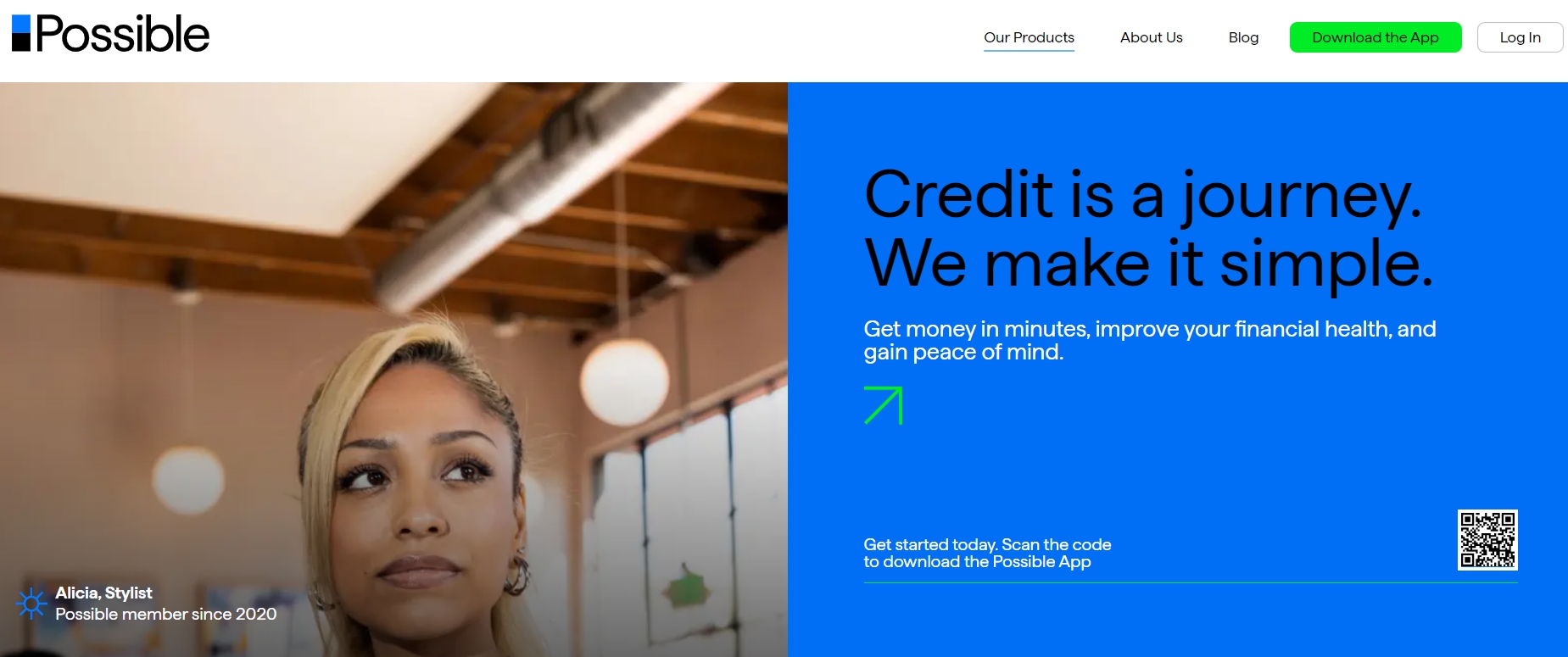 Reliability
Possible Finance has a solid reputation for reliability and has received positive reviews from various sources, including the Better Business Bureau (BBB), Business Insider, and TechCrunch.
The BBB has given Possible Finance a B rating. This rating reflects the company's commitment to ethical business practices and customer satisfaction. Additionally, Possible Finance has received positive reviews on the BBB website, with customers praising the company's easy application process, helpful customer service, and transparent loan terms.
Business Insider, a leading business news publication, has also featured Possible Finance in multiple articles, highlighting the company's innovative approach to short-term lending and its commitment to helping borrowers improve their credit scores. The publication has described Possible Finance as a "useful alternative to payday loans."
Finally, TechCrunch, a prominent technology news website, has featured Possible Finance in multiple articles, recognizing the company's use of technology to make lending more accessible and affordable. In one article, TechCrunch described Possible Finance as "one of the most interesting and disruptive players in the lending space."
Overall, the positive reviews and ratings from reputable sources like the BBB, Business Insider, and TechCrunch are a testament to Possible Finance's reliability and commitment to providing high-quality lending services to its customers.
How to apply for a Possible Finance loan?
Download the App. Go to the Google Play Store (for Android devices) or the iOS App Store (for iPhones) and search for the "Possible Finance" app. Download and install the app on your mobile device.

Create an Account. Open the app and sign up for an account. You'll need to provide your personal information, including your name, email address, and password.

Provide Required Information. Once you've created an account, the app will guide you through the process of providing the necessary information. This typically includes details such as your employment, income, banking, and other relevant details.

Submit Documents. Possible Finance may require you to provide certain documents to verify your identity, income, and other information. These documents could include a photo of your ID, proof of income, and bank statements. You'll usually be able to upload these documents directly through the app.

Loan Application. After submitting all the required information and documents, you can proceed to fill out the loan application. This will include selecting the loan amount you're requesting and the repayment terms that suit you.

Review and Accept Terms. Carefully review the terms and conditions of the loan before accepting them. Ensure you understand the interest rates, repayment schedule, and associated fees.

Submit Application. Once you've reviewed the terms and are comfortable with them, you can submit your loan application through the app.

Wait for Approval. Possible Finance will review your application and the provided documents. This process may take some time, and the company will notify you about the status of your application.
Conditions and Requirements
Conditions
Loan Amount. Possible Finance loans range from $100 to $500, depending on eligibility. Possible Finance states that APRs range from 150% to 200%, though they may go up to 249% in some states.

Loan Term. Possible Finance loans must be repaid within four weeks or over four equal installments, depending on the borrower's repayment preference and eligibility.

Fees. Possible Finance charges lower fees than traditional payday lenders, but there is still a fee associated with borrowing. The exact origination fee varies based on the amount borrowed, repayment terms, and other factors. Typically, it is 2% of the loan amount. Possible Finance does not charge interest or penalties for late payments but charges a fee for missed payments.

Credit Check. Possible Finance does not require a traditional credit check to approve loan applications. Instead, they use alternative data sources to assess a borrower's creditworthiness.

Eligibility. To be eligible for a Possible Finance loan, borrowers must be at least 18 years old, have a steady income, and meet other eligibility requirements. Possible Finance loans are only available in certain states, so borrowers should check the website or mobile app to determine if they are eligible. To be eligible, you must have a monthly income of no less than $750 and maintain consistent deposits for a period of at least two months.

Repayment. Borrowers can repay their loan in four equal installments or in full on their due date. Possible Finance loans can be repaid early without penalty.
Requirements
Device Compatibility. You can use either a mobile device capable of downloading and installing the Possible Finance app or an electronic device that can access our web app.

U.S. Cellphone Number. A valid U.S. cellphone number is required for account verification purposes.

Personal Information. Provide your full name, date of birth, street address (excluding PO Boxes), and Social Security Number (SSN).

Identification Documentation. When requested, you may need to submit a valid driver's license or state-issued ID to assist us in confirming your identity.

Checking Account. You'll need a compatible checking account supported by our partner, Plaid. This ensures a secure and seamless loan transaction process.

Financial History. Have at least 3 months of transaction history, showcasing recent income deposits and maintaining a positive bank account balance.

Income. You must have a monthly income of at least $750.
Ways to receive the money
After you've signed the loan agreement, the company will deposit the loan funds directly into your bank account. Depending on your bank, the funds may take up to 24 hours to be available.
Products
Possible Finance is a lending company that provides borrowers with an alternative to payday loans: a small installment loan. With their credit builder loan, borrowers can receive up to $500 instantly, and there are never late or penalty fees. Instead, borrowers can pay back their loan over time in 4 equal installments. This repayment plan helps minimize debt and build a credit history, allowing borrowers to improve their financial situation. By making on-time payments, borrowers may even unlock access to the Possible Card, which is designed to help users build their credit history while minimizing debt. With this innovative approach to lending, Possible Finance is helping borrowers achieve financial stability and avoid the financial stress often associated with payday loans.
Possible Finance has recently announced the upcoming launch of a credit card product. Unlike traditional credit cards that can often be a source of financial stress, the Possible Finance credit card is designed to help users build credit while minimizing debt. Upon approval, users can quickly receive either a $400 or $800 credit limit. One of the most unique features of this credit card is that it does not charge any interest or late fees, ever. Additionally, there is no credit check or security deposit required to apply. Instead of a revolving credit line, the Possible Finance credit card will require users to pay off their balance in 4 equal installments over time. This innovative approach to credit card payments helps users manage their debt while building their credit history. With the Possible Finance credit card, users can rest assured that they have a financial tool that is designed to help them, not hurt them.
Other Loans
Alternatives
Oportun
Oportun is a reliable financial service provider that offers personal loans designed to meet the diverse needs of its customers. New customers can typically access loan amounts ranging from $500 to $4,000, while returning customers may be eligible for higher amounts, up to $1,500 to $6,600. Oportun prides itself on offering affordable APRs, ensuring that borrowers are not burdened with excessive interest rates, with APRs no higher than 35.99%. Their flexible loan options allow individuals to pay for specific needs when they arise, whether it's funding home improvements, covering car repairs, securing rental deposits, paying medical bills, taking a much-needed vacation, or dealing with unexpected expenses.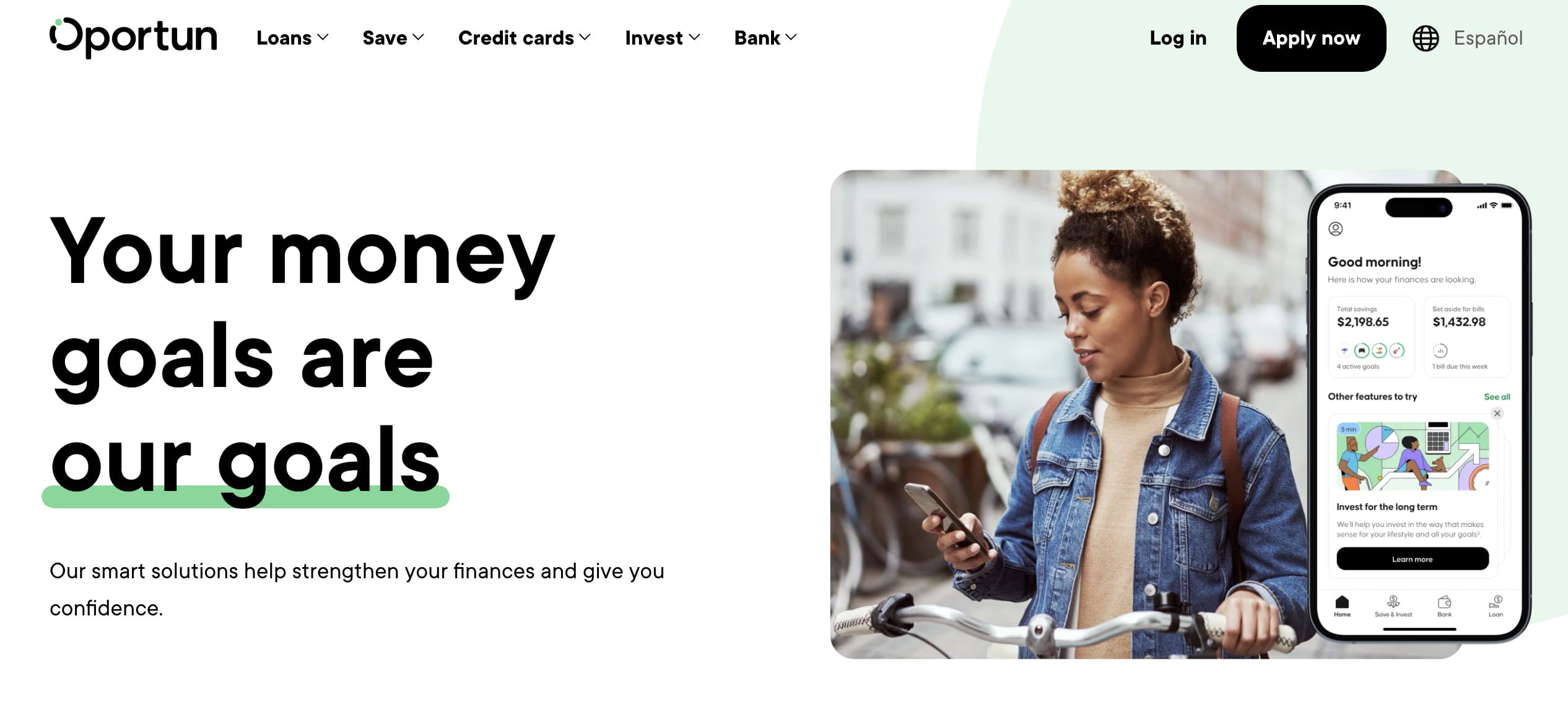 World Finance
World Finance is a reputable lender that provides a unique approach to personal installment loans, particularly designed for individuals with less-than-perfect credit or those without a credit history. In most states, borrowers can access traditional installment loans ranging from $450 to $10,000, with some states offering loans up to $12,000. Unlike risky payday or title loans, World Finance's personal installment loans consider the borrower's overall financial situation. They work closely with customers to establish equal monthly payments based on their ability to repay the loan, promoting responsible borrowing and financial management.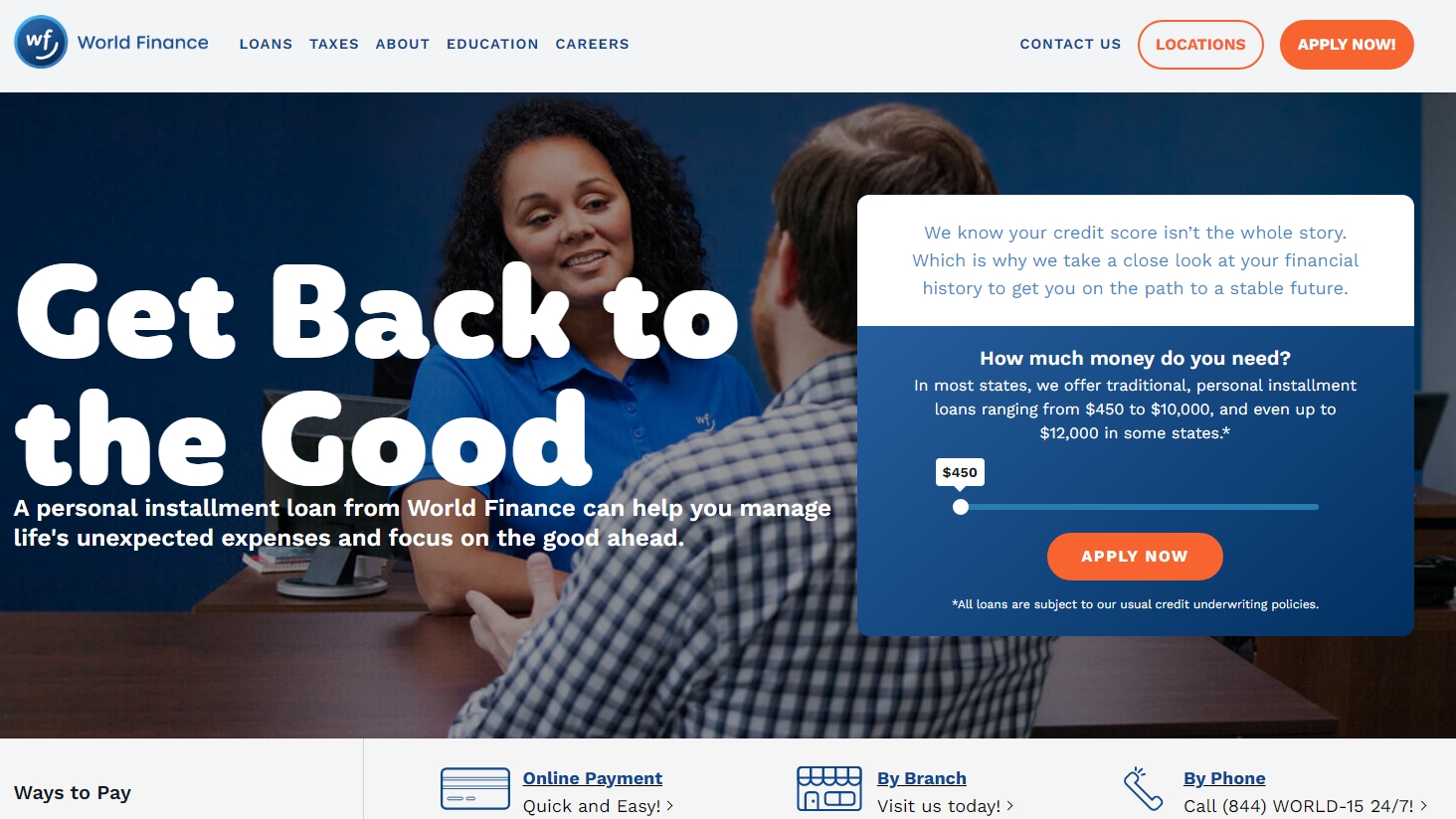 NetCredit
NetCredit is a trusted financial provider known for its fast funding and flexibility in loan terms. Borrowers can access personal loans and lines of credit for up to $10,000. The company has partnered with reputable institutions like Republic Bank & Trust Company and Transportation Alliance Bank, Inc. d/b/a TAB Bank to offer services in select states. This collaboration ensures that customers receive reliable and secure financial solutions.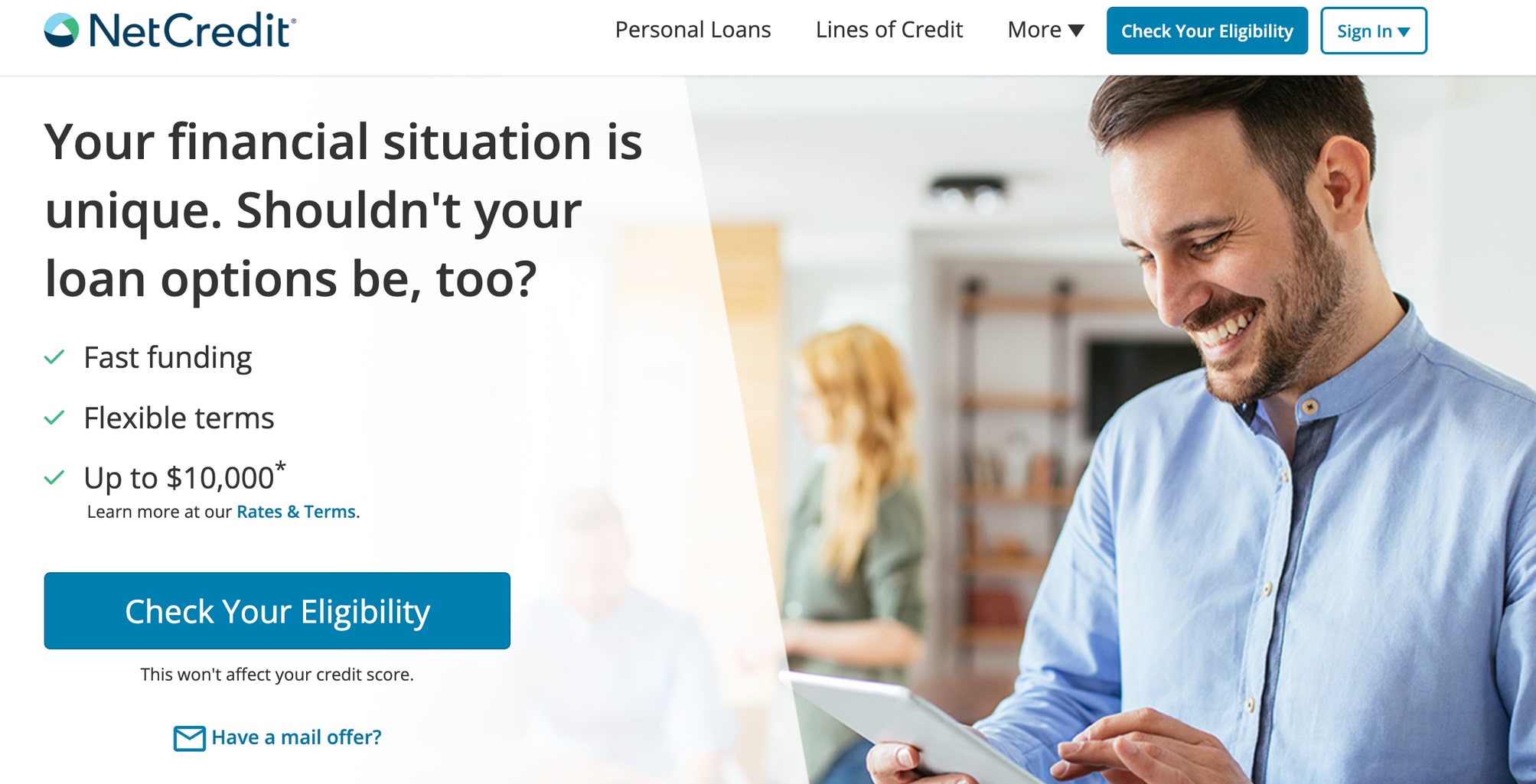 LendingPoint
LendingPoint is a reputable lender that offers personal loans ranging from $2,000 to $36,500. They believe in understanding their customers beyond the traditional criteria of numbers. To achieve this, LendingPoint has invested significant effort in developing a proprietary smart technology that can quickly assess various aspects of an individual's financial situation. This technology allows them to create a more comprehensive and accurate borrower profile in just seconds. By looking beyond credit scores and considering the broader financial context, LendingPoint strives to provide personalized loan options that better suit each customer's unique needs and circumstances.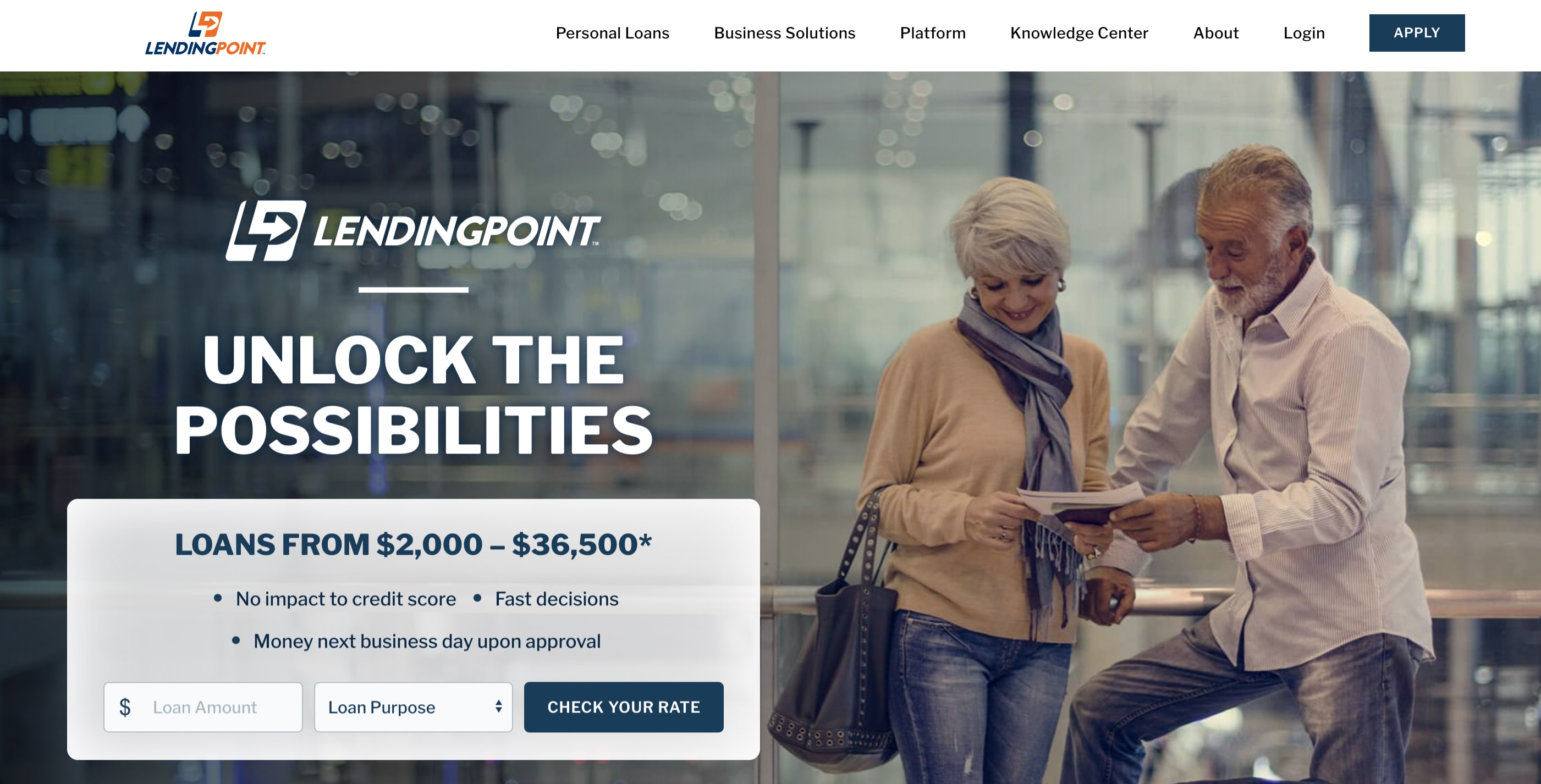 Rise Credit
Rise Credit is a trusted online lender offering loans of up to $5,000. Their application process is quick and simple, enabling borrowers to receive funds in their accounts as soon as the next business day. With the ability to borrow on their own terms, customers can select a payment schedule that aligns with their financial preferences, though state restrictions may apply to some options. Rise Credit also stands out with its 5-Day Risk-Free Guarantee, allowing borrowers to rescind their loan and repay the principal without any fees or interest if they change their minds within the specified timeframe. Moreover, Rise Credit provides customers with free access to their credit score and credit monitoring alerts through Credit Score Plus, empowering them with valuable financial insights.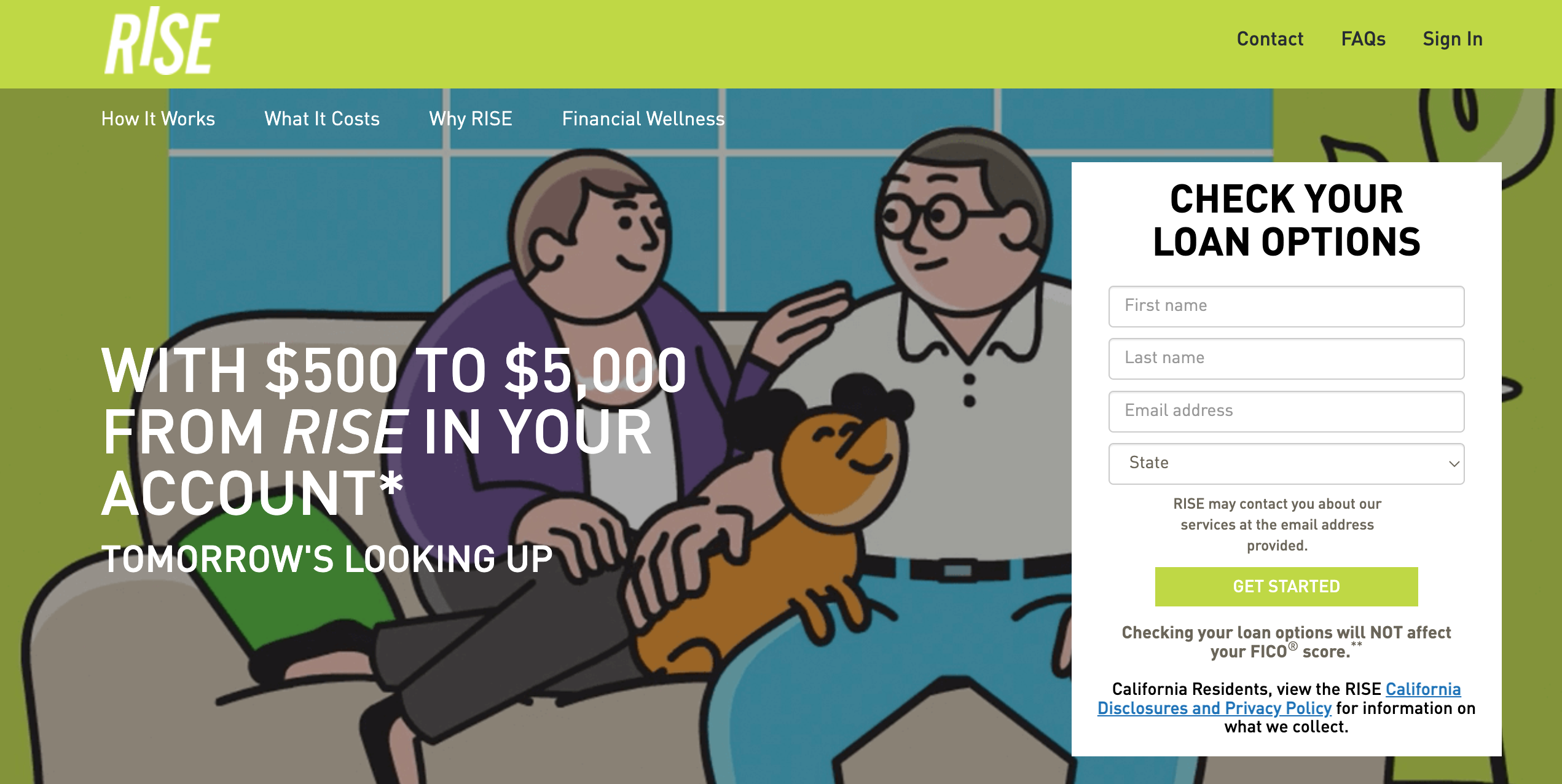 Editorial Opinion
Important
How to Choose a Lender
Make sure to confirm whether the lender is licensed to operate in your state. You can verify this information with your state regulator or attorney general.

Check if the lender is a member of a reputable association, such as the Community Financial Services Association of America. Membership in such organizations may provide an extra level of reliability.

Carefully review all the terms and conditions of your payday loan contract.

Thoroughly examine the interest rates on payday loans and ensure that your contract includes a detailed breakdown of the total cost of the loan.

Take advantage of your right of rescission. Usually, you can rescind the loan within three days after signing the agreement. Alternatively, there is typically a "cooling-off" period, which allows you several days to thoroughly review the contract before making an informed decision to enter into a consumer loan agreement based on the terms specified by the lender.

Choosing a payday lender is a significant decision that demands careful consideration and a good understanding of how such organizations operate.
Additional Resources
Sources