About Lender
OppLoans is an online platform that offers personal loans to Americans. It doesn't matter what your credit is. Even if you have a bad credit history, you can apply for online personal loans on its website. As a lending platform, OppLoans provides services to borrowers rejected by traditional lenders.
The company was founded in 2012 by Todd Schwartz, and its headquarter is in Chicago. The mission of OppLoans is to ensure facilitated access to credit.
Unlike traditional payday loans, which typically have high-interest rates and short repayment terms, OppLoans offers longer repayment terms and lower interest rates. This can make it easier for people with poor credit to borrow money without getting trapped in a cycle of debt.
OppLoans' loans range from $500 to $4,000 and can be used for a variety of purposes, such as emergency expenses, debt consolidation, and home repairs. The company offers fixed-rate loans with repayment terms of up to 18 months, and there are no prepayment penalties if you want to pay off your loan early.
To qualify for a loan from OppLoans, you must be at least 18 years old, have a regular source of income, and have a checking or savings account in your name. When making loan decisions, the company also considers other factors, such as your credit history and employment status.
One unique feature of OppLoans is its commitment to financial education. The company offers a variety of resources on its website to help customers improve their financial literacy and make better decisions about borrowing and managing money.
Overall, OppLoans can be a good option for people with poor credit who need to borrow money for a variety of reasons. However, it's important to carefully consider the terms of the loan and make sure you can afford the payments before taking out any loan.
If you look for a personal loan from online lenders, you can apply to OppLoans. This online service will help you get a loan if you don't have savings or a poor credit score.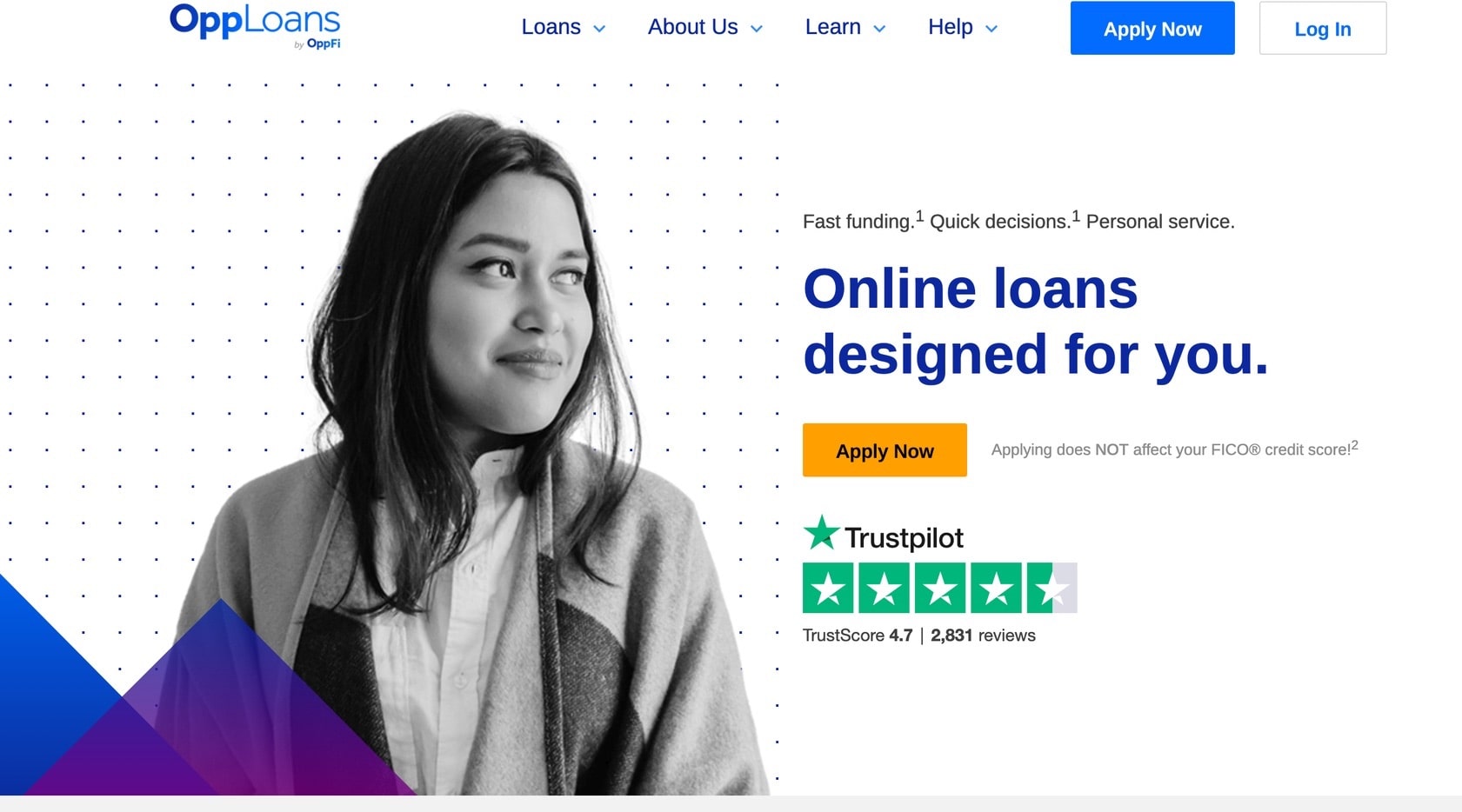 Key Features
Quick funding. OppLoans typically provides loan approval and funding within one business day.

No credit check required. While OppLoans considers credit history when making loan decisions, there is no minimum credit score required to apply.

Flexible repayment terms. OppLoans offers repayment terms ranging from 6 to 36 months, allowing borrowers to choose a repayment period that works best for their budget.

Online application. OppLoans' loan application process can be completed entirely online, making it convenient and easy to apply from anywhere.

Financial education resources. OppLoans offers a free financial education platform called OppU, which includes courses, quizzes, and interactive tools to help customers improve their financial literacy.
Overall, OppLoans provides a convenient and accessible option for people with poor or fair credit who need access to funding. However, it's important to carefully review the loan terms and fees and compare them to other lenders before making a decision.
Pros and Cons
Pros
Online service. OppLoans' borrowers can apply for personal loans directly on the site. Before choosing the best personal loan option, read OppLoans personal loans review.

No credit check. Unlike other loan lenders, OppLoans don't request your credit report. If you have a low credit score, you're still allowed to use personal loan options.

No minimum credit score to qualify for a loan.

Lower APR. The annual percentage rate (APR) of OppLoans is lower than payday loans.

Longer repayment terms. OppLoans' repayment terms, in comparison with payday loans, are longer.

Quick access to funds. You can get money the next day after your loan is approved.
Cons
Not available in some states. Thus, not every U.S. citizen will be able to take a loan from OppLoans.

Small loan amounts. You can borrow up to $4,000. OppLoans doesn't permit bigger loan amounts.

Extremely high minimum and maximum APRs. Unlike other lenders' loan rates, OppLoans' interest rates are high.

Limited loan terms. In contrast with the other lenders who offer longer loan terms, OppLoans offers only 9-18-month terms.
As you can see, OppLoans personal loan has both advantages and disadvantages, so you need to learn more about OppLoans service.
OppLoans Products
OppLoans offers personal installment loans that range from $500 to $4,000, which can be used for a variety of purposes. These loans are designed for people with poor or fair credit who may not be able to qualify for loans from traditional lenders.
OppLoans' personal loans have fixed interest rates and repayment terms that range from six to 36 months. The company also offers a free budgeting tool on its website to help customers plan their finances and make timely payments.
OppLoans also offers refinancing options for existing personal loans. Customers can apply to refinance their loans for a lower interest rate, longer repayment term, or lower monthly payment.
Overall, OppLoans' products are designed to help people with poor credit access the funding they need to cover unexpected expenses, consolidate debt, or make other necessary purchases. However, it's important to carefully consider the terms and fees of these products and ensure that you can afford the payments before applying.
Reliability
OppLoans is a licensed and regulated lender in the United States, and the company has been in business since 2012. The company has an A+ rating with the Better Business Bureau and has received positive reviews from many customers.
OppLoans is also committed to responsible lending practices and is a member of the Online Lenders Alliance, which sets industry standards for transparency, fairness, and ethical practices. The company's loan terms and fees are clearly disclosed on its website, and customers have access to a variety of resources to help them make informed decisions about borrowing money.
However, like any financial product, OppLoans' loans may not be suitable for everyone. The company's interest rates are typically higher than those offered by traditional lenders, and customers with poor credit may face higher fees and interest rates than those with good credit.
It's important to carefully review the terms and fees of any loan before applying and only to borrow what you can afford to repay. Customers should also be aware of the potential risks and drawbacks of borrowing money, including the risk of falling into debt and damaging their credit scores.
Overall, OppLoans can be a reliable option for people with poor credit who need access to funding. However, it's important to do your research and carefully consider the pros and cons before applying for any loan.
OppLoans Conditions
OppLoans personal loan amounts range from $500 to $4,000. However, borrowers should know that the personal loan amounts depend on factors such as state, credit scores of citizens, and others. For example, Alabama residents have to borrow at least $2,000, but if you live in Georgia, your loan amount will start at $3,001.
The annual percentage rate (APR) varies from state to state and ranges from 59% to 160%. Personal loan interest rates range from 5% to 36%. There are no origination fees. As mentioned above, the duration of OppLoans' personal loans ranges from 9 to 18 months.
OppLoans has a TurnUp Program. Under this program, OppLoans reviews the offerings of 15 near-prime lending partners to determine if applicants are eligible to get a better, lower-interest loan.
OppLoans offers installment loans in states like Alabama, Georgia, Nevada, and Wisconsin. In the States of Nevada and Wisconsin, for example, loan amounts of typical installment loans range from $500 to $4,000, repayment terms vary from 9 to 18 months, and APR is 160%.
But there are also loans originated and funded by OppLoans lending partners. Such loans are available in the States of Arizona, Arkansas, California, Florida, Hawaii, Indiana, Kentucky, Louisiana, Minnesota, New Mexico, Oklahoma, Texas, and some others.
If your loan amount is $2,000, your APR and loan duration will be 160% and nine months, respectively. The number of your payments will be nine payments of $394.58. If you borrow $2,000, your APR and loan duration will be 160% and 12 months, respectively. You'll have to pay 12 times for $514.60. And if you have a maximum loan amount of $4,000, you will pay 18 times $595.14, and your loan duration and APR will be 18 months and 160%, respectively.
OppLoans lending partners are responsible for underwriting and approving loans, as well as funding approved loans. OppLoans services all these loans.
Funding a loan
You don't need to reveal why you apply for a loan in your personal loan application. However, OppLoans recognizes four main reasons for the funding process, such as medical bills, home renovation, car repairs, and debt consolidation.
OppLoans doesn't require any minimum FICO Score or Vantage Score. Though, the company gathers information from alternate credit bureaus and requires banking data of its future borrowers.
If you qualify for an online personal loan, you must have a bank account, steady income, and get paid through direct deposit (except for New Mexico residents). OppLoans borrowers can receive their loan funds the next day after approval.
Unsecured personal loans
An unsecured, fixed-rate loan is the most common type of OppLoans installment loan. The lenders determine a loan amount for every borrower depending on his creditworthiness. The lender will need information such as your credit score and credit history to determine your eligibility. Thus, borrowers who have low credit scores will get higher interest rates.
This type of loan is riskier to the lender because it requires no collateral. It means that you may qualify for this type of loan only if you have a solid credit history.
There are five steps to getting an unsecured personal loan:
Assess your budget,

Review your credit history,

Compare lenders and pre-qualify,

Gather personal financial information (Social Security number, tax returns),

Apply for one loan.
Other Loans
Additional services
OppU is a financial education platform offered by OppLoans to help customers improve their financial literacy and make better financial decisions. The platform includes a variety of educational resources, including courses, quizzes, and interactive tools that cover topics such as budgeting, saving, credit, and debt management.
One of the main features of OppU is its interactive financial literacy course, which is available for free to anyone who signs up. The course includes videos, quizzes, and other interactive elements that help users learn the basics of personal finance, such as creating a budget, building credit, and saving for the future.
In addition to the financial literacy course, OppU also offers a variety of other resources to help customers improve their financial knowledge and skills. These include articles and guides on topics such as credit scores, debt consolidation, retirement planning, calculators, and other tools that can help users plan and track their finances.
OppU is a valuable resource for anyone who wants to improve their financial literacy and make better financial decisions. Whether you're a customer of OppLoans or just looking for free educational resources, OppU can help you build the skills and knowledge you need to achieve your financial goals.
Additional Resources
Sources