Affiliate
Discover the Benefits of Oportun Loan Referrals
Embark on a journey of financial empowerment with the Oportun Loans Referral Program. By referring friends, family, or acquaintances, you not only help them secure affordable loans but also earn rewarding benefits for yourself. The referral program is designed to create a community of financially savvy individuals, aiding each other towards achieving financial stability. Explore the program, refer, and reap the benefits while contributing to a financially literate community.
Have you ever wondered how you can transform your social connections into a steady stream of income? With the referral program Oportun, you can do just that! This incredible program not only helps you earn money but also empowers you to improve your financial health. Ready to unlock the secrets of maximizing your savings and expanding your earning potential? Let's dive in!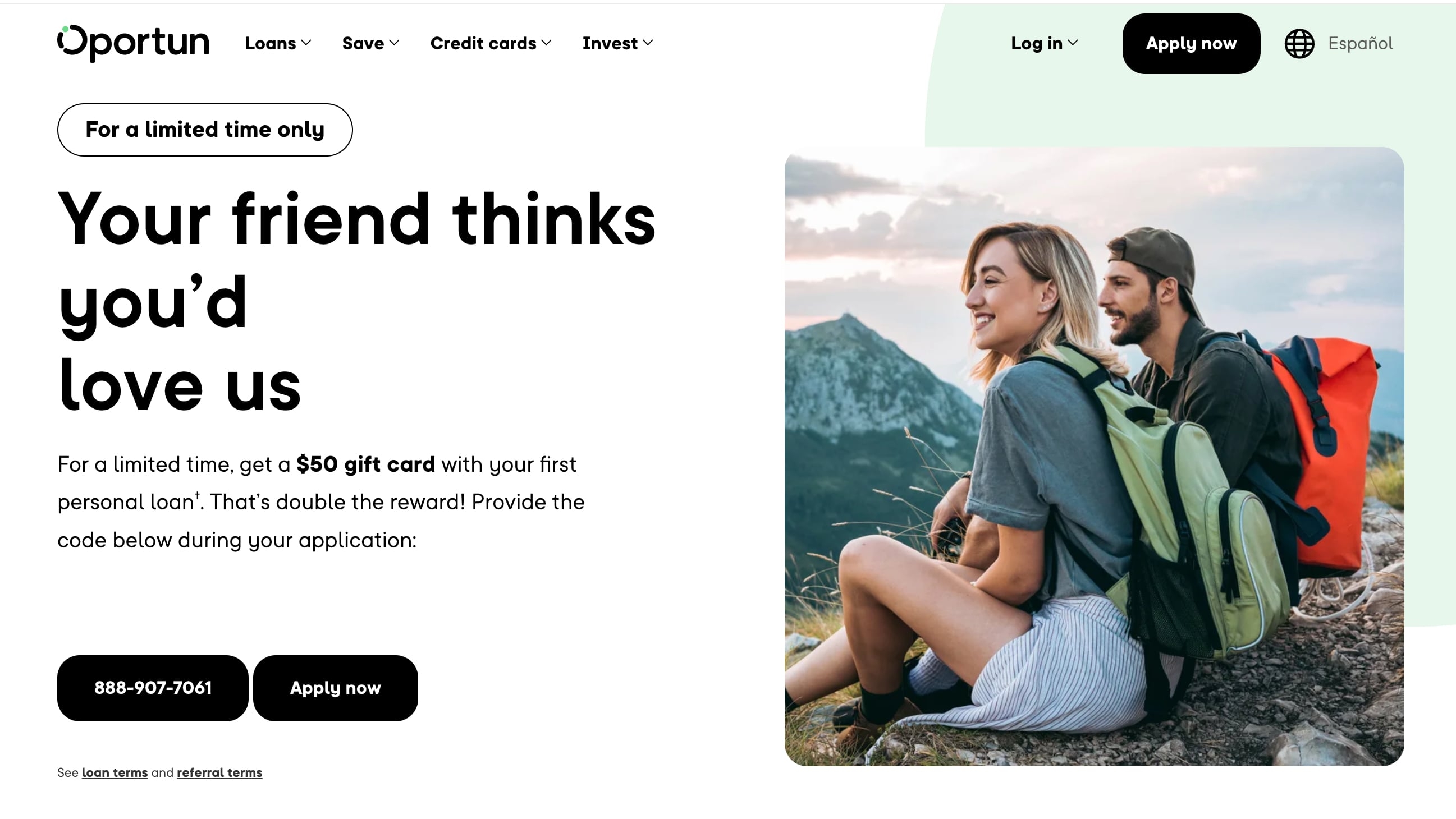 Key Takeaways
Oportun's Referral Program offers cash rewards and free financial coaching to help users improve their financial wellbeing.

Participants can receive up to $25 in rewards when referring friends, with exclusive benefits for Savings-Only Members.

Maximize your earning potential by taking advantage of multiple referral programs offered by travel and gig economy platforms.
Unlocking the Benefits of Oportun's Referral Program
Imagine earning rewards and boosting your financial knowledge just by sharing a referral code with friends and family. Yes, it's possible with Oportun's referral program! This financial services company specializes in providing consumer credit to individuals with poor, fair, or no credit history.
Joining their referral program enables you to earn cash rewards and avail of free financial coaching to better your financial situation.
How to Join the Referral Program
Wondering how to enroll in this outstanding referral program? It's straightforward! Here's how:
Click on a referral link to join.

When prompted, use the code provided.

Once your loan is approved, you can access your Oportun referral code by selecting the referral button.
And the best part? Non-Oportun customers are also eligible to join the referral program. Start referring your friends today and unlock a world of rewards!
Referral Program Rewards
What benefits can you expect?
Participation in the Oportun referral program could grant you up to $25 in gift card rewards.

These rewards can help you save money and improve your financial situation.

To claim your reward, simply submit the necessary information and follow the referral program guidelines.
But that's not all! The referred friend also benefits from this program. When their loan is approved and processed, they receive a $25 reward as well. It's a win-win situation for both parties involved. So, start referring friends and watch your rewards pile up!
Program Requirements and Limitations
Prior to beginning your referral journey, ensure you're acquainted with the program's requirements and restrictions. To be eligible for a successful referral, the referred friend must be a new customer. They must apply and receive a new Oportun personal loan within the program period, subject to credit approval. Additionally, they must use the referral code provided..
Keep in mind that employees of Oportun are ineligible for this program. Participants must agree to the terms and conditions. They also must acknowledge that Oportun may contact them via email, SMS texts, and telephone concerning enrollment. Grasping the program's requirements guarantees successful referrals and a rewarding experience.
Boost Your Financial Knowledge with Free Coaching
Did you know that Oportun also offers free financial coaching services through UnidosUS Counseling Connection? This fantastic service aims to enhance customers' financial health by offering professionally trained coaches who can help you with the following:
Understand your credit report

Establish financial goals

Create budgets

Save money
We'll guide you through accessing these coaching services and crafting personalized financial plans.
Personalized Financial Plans
A personalized financial plan is an essential tool for achieving your financial objectives and optimizing your finances. It involves:
Setting financial goals

Tracking money

Budgeting for emergencies

Addressing high-interest debt

Planning for retirement

Optimizing finances
Possessing a custom financial plan comes with a multitude of benefits such as amplified savings, reduced debt, and improved credit score. So, why not take advantage of Oportun's free coaching services to create a plan that's perfect for you?
Accessing the Coaching Services
Browse through the available personalized financial coaching options on Oportun's website to avail of their coaching services. Alternatively, you can contact their financial coaching service at 877-338-4020.
To initiate the sign-up process, simply complete the form available on their website, and a financial coach will contact you within one business day. With expert guidance at your fingertips, you can confidently work towards a brighter financial future.
Sharing Your Referral Code: Tips and Tricks
Having joined the Oportun referral program and gained access to vital financial coaching, you're ready to perfect the skill of sharing your referral code. Adhering to a few practical strategies can help you amplify your referral earnings and relish the rewards associated with successful referrals.
Finding and Sharing Your Referral Link
Obtaining your referral link is easy. Simply visit a participating Oportun retail location or call 855-314-5927 to enroll in the referral program. Once you have your referral link, you can share it with friends and family via email, text message, or social media, and they can easily recognize it by the oportun logo icon.
The more people you refer a friend, the more rewards you'll earn!
Tracking Your Referrals and Rewards
Monitoring your referrals and rewards is fundamental in bolstering your earnings. The best way to view your account dashboard or contact Oportun customer support is to track your referrals and rewards. By closely monitoring your progress, you can optimize your referral campaigns and ensure that you're making the most of the referral program.
Exclusive Offers for Savings-Only Members
Being a savings-only member of Oportun entitles you to exclusive offers and benefits, contributing to your financial health. One such perk is the intelligent saving feature, which automatically transfers money to your goals from your linked oportun account.
Let's probe into the savings referral program and discover ways to boost your referral earnings.
Savings Referral Program Details
Oportun's Savings Referral Program rewards users for referring new subscribers to the Oportun App. To join the program, follow these steps:
Tap the "Get $5" button on the Home screen in the app.

This will direct you to the Referral Center.

From there, you can obtain your personal referral link.

Share your referral link via SMS message, email, or another messaging app.
For each successful Oportun App subscription and Savings setup using your referral code, Oportun will credit $5 to your account.
Maximizing Your Referral Earnings
Boost your referral earnings with Oportun by referring friends who sign up for an Oportun App account, initiate Savings, and perform three automated money transfers. Keep in mind that the maximum reward for referral earnings is $100 per year.
By following these strategies, you can grow your earnings and enjoy the benefits of being a savings-only member.
Expanding Your Earning Potential with Other Referral Programs
Despite the impressive rewards of Oportun's referral program, avoid confining yourself to a single program. There are numerous other referral programs available that can help you diversify your earnings and maximize your potential.
Let's investigate some premier referral programs designed for travel enthusiasts and gig economy platforms boasting appealing referral payouts.
Top Referral Programs for Travel Enthusiasts
Referral programs offered by:
Agoda

Hotels.com

G Adventures

Travelpayouts

Kayak
Cater to the needs of travel enthusiasts. These programs often include discounts on travel, cashback, and other incentives. To join each program, create an account and supply your referral code.
Capitalizing on these referral programs, you can enhance your savings and earn rewards that feed your travel passion.
Gig Economy Platforms with Attractive Referral Payouts
Gig economy platforms like Airbnb, Uber and Lyft, and Instacart offer enticing referral payouts too. These referral payouts typically include cash bonuses, discounts, and other rewards.
By targeting these platforms, you can further extend your earning potential and enjoy the fruits of your referral efforts.
Editorial Opinion
Additional Resources
Sources
FAQ
What credit score do you need for Oportun loan?
To be eligible for an Oportun loan, you need a credit score ranging from 300 to 700. However, even borrowers with no credit or limited credit can be approved for a loan. It's important to note that you must also be 18 or over in order to be eligible.
A referral code is a unique combination of characters that helps identify participants in a referral program. It can be used to track referrals and offer rewards for successful campaigns.
Does Oportun check your credit score?
Yes, Oportun will perform a hard credit inquiry when you apply for a loan and prompt you to provide documents.
What is the reward for successful referrals through Oportun's referral program?
Oportun offers a $25 reward for successful referrals made through its referral program.
How can I join Oportun's referral program?
Join Oportun's referral program by clicking on a referral link and using the given code when prompted.