OneMain Financial has a mobile app available in Apple and Google Play stores. You can monitor your monthly payments and the loan funding process, log in to get the loan details of your account anytime you want, record your monthly payments, and examine your history through the app. The actual loan terms and details are stated in the app to guide your transactions. It lets you take pictures of the required loan documents for straightforward verification.
OneMain Financial customers can log in to get their loan account details. The response comes on Monday through Friday, between 9 AM and 5 PM EST. To use the OneMain Financial mobile app, you need to be their client and have a registered account. There is no option to submit a new loan application on the app. Rather, it allows you more control over your own money under the OneMain services. You can create payments, schedule them, prevent yourself from missing any or learn about your credit score. The mobile app is updated monthly with the VantageScore credit score. Customers may use the mobile app to keep track of their financial information by navigating to 4 sections: account, resources, profile, and access to assistance.
OneMain Financial on App Store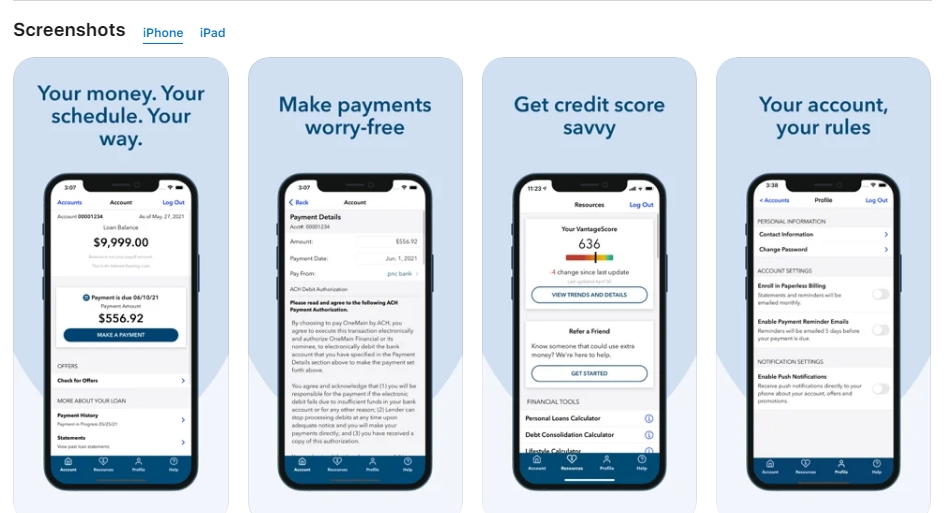 OneMain Financial on Google Play
How To Download OneMain Mobile App
Android users can download the application from the Google Play Store or directly from the internet. If your device is on iOS, it is available for iPhones, iPads, and iPods in the App Store. Both versions are free.
How To Log In
You need your email and password to log into your mobile app from the Google Play Store or the App Store.
Mobile App Features
Customers of OneMain can use the mobile app to keep track of their financial information. There are four main sections: account, resources, profile, and access to assistance.
The mobile app offers:
Access to full account details. You can track financial information, review your loan balance, and get assistance not to miss payments.

OneMain services, payment history, and past loan statements check.

Full information on your payment details, including the loan amount, payment date, the method or bank you pay from, and ACH payment authorization.

Vantage Score view of trends and displays. It also shows the progress or regress of your scores on a scale from red to green.

Financial tools like personal loans, debt consolidation, and lifestyle calculators.

Personal information view, including your contact information and password change.

Your account number is displayed on the top right portion of your monthly statement on your mobile app.

You can receive your statements and payment reminders on your email monthly and five days before your payment is due to track your finances easier.

Receive push notifications directly to your phone.

Text messages may be delivered using automated technology, including autodialers, at the cell phone number you supplied.

The resources like articles, tips, and content help you gain more information on different subjects like adjusting your budget when financial priorities shift or ways to improve your credit score.

You can see your prequalification for a loan and get emails about your applications, financial products, and services. Steps for this: your contact info, then your financial info; after this, you review and submit.
The mobile app features and interface are the same for iOS and Android, and the apps are free. OneMain Financial offers its customers access to their accounts on the go.