What is a line of credit for bad credit?
A line of credit for bad credit is a financial product designed to provide individuals with a history of poor credit scores access to funds when needed. Unlike traditional loans, a line of credit offers more flexibility and convenience as borrowers can draw funds up to a predetermined limit whenever necessary. This type of credit allows individuals with less-than-stellar credit histories to have a second chance and borrow money at managing their finances responsibly. While interest rates may be higher compared to regular lines of credit, it still offers a lifeline to those facing financial challenges. By using the line of credit responsibly and making timely payments, borrowers can gradually improve their credit scores and regain financial stability.
Features
Flexible Access to Funds. A line of credit for bad credit allows borrowers to access funds up to a predetermined credit limit whenever they need it. This feature allows individuals to manage borrow money unexpected expenses or address financial emergencies without going through a cumbersome loan application process.
No Lump-Sum Disbursement. Unlike traditional loans, a line of credit doesn't require borrowers to take the entire amount at once. Instead, borrowers can withdraw funds as needed, reducing the burden of repaying a large lump sum and only paying interest on the withdrawn amount.
Unsecured or Secured Options. Depending on the credit union and individual circumstances, lines of credit for bad credit may be offered as unsecured or secured. Unsecured lines of credit do not require collateral, while secured options may ask for assets as security.
Credit Counseling and Education. Some student loan lenders may offer credit counseling and financial education resources to help borrowers manage their finances better, make informed decisions, and improve their credit standing in the long run.
Varied Credit Limits. The credit limit offered on a line of credit for bad credit can vary based on the lender's evaluation of the borrower's creditworthiness. As borrowers demonstrate responsible usage and repayment, some personal loan lenders may even consider increasing the credit limit.
Minimal or No Usage Restrictions. Unlike specific-purpose loans, a line of credit for bad credit often comes with minimal or no usage restrictions. Borrowers can utilize the funds for various needs, such as paying off existing debts, covering medical expenses, or funding home repairs.
Pros and cons
Pros
Cons
How can I get a line of credit for bad credit?
Research Lenders. Look for lenders or financial institutions that specialize in providing lines of credit for individuals with bad credit. Consider online lenders, credit unions, and community banks that may have more flexible requirements.

Compare Terms and Offers. Compare the terms, interest rates, and credit limits offered by different lenders. Read the fine print and understand any additional fees that might apply.

Check Eligibility. Check the eligibility criteria for each lender to see if you meet their requirements. Typically, bad credit lenders might have more relaxed eligibility criteria, but verifying before applying is essential.

Gather Documentation. Prepare the necessary documentation for the application process. This may include proof of income, identification, and any additional documents the lender requires.

Apply Online or In-Person. Submit your application either online through the lender's website or in person at a physical branch. Provide accurate information and be honest about your financial situation.

Wait for Approval. The approval process may vary from lender to lender. It might take a few days to a week to receive a response. Be patient during this time and avoid applying for multiple lines of credit simultaneously, as it can negatively impact your credit score.

Review the Offer. If approved, carefully review the terms and conditions of the line of credit offer, including the interest rate, credit limit, and repayment terms. Make sure you understand the obligations and responsibilities associated with the line of credit.

Accept the Offer. If you are satisfied with the terms, accept the line of credit offer from the lender. This can often be done electronically by signing the required documents.
Requirements and conditions
Credit Score. Lenders will review the borrower's credit score to gauge their creditworthiness. While bad credit lenders may be more lenient, they still consider the credit score as an essential factor.
Credit History. In addition to the credit score, lenders examine the borrower's credit history to understand their past financial behavior, including late payments, defaults, or bankruptcy.
Income and Employment. Lenders need assurance that the borrower has a stable income source and regular employment, as this indicates their ability to repay the line of credit.
Debt-to-Income Ratio. The debt-to-income ratio is a crucial metric that lenders use to assess the borrower's ability to manage additional debt alongside their existing financial obligations.
Collateral (for Secured Lines). Some lenders may offer secured lines of credit, requiring borrowers to provide collateral, such as real estate or valuable assets, to secure the credit.
Loan Purpose. Lenders might inquire about the intended use of the line of credit to ensure it aligns with their lending policies.
Recent Inquiries and Applications. Multiple credit inquiries and recent loan applications might signal financial distress to lenders, impacting the borrower's creditworthiness.
Banking History. A stable banking history, including maintaining a checking or savings account, can positively influence the lender's decision.
Cosigner/Guarantor (optional). Some lenders may allow borrowers to include a cosigner or guarantor with a stronger credit profile, increasing the chances of approval and securing better terms.
Best places to get a line of credit for bad credit today 01.12.2023
CreditFresh
CreditFresh is known for providing personal lines of credit and is willing to work with borrowers who may have less-than-perfect credit. They aim to offer a transparent and user-friendly experience for borrowers and emphasize flexibility in their terms. If you have bad credit, CreditFresh may still consider your application, assessing your overall financial situation rather than relying solely on your credit score.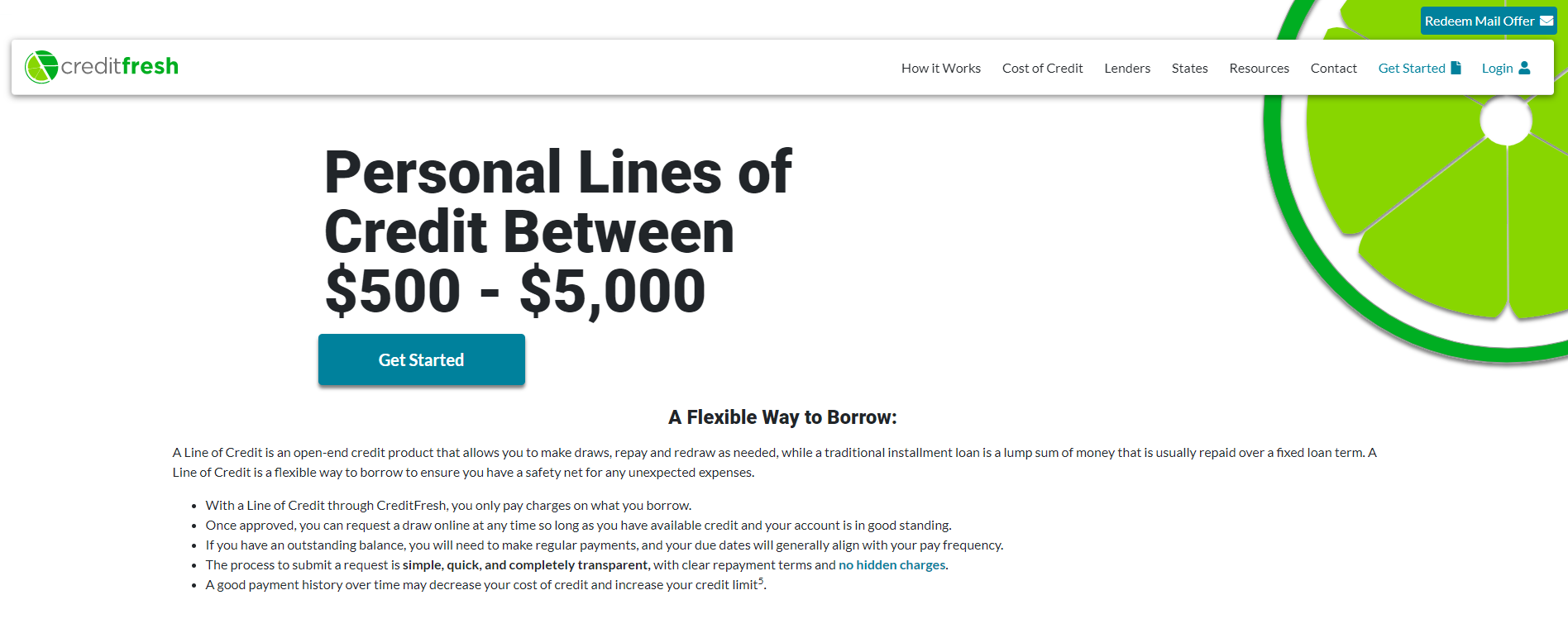 Elastic
Elastic offers a line of credit that is designed to provide financial flexibility to its customers. While traditional banks may reject applicants with low credit scores, Elastic evaluates various financial factors, making it a more accessible option for those with bad credit. Their line of credit is often used for unexpected expenses or to bridge gaps between paychecks. Elastic emphasizes quick approval times and easy access to funds.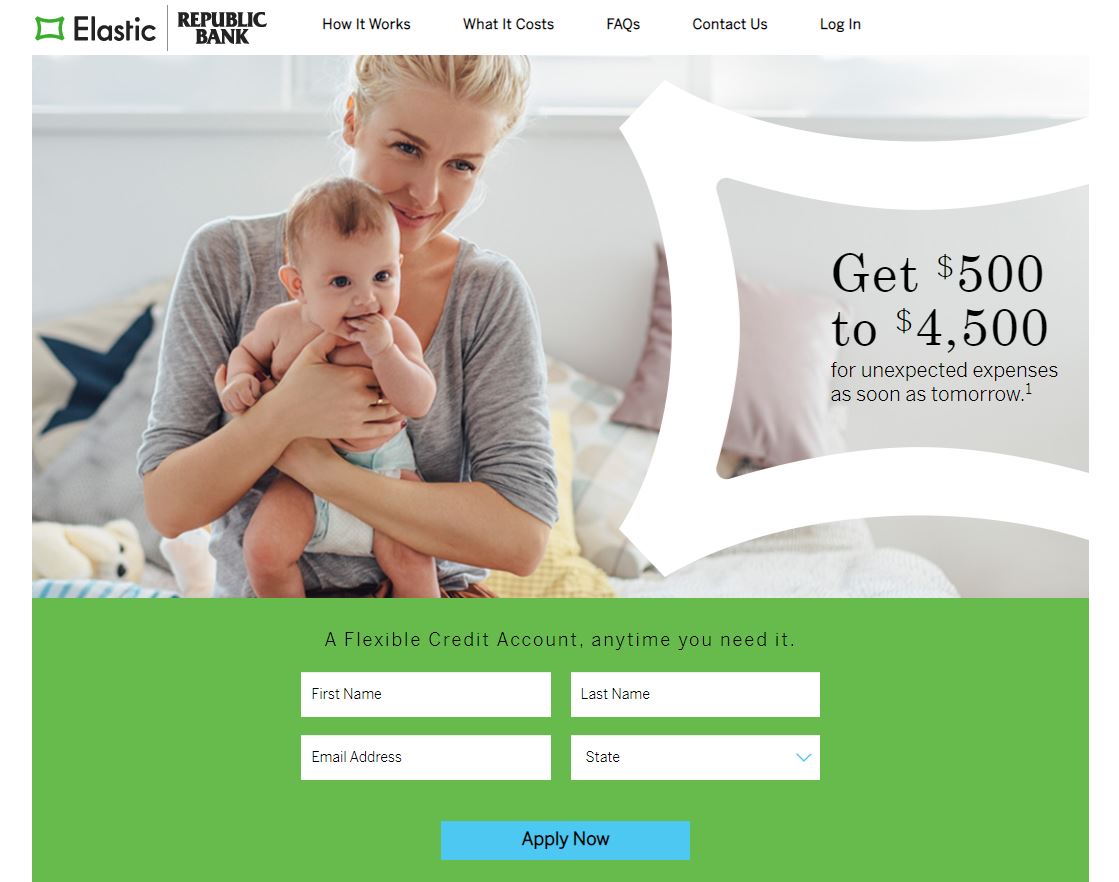 PenFed Credit Union
PenFed (Pentagon Federal Credit Union) is one of the largest credit unions in the United States. While they offer various financial products to their members, including lines of credit, they might be more stringent with their credit requirements compared to the other lenders mentioned. However, being a member-oriented institution, they might consider other aspects of an applicant's financial situation, and some products may be tailored to individuals rebuilding their credit. It might be best to reach out to PenFed directly to explore options if you have bad credit.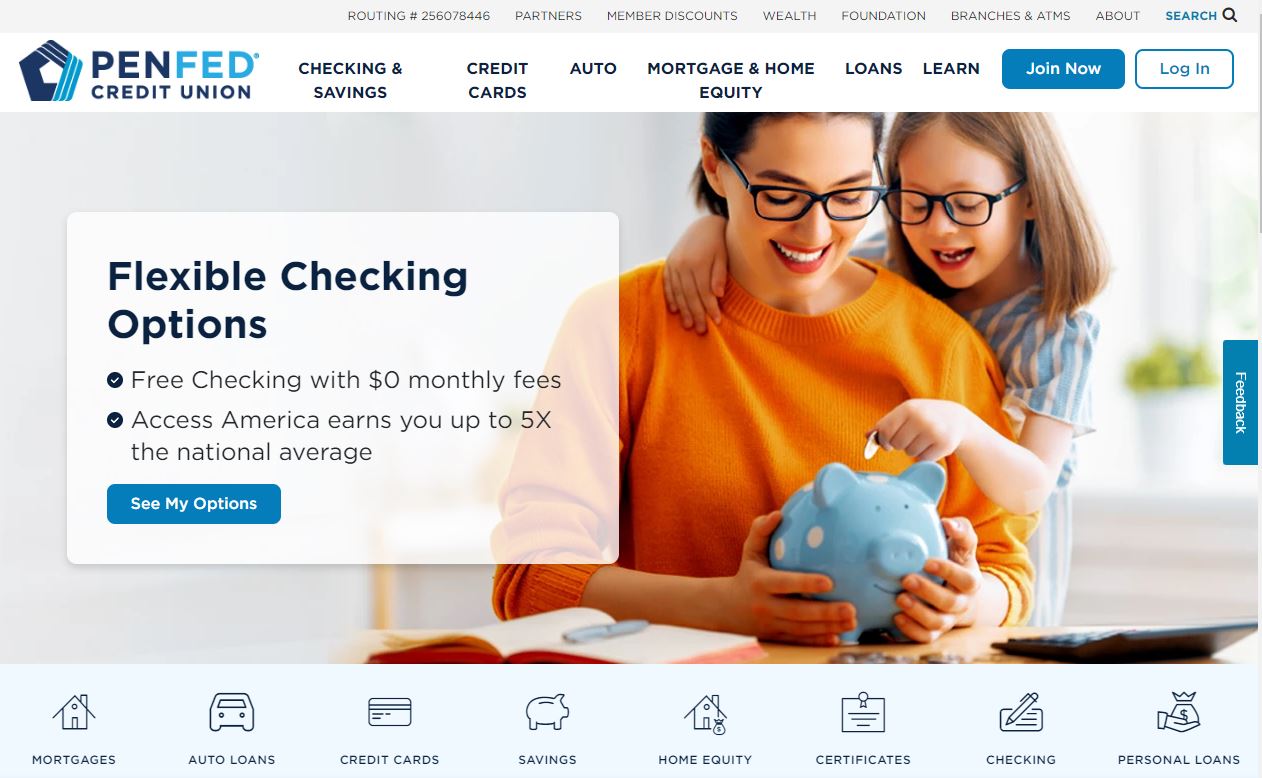 Advance America
Advance America is a lender specializing in short-term loans and lines of credit. They are known for working with borrowers who have bad or no credit. The application process with Advance America is typically straightforward, and the company emphasizes transparent fees and terms. While they provide a fast and accessible line of credit, it's essential to be mindful of the interest rates and fees, which might be higher compared to traditional bank loans.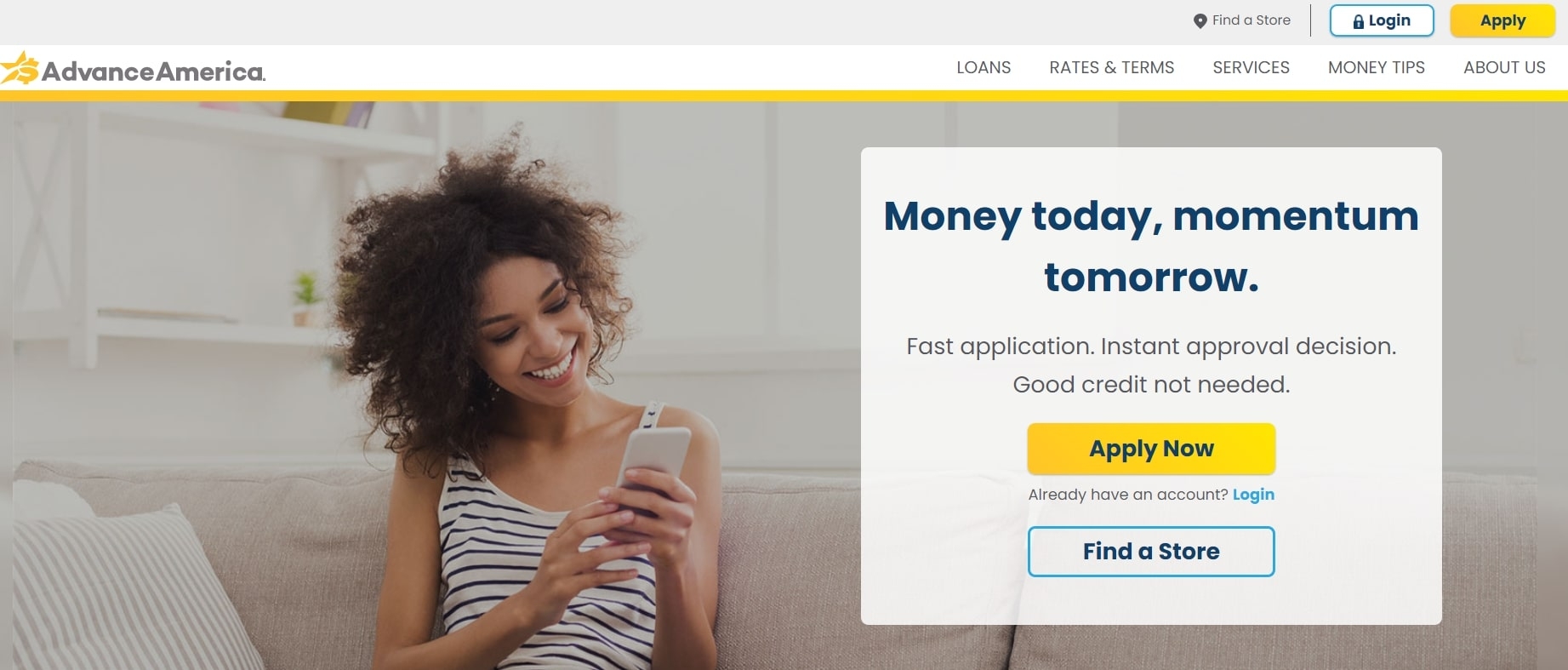 Ways to receive the money
Debit Card. In some cases, lenders issue a debit card linked to the line of credit. Borrowers can use this card to make purchases, withdraw cash from ATMs, or conduct transactions where debit cards are accepted.
Online Banking Platforms. Many lenders provide borrowers with secure online banking platforms, where they can log in to their account and transfer funds electronically, view transactions, and manage their line of credit.
Bank Branch Withdrawal. For lenders with physical branch locations, borrowers may have the option to visit the branch and withdraw funds in cash or have the funds deposited into their bank account.
Mobile Apps. Some lenders offer mobile apps that allow borrowers to access their line of credit and manage transactions conveniently on their smartphones.
Wire Transfer. Some lenders may offer a wire transfer option, where borrowers can request funds to be directly transferred to their designated bank account or to a third party.
Direct Deposit. Some lenders allow borrowers to set up direct deposit from their line of credit to their bank account, facilitating regular and automatic transfers of funds.
How to repay a line of credit for bad credit?
Understand the Terms. Familiarize yourself with the terms and conditions of the line of credit, including interest rates, repayment periods, and applicable fees. Understanding the study loan term helps you plan your finances accordingly.
Create a Repayment Plan. Develop a repayment plan based on your financial capabilities. Consider your monthly income, expenses, and other financial obligations to determine a suitable amount to allocate toward repaying the line of credit.
Pay More Than the Minimum. Whenever possible, try to pay more than the minimum required payment. You can reduce the overall interest accrued and shorten the repayment period by paying more.
Monitor Your Credit. Regularly check your credit report to track your repayment progress and ensure that all information is accurate. Promptly dispute any errors you may find.
Explore Refinancing Options. As your credit improves over time, you may become eligible for better interest rates or more favorable terms. Consider refinancing your line of credit to potentially lower your monthly payments and overall borrowing costs.
Prevent Fee Accumulation. Be aware of any penalty fees associated with late payments or over-the-limit balances. You can avoid these additional costs by staying organized and making payments on time.
Automatic Savings Transfer. Set up an automatic transfer from your checking account to a savings account designated for loan repayments. This ensures you consistently allocate funds towards the line of credit.
Alternatives
Secured Loans. Consider applying for a secured loan, where you offer collateral, such as a vehicle or savings account, to secure the loan. Secured loans may have more lenient credit requirements and offer lower interest rates than unsecured credit lines.
Personal Loans. They are fixed-term loans that provide a lump sum of money upfront. Borrowers make regular fixed payments over the loan term until the debt is fully repaid. Personal loans are suitable for one-time expenses and often have predictable repayment schedules.
Payday Loans. While a payday loan should be used with caution due to their high-interest rates, they can be an option for short-term, small-dollar borrowing needs, especially if you can repay the loan quickly.
Credit Builder Loans. Some financial institutions offer credit builder loans, designed to help individuals establish or improve their credit. These loans are secured in a savings account, allowing you to build credit by making timely payments.
Peer-to-Peer Lending. Explore peer-to-peer lending platforms that connect borrowers with individual investors. These platforms may be more flexible in their lending criteria, and you could find more accommodating terms for your situation.
Community Credit Unions. Community credit unions may be more understanding of your local circumstances and offer more flexible lending options for individuals with bad credit.
Things to pay attention to
Interest Rates. Compare the interest rates offered by different lenders for lines of credit. Bad credit can lead to higher interest rates, but exploring various options can help you find a more favorable rate.
Fees and Charges. Be aware of any upfront fees, annual fees, or other charges associated with the line of credit. These additional costs can impact the overall affordability of the credit.
Repayment Terms. Understand the repayment terms, including the length of the repayment period and the minimum monthly payment. Ensure it fits within your budget and financial capacity.
Credit Limit. Take note of the approved credit limit. Borrow only what you need and avoid overextending yourself, as it could lead to difficulties in repayment.
Impact on Credit Score. Consider how borrowing a line of credit and repaying it will affect your credit score. Responsible repayment can help improve your credit, but late payments may further damage your credit history.
Late Payment Policies. Familiarize yourself with the lender's late payment policies and potential penalties. Make sure to make payments on time to avoid unnecessary fees.
Prepayment Penalties. Check if there are any prepayment penalties for paying off the line of credit early. Having the option to pay off the debt ahead of schedule can save on interest costs.
Collateral vs. Unsecured. Determine whether the line of credit is secured or unsecured. A secured line may require collateral, which poses a risk of asset loss in case of default.
Eligibility Criteria. Understand the lender's specific eligibility criteria for bad credit borrowers. Knowing the requirements can save time and avoid unnecessary rejections.
Editorial opinion
Important
Methodology
At Finanso, we've carried out a comprehensive analysis of over 50 lenders, assessing them based on 35 different parameters across six key categories: accessibility of loans, customer relations, quality of service, interest rates, and transparency of conditions.
In each category, we carefully considered the most critical factors in selecting a lender. These factors include the interest rates, available loan amounts, minimum credit score, minimum income, application fees, and the speed at which funds are transferred.
At Finanso, we highly value our users, which is why we also focus on the quality of customer service, user reviews, and additional features that can aid our users in making a well-informed decision.
Our ultimate goal is to provide insightful recommendations and expert advice to assist you in selecting a lender that best caters to your specific needs.
Additional resources
To learn more about Lines of Credit and best practices, check out some of the following resources:
Sources