What Are $10,000 Loans?
$10,000 loans are personal loans that provide borrowers with a lump sum of $10,000. Borrowers can utilize the funds for various purposes, such as debt consolidation, home improvements, medical expenses, or major purchases.
When applying for a $10,000 personal loan, lenders may consider the borrower's credit scores and credit reports. Financial institutions, including credit unions and online lenders, are among the personal loan lenders that individuals can approach. Obtaining a $10,000 loan may be challenging for borrowers with bad credit. However, online lenders may offer options for bad credit borrowers. It's important to note that bad credit loans often come with higher interest rates than loans for borrowers with good credit.
To qualify for a $10,000 loan, borrowers typically need to have a steady income, a bank account, and a reasonable debt-to-income ratio. Lenders may require bank statements and other financial documents during the loan approval process.
Features
Repayment Term. The repayment term refers to the duration over which the loan must be repaid. It can vary depending on the lender but generally ranges from several months to several years.
Interest Rates. Interest rates are the fees charged by lenders for borrowing $10,000. The specific interest rate can vary based on factors such as the borrower's creditworthiness and the lender's policies.
Credit Requirements. Lenders consider the borrower's credit history and credit score to assess their creditworthiness and determine eligibility for the loan. Different lenders may have varying minimum credit score requirements.
Monthly Payments. Borrowers must make regular monthly payments to repay the $10,000 loan. The amount of each payment is determined based on the loan amount, interest rate, and repayment term.
Loan Application. Borrowers must complete a loan application, providing personal and financial information, to apply for a $10,000 loan.
Eligibility Criteria. Lenders may have specific eligibility criteria that borrowers must meet, such as minimum income requirements, employment stability, and age restrictions.
Debt Consolidation. Borrowers may choose to use the $10,000 loan for debt consolidation purposes, combining multiple debts into a single loan for easier management.
Pros and Cons
Pros
Flexibility. Borrowers can use the $10,000 loan amount for various purposes, such as debt consolidation, home improvements, or major purchases.

Quick Funding. Online lenders offering $10,000 loans often provide a streamlined application process and quick approval, resulting in faster access to funds than traditional banks.

Lower Interest Rates. Depending on the borrower's creditworthiness, $10,000 loans may offer relatively lower interest rates than other loans, such as credit cards or payday loans.

Consolidate Debt. $10,000 loans can be used for debt consolidation, allowing borrowers to combine multiple high-interest debts into a single loan with potentially lower interest rates and simplified monthly payments.
Cons
Credit Requirements. Lenders may have specific credit score and credit history requirements for $10,000 loans, making it more challenging for borrowers with poor credit to qualify or obtain favorable interest rates.

Interest Costs. While interest rates for $10,000 loans can be lower than other loan types, borrowers should consider the total interest costs over the loan term, as they can still add up significantly.

Repayment Obligation. Borrowers must make monthly payments to repay the $10,000 loan, which can strain their monthly budget. Failure to make timely payments can result in penalties and late fees and negatively impact their credit score.

Origination Fees. Some lenders may charge origination fees, which are upfront fees deducted from the loan amount. Borrowers should carefully consider these fees when comparing loan offers.

Risk of Overborrowing. With a $10,000 loan, there is a risk of overborrowing and taking on more debt than necessary. Borrowers should carefully assess their financial situation and only borrow what they can afford to repay comfortably.
How to Apply for a $10,000 Loan
Review Eligibility Criteria. Pay attention to the eligibility criteria set by the lenders. Each lender may have specific requirements related to minimum credit scores, income levels, employment history, and age. Ensure you meet these criteria before proceeding with the application.

Prepare a Budget. Assess your financial situation and create a budget to determine how much you can comfortably afford to borrow and repay each month. This will help you select an appropriate loan term and ensure you can manage the monthly payments without straining your finances.

Check and Improve Credit. Review your credit reports from major credit bureaus to ensure accuracy and address any errors. If your credit score is low, take steps to improve it by paying bills on time and reducing outstanding debt.

Determine Loan Purpose. Identify the specific purpose for the $10,000 loan, such as debt consolidation or home improvements. This will help lenders understand how you plan to use the funds.

Research Lenders. Explore various lenders, including traditional banks, credit unions, and online lenders, to find those offering $10,000 loans with favorable terms and interest rates. Consider factors such as eligibility criteria, interest rates, fees, and customer reviews.

Gather Necessary Documents. Prepare the required documents, including identification proof (such as a driver's license or passport), proof of income (such as pay stubs or tax returns), bank statements, and any additional documents requested by the lender.

Pre-Qualification and Loan Comparison. Pre-qualify with multiple lenders to assess your eligibility and understand the loan terms you may qualify for. Compare loan offers, including interest rates, repayment terms, and fees, to determine the most suitable option for your needs.

Complete the Loan Application. Fill out the loan application accurately and provide all the required information. This includes personal details, employment information, income, and any details related to the purpose of the loan.

Submit the Application. Submit the completed loan application and the required documents to the chosen lender. Many lenders offer online application options for convenience.
Requirements and Conditions
Minimum Credit Score. Lenders often have a minimum credit score requirement to qualify for a $10,000 loan. This requirement helps them assess the borrower's creditworthiness. The minimum credit score can vary, but a higher credit score generally increases the chances of loan approval and favorable terms.

Income Verification. Lenders typically require proof of income to ensure borrowers have the financial capacity to repay the loan. This may involve submitting recent pay stubs, tax returns, or bank statements. The income requirement may vary, and some lenders have a minimum income threshold.

Employment History. Lenders may consider the borrower's employment history to evaluate stability and ability to make consistent loan payments. They may require a minimum length of employment or proof of a steady income source.

Age and Residency. Borrowers must usually be at least 18 years old and legal residents or citizens of the country where they apply for the loan. Lenders may request identification documents, such as a driver's license or passport, to verify age and residency.

Credit History. Lenders typically review the borrower's credit history, including their credit report and credit scores. A strong credit history, with a demonstrated ability to manage credit responsibly, can improve the chances of loan approval and may lead to more favorable interest rates.

Bank Account. Many lenders require borrowers to have an active bank account. This allows for easier loan disbursal and facilitates automatic loan payments. You may need to provide bank statements or proof of account ownership during your application.

Loan Purpose. Some lenders may ask about the intended use of the loan funds. While personal loans generally provide flexibility in how the funds are used, certain lenders may have restrictions or specific loan products tailored to certain purposes, such as debt consolidation or home improvement.

Citizenship or Residency Status. Depending on the lender and the country's regulations, there may be specific requirements regarding the borrower's citizenship or residency status. Non-citizens or non-residents may have additional documentation or eligibility criteria to meet.
Best Places to Get $10,000 Loans Today 01.12.2023
Happy Money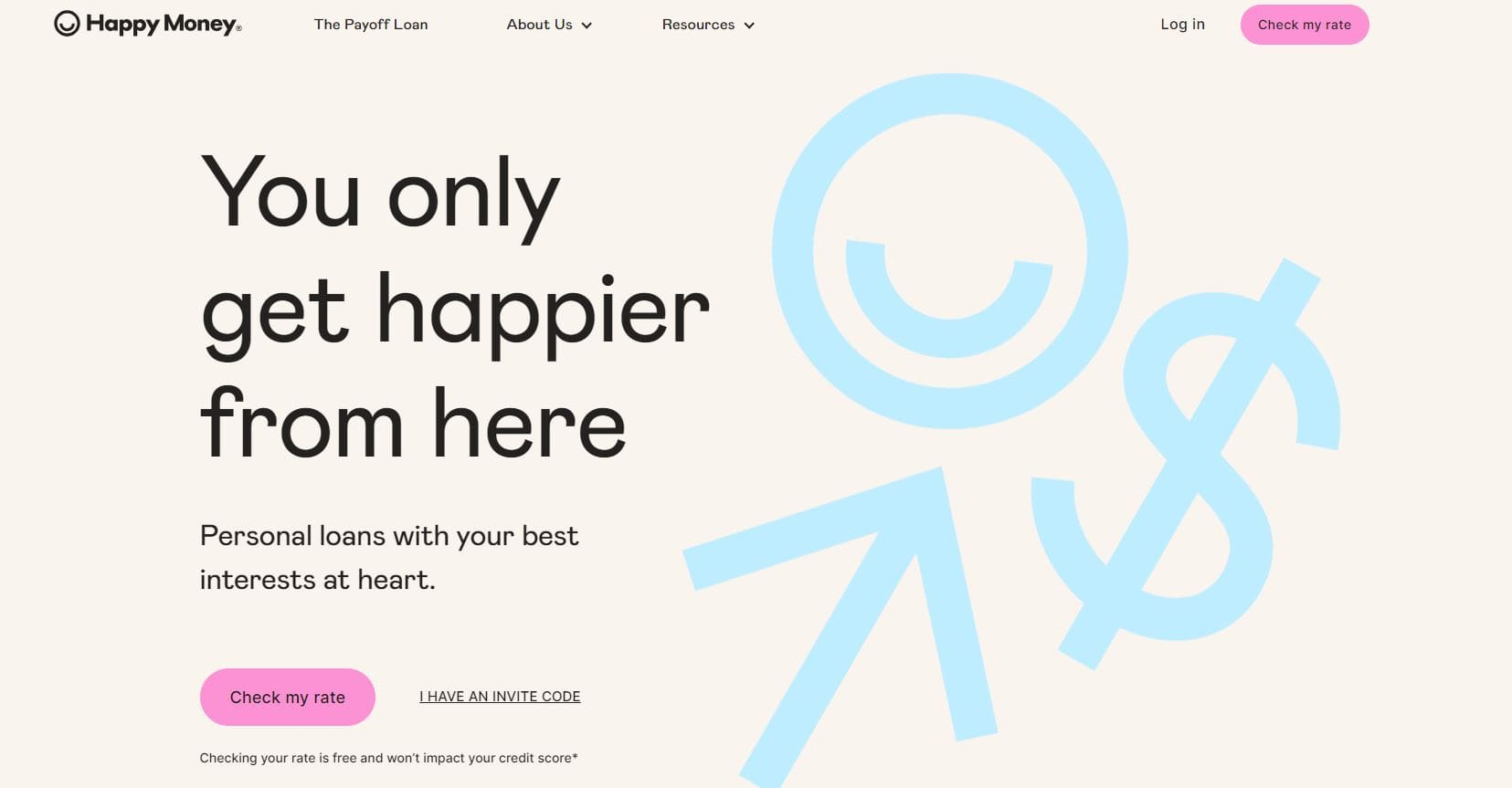 Happy Money offers personal loans, including $10,000 loans, to help borrowers consolidate debt and improve their financial situation. They provide competitive interest rates, flexible repayment terms, and a streamlined online application process. Their loans are unsecured, and they consider various factors beyond credit scores when evaluating applications.
PenFed Credit Union

PenFed is a credit union that offers to borrow money up to $100,000. They provide loans to members and non-members with competitive interest rates and flexible repayment terms. Their application process is simplified, and they consider factors beyond credit scores to cater to borrowers with diverse credit backgrounds.
LightStream

LightStream, a division of SunTrust Bank (now Truist), is an online lender specializing in personal loans. They offer $10,000 loans for various purposes, such as debt consolidation, home improvement, etc. LightStream stands out for its low-interest rates, flexible repayment terms, and quick funding. They also have a Rate Beat Program, where they can beat a competitor's interest rate under certain conditions.
Best Egg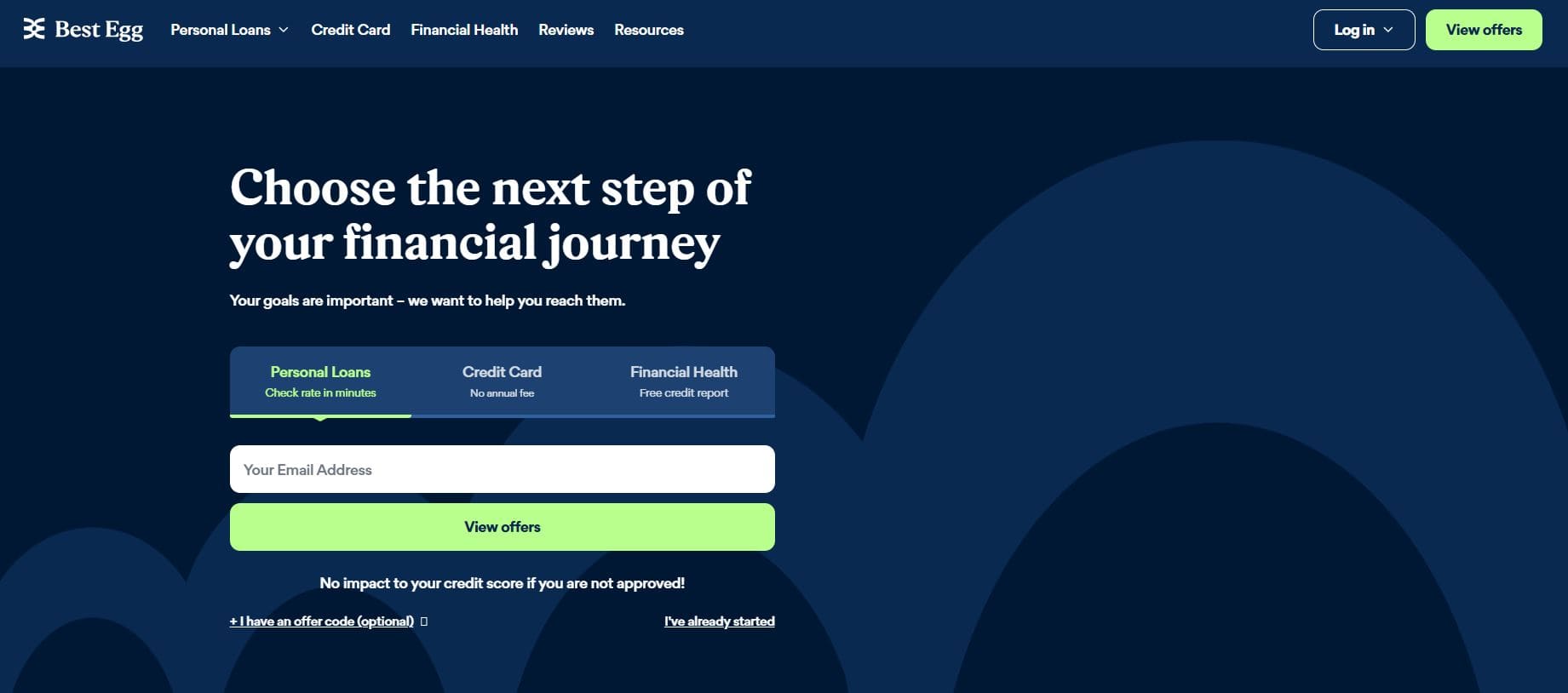 Best Egg is an online lending platform focusing on personal loans, including $10,000. They provide loans for purposes like debt consolidation, home improvement, and major purchases. Best Egg offers a simple application process, quick loan decisions, competitive interest rates, and flexible repayment terms. They consider multiple factors in their evaluation process to accommodate many borrowers.
Ways to receive the money
Direct Deposit. The most common method is through direct deposit. Once the loan is approved, the lender transfers the loan amount directly into the borrower's bank account. This allows for quick and convenient access to the funds.

ACH Transfer. Lenders may also use Automated Clearing House (ACH) transfers to send the loan amount to the borrower's bank account. ACH transfers are electronic transactions that securely move funds between bank accounts.

Paper Check. Sometimes, lenders may issue a paper check for the loan amount, which they then mail to the borrower's registered address. The borrower can deposit or cash the check according to their convenience.

Wire Transfer. For expedited or same-day transfers, lenders may use wire transfers. Wire transfers involve electronically transferring funds from the lender's bank account to the borrower's bank account. This method is often used when immediate access to the funds is required.
Things to pay attention to
Lender's Reputation and Trustworthiness. Research the reputation and trustworthiness of the lender. Look for other borrowers' reviews, ratings, and testimonials to gain insights into the lender's reliability, transparency, and customer service. Choose a lender with a solid reputation to ensure a smooth borrowing experience.

Loan Accessibility and Convenience. Consider the accessibility and convenience offered by the lender. Some lenders provide online loan applications, digital document submission, and online account management, making borrowing more convenient. Assess the level of convenience provided by each lender and choose the one that aligns with your preferences.

Lender's Stability and Longevity. Evaluate the stability and longevity of the lender. Consider factors such as the lender's financial strength, years of operation, and presence in the industry. Opting for a well-established and financially stable lender can provide peace of mind and minimize the risk of any unforeseen issues.

Loan Terms and Flexibility. Evaluate the flexibility of the loan terms offered by the lender. Consider factors such as the ability to modify repayment schedules, defer payments in case of financial hardship, or make additional payments without penalties. Flexible terms can provide more control over your loan and accommodate changes in your financial situation.

Loan Fees and Charges. Examine the fees and charges associated with the loan. These may include application fees, origination fees, closing costs, or early repayment penalties. Assess the impact of these fees on the total cost of borrowing and compare them among different lenders to find the most cost-effective option.

Loan Purpose. Determine the purpose of the loan. Understand why you need the funds and ensure that a $10,000 loan suits your specific financial needs. Whether it's for debt consolidation, home improvements, or other expenses, make sure the loan aligns with your goals.

Repayment Ability. Evaluate your financial situation and assess whether you can comfortably afford the monthly payments associated with a $10,000 loan. Consider your income, existing financial obligations, and budget to ensure that taking on additional debt is manageable within your current financial means.

Interest Rates. Compare interest rates from different lenders. A lower interest rate can significantly affect the overall cost of the loan. Look for competitive rates that align with your creditworthiness and financial situation. Remember that interest rates can vary based on factors such as credit score, loan term, and the lender itself.
How to repay a $10,000 loan
Review the Loan Agreement. Carefully review the loan agreement provided by the lender. It will outline important details such as the loan term, interest rate, monthly payment amount, and additional fees or charges.

Set up Automatic Payments. Consider setting up automatic payments with your bank or the lender. This ensures that the loan payment is deducted from your bank account each month on the designated due date. Automatic payments help you stay on track and avoid late payment fees.

Pay on Time. Make sure to pay your loan installment on time each month. Late payments may result in additional fees and could negatively impact your credit score. Set reminders or use financial management tools to stay organized and ensure timely payments.

Communicate with the Lender. If you encounter any financial difficulties or anticipate challenges in making your monthly payments, it's important to communicate with the lender. They may be able to provide temporary relief options or alternative repayment arrangements to assist you during difficult times.

Maintain Good Credit. Paying your loan on time and in full contributes to building and maintaining good credit. A positive credit history can help you in future loan applications and may lead to better interest rates and terms.
Alternatives
Editorial opinion
Regarding borrowing money, $10,000 loans offer a flexible and accessible option for individuals needing financial assistance. Whether you want to consolidate high-interest debt, make home improvements, or cover unexpected expenses, these loans can provide a solution. Let's explore the advantages of $10,000 loans and how they can benefit borrowers.
One of the significant advantages is the availability of $10,000 loans from various lenders, including credit unions, traditional banks, and online lenders. Credit unions, in particular, often offer competitive interest rates and personalized service, making them an appealing choice for borrowers seeking a more community-oriented lending experience.
Secured personal loans and home equity loans are viable options for individuals with valuable assets to use as collateral. These loans typically offer lower interest rates, allowing borrowers to save on overall costs. However, it's essential to carefully consider the risks associated with secured loans, as defaulting on payments can result in the loss of the pledged assets.
For those concerned about the impact on their credit score, $10,000 loans provide an opportunity to demonstrate responsible financial management. Borrowers can improve their creditworthiness over time by making timely payments and repaying the loan as agreed.
Additionally, the presence of online lenders has made the loan application process more convenient and accessible. Borrowers can compare multiple lenders, their offers, and loan options from their homes. Many online lenders also perform soft credit checks, minimizing the impact on credit scores during the application process.
In conclusion, $10,000 loans provide borrowers various benefits, from access to funds for various purposes to improving credit scores. By considering loan options, understanding terms and conditions, and being proactive in managing repayments, individuals can leverage these loans to meet their financial needs. However, it's essential to remember that responsible borrowing and thorough evaluation of personal circumstances are key to maximizing the benefits of $10,000 loans.
Methodology
At Finanso, we've carried out a comprehensive analysis of over 100 lenders, assessing them based on 35 different parameters across six key categories: accessibility of loans, customer relations, quality of service, interest rates, and transparency of conditions.
In each category, we carefully considered the most critical factors in selecting a lender. These factors include the interest rates, available loan amounts, minimum credit score, minimum income, application fees, and the speed at which funds are transferred.
At Finanso, we highly value our users, which is why we also focus on the quality of customer service, user reviews, and additional features that can aid our users in making a well-informed decision.
Our ultimate goal is to provide insightful recommendations and expert advice to assist you in selecting a lender that best caters to your specific needs.
Additional resources
To learn more about $10,000 loans and best practices, check out some of the following resources:
Sources