About Lender
Advance America was founded in 1997 and is headquartered in Spartanburg, South Carolina. The company was one of the pioneers of the payday lending industry and has grown to become one of the largest providers of payday loans and other financial services in the United States.
In the early 2000s, Advance America expanded its operations through a series of acquisitions and opened hundreds of new retail financial service centers across the country. In 2012, the company went public and became traded on the New York Stock Exchange.
Throughout its history, Advance America has faced a number of legal challenges and regulatory hurdles related to its payday lending practices. Despite these challenges, the company has continued to grow and expand its operations, serving millions of customers each year.
In recent years, the payday lending industry has come under increased scrutiny from consumer advocacy groups and regulators, who have raised concerns about the high fees and interest rates associated with payday loans and the potential for borrowers to become trapped in a cycle of debt.
Despite these challenges, Advance America remains one of the leading providers of payday loans and other financial services in the United States, offering various loan products to help customers meet their financial needs.
Its offers include payday loans, installment loans, online loans, personal lines of credit, and title loans. The main focus of the lender is short-term, small loans taken to cover unpredicted expenses or to get extra money until the next paycheck.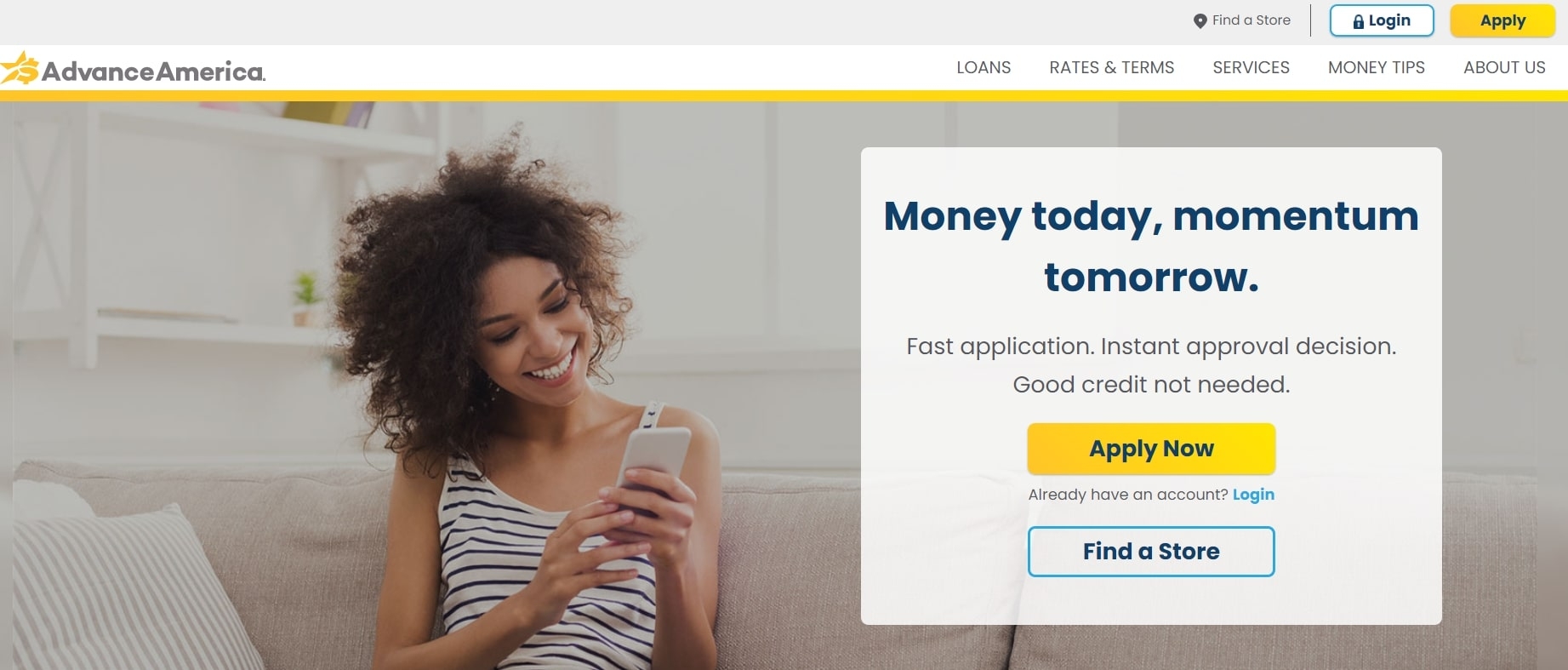 Key Features
Quick and easy application processes, with some loans available on the same dayю
No hard credit check is required for some loansю
Repayment options that may include automatic deductions on payday or fixed installment paymentsю
Convenient locations and quick transactionsю
Enhanced security features.
Pros and Cons
Pros
Cons
Reliability
The reliability of Advance America as a lender depends on a number of factors, including the terms and conditions of the loans offered, the borrower's ability to repay the loan, and the lender's reputation and customer service.
In terms of the terms and conditions of the loans offered, it's important to carefully review the fees, interest rates, and repayment terms before applying. Some of Advance America's loan products have been criticized for their high fees and interest rates, which can make it difficult for borrowers to repay the loan on time and avoid a cycle of debt.
In terms of the borrower's ability to repay the loan, it's important to only borrow what you can afford to repay, taking into account your income, expenses, and other financial obligations. Borrowers who take out a loan they cannot afford to repay may find themselves in a cycle of debt and unable to access credit in the future.
How to Apply For an Advance America Loan?
To get a loan from Advance America, you typically need to follow these steps:
Apply for a Loan. You can apply for a loan from Advance America online or in-person at one of their retail financial service centers. You'll need to provide information such as your name, address, employment information, and financial information to apply.

Review and Accept Loan Terms. If you're approved for a loan, Advance America will provide you with the loan terms and conditions, including the loan amount, interest rate, fees, and repayment terms. You'll need to review and accept these terms to receive the loan.

Receive Funds. Once you've accepted the loan terms, Advance America will provide you with the loan funds. This can be done through direct deposit to your bank account or by receiving cash at one of their retail centers.

Repay the Loan. As specified in the loan agreement, you'll need to repay the loan on the due date. Advance America may automatically deduct the loan repayment from your bank account on the due date, or you may need to repay the loan in-person at one of their centers.
Conditions and Requirements
Conditions
Interest rates and fees vary from one state to another. When you apply for an installment loan from Advance America, you'll be asked for your zip code before you can see what offers are available. Once you know what rates are available in your area, compare them to the fixed interest rates on personal loans from other lenders.
Advance America's interest rates might be rather expensive. Rates vary by loan type and state but are frequently in the triple digits. Payday loans in California, for example, include costs that amount to an annual percentage rate, or APR, of roughly 460%. Installment loans feature lower interest rates, but some have APRs that exceed 200%. For example, in South Carolina, an installment loan of $650 with a six-month term has an APR of 348.0%. You would have to pay back that $650 loan from South Carolina with $1,341.12. Check the Advance America website for the latest rates.
If you wish to get a loan from Advance America, you can fill out an application online. It will give you an idea of the rates and upfront fees based on your state, loan amount, and how long you have to pay it back.
Requirements
To obtain a loan from Advance America, applicants must provide personal identification, proof of income, a bank statement, and a personal check. In many states, a debit card or ACH authorization can be used instead of a personal check. The specific conditions and requirements may vary based on the type of loan and state regulations.
For a loan application, ensure to have:
Government-issued ID
Income proof
Checking account
Social Security Number or ITIN (only in store)
Personal check (mandatory in some states)
For Online Title Loan application via LoanCenter, the requisites include:
Valid government ID
Vehicle (solely for inspection)
Vehicle title bearing your name
Income proof
Ways to Receive the Money
The disbursement of Advance America loans can take various forms. Funds can be deposited directly into your designated bank account, made available for cash pickup, or even funded to your debit card if you apply in-store, among other options.
Products
Advance America offers a variety of financial products and services, each with its own set of key features. Some of the key features of Advance America's products include:
Other Loans
Reasons for Loan Refusal
At Advance America, loans might be refused due to a low credit score, insufficient income, or high debt levels. While the specifics can vary, these financial factors are crucial in evaluating a loan application. Furthermore, Advance America does not provide details regarding your credit report; for that, you must contact the credit bureau directly. If there's an error on your credit report, it's your right to dispute the error with the credit bureau to potentially improve your loan approval chances with Advance America in the future.
How to Repay an Advance America Loan?
At Advance America, loan repayment is generally set for your subsequent pay date. They provide multiple repayment options for your convenience, such as in-person or online payments, though the availability may differ by state.
Online loan payments are set to auto-debit from your bank account on the due date, or you can log in online or call 877-505-0701 to make a payment. For in-store loans, you'll need to return on the due date to repay the total amount. For early repayment, contact the originating store or call (844) 562-6480; in certain states, you might be eligible for a partial refund of your loan fee.

Alternatives
CashNetUSA
CashNetUSA has been a trusted source for swift financial assistance during emergencies since 2004. If you need a $500 – $1,000 online loan, look no further, as CashNetUSA may have the solution you seek. Their fast funding options enable them to address unexpected expenses that require immediate attention. Whether it's a medical emergency, car repair, or any unforeseen financial setback, CashNetUSA is dedicated to providing timely support.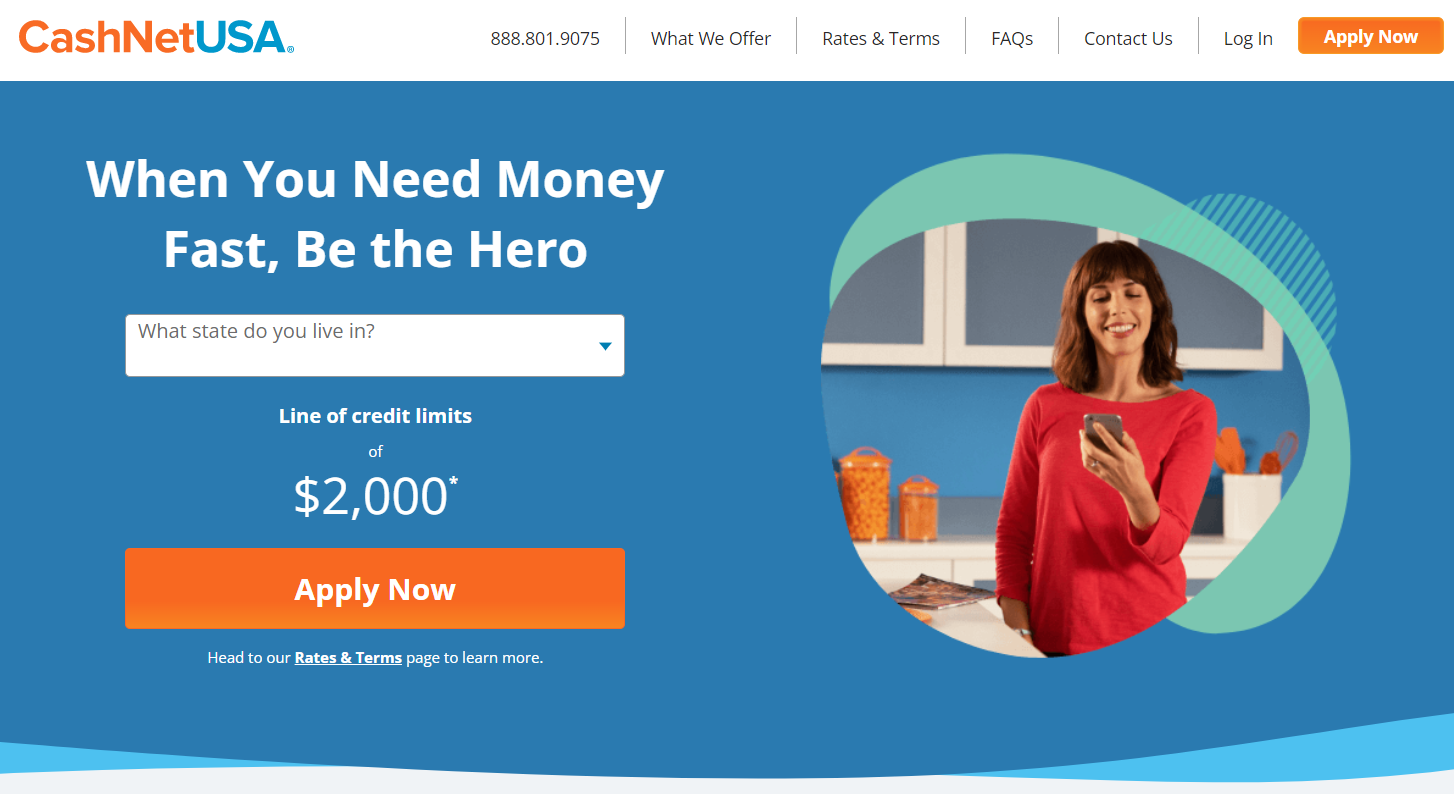 Speedy Cash
Speedy Cash is a prominent financial institution catering to the urgent financial needs of residents in 27 states. With a diverse array of services, the company specializes in offering payday loans alongside various other types of loans. Whether customers require a small sum of $50 or seek more significant assistance with larger expenses, Speedy Cash is ready to address their financial requirements promptly with up to $1,500 payday loans. One of the key advantages of Speedy Cash is its remarkably swift turnaround time, with loan applications being processed and approved within just one day, ensuring that individuals can access the funds they need without unnecessary delays.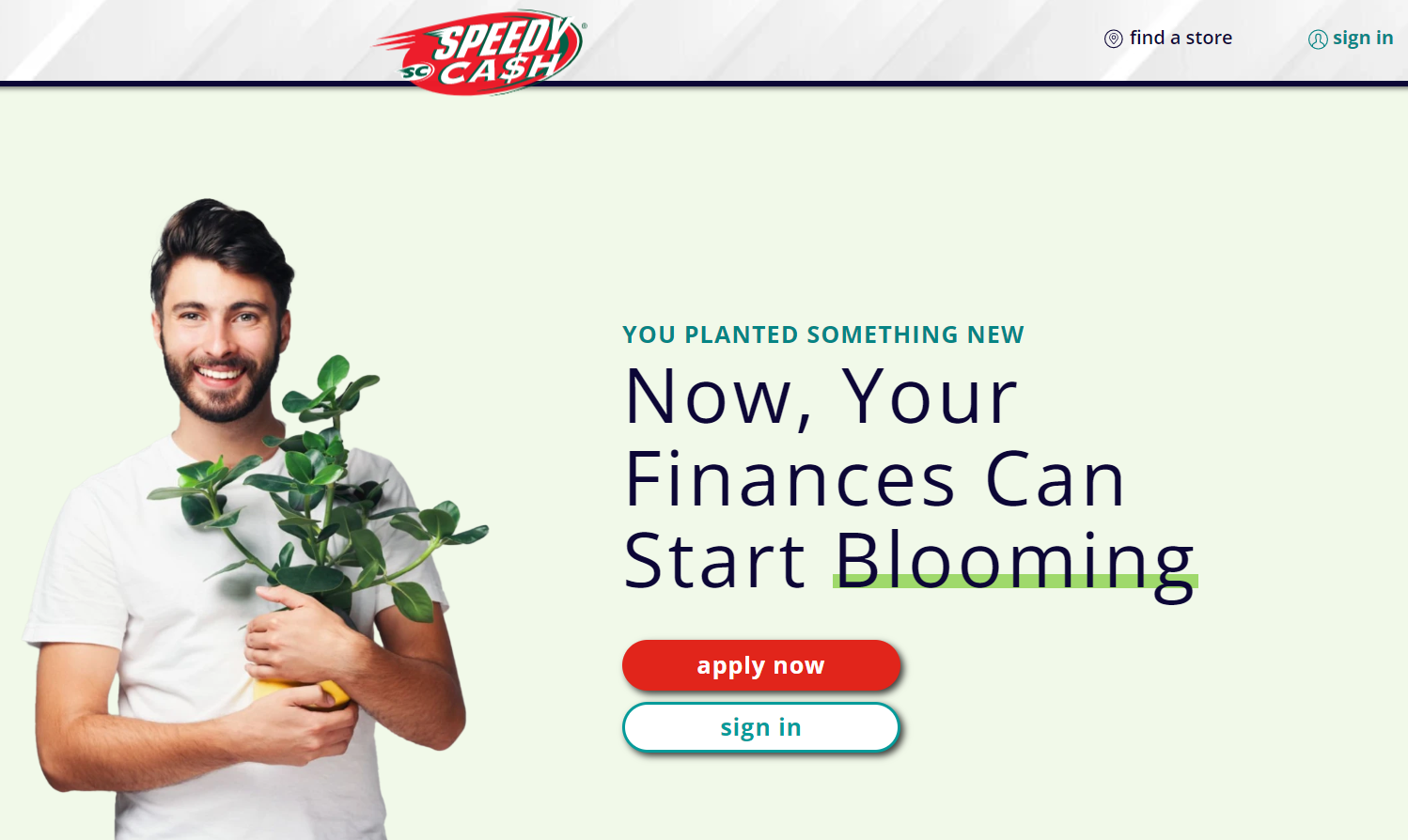 Cash Store
At the Cash Store, customers can now access installment loans up to $3000, providing them with a practical solution for financial needs. With a fixed APR personal loan product that spans from 390% APR up to 780% APR, individuals can secure the funds they require while knowing exactly what to expect in terms of interest rates. The rates may vary depending on the state, ensuring customers are presented with options tailored to their specific location.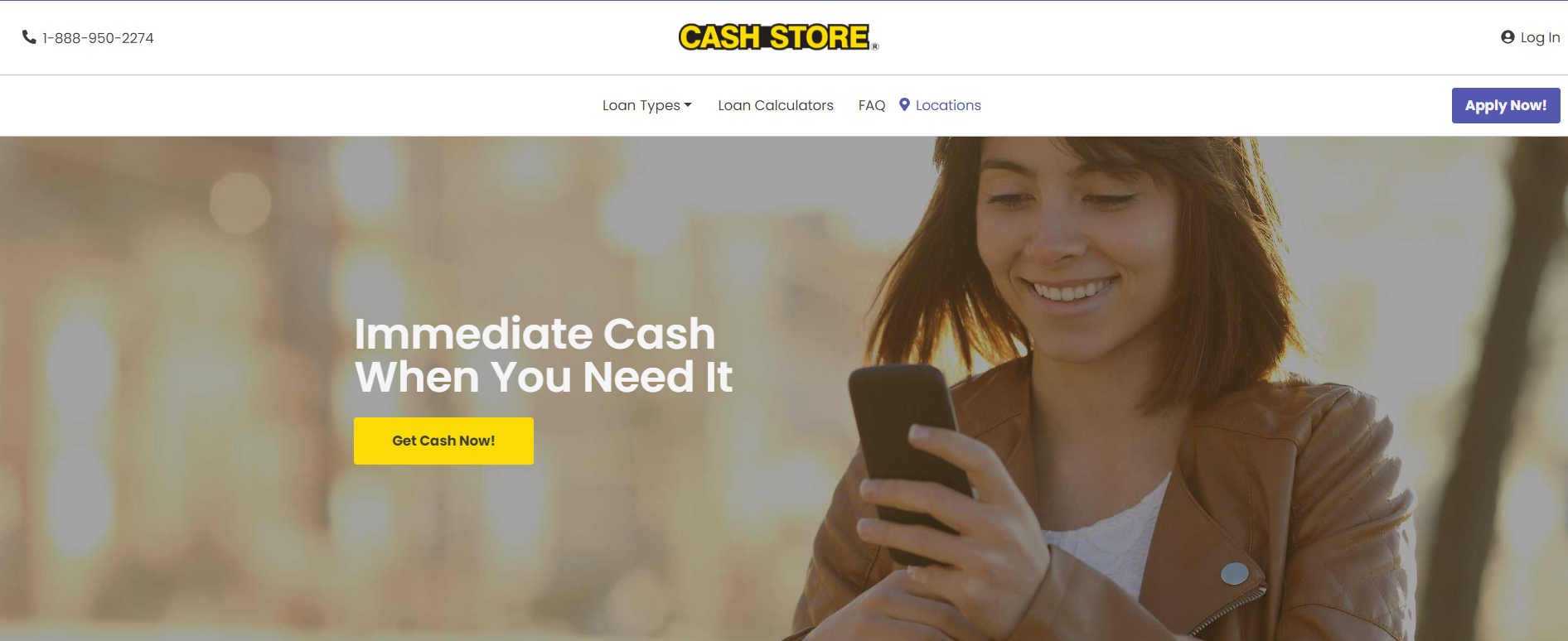 Ace Cash Express
Ace Cash Express is a reputable financial services company that provides installment loans in several states, catering to individuals facing emergencies or unforeseen expenses. In Delaware, borrowers can access up to $2,000; in Florida, Missouri, and Texas, loan amounts range from $100 to $2,000. This flexible loan offering ensures that customers can obtain the necessary funds swiftly and conveniently. Whether it's a medical emergency, urgent car repairs, or any unexpected financial burden, Ace Cash Express aims to offer a reliable solution to its clients in times of need.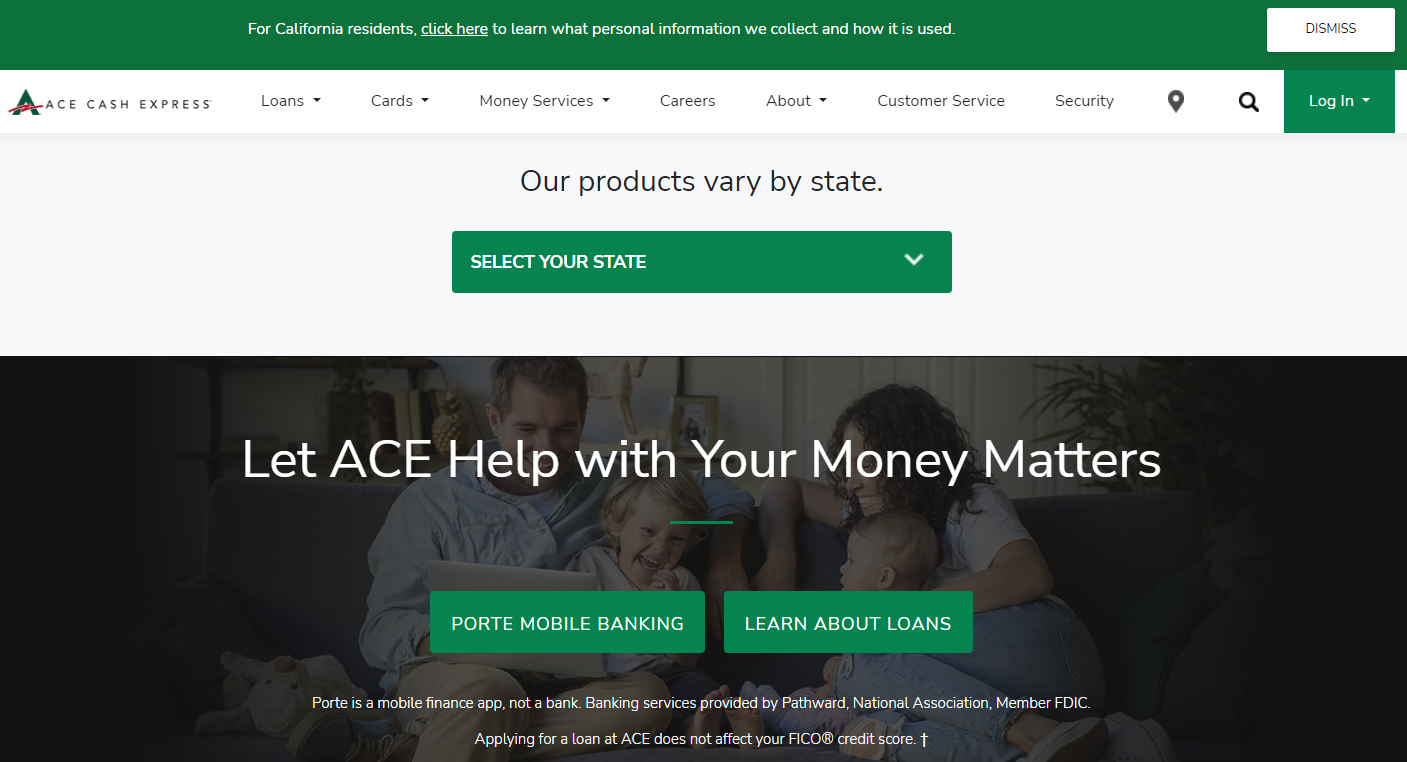 Check Into Cash
Check Into Cash is a reputable financial service provider that offers Installment Loans. These loans allow individuals to borrow a certain amount of money, typically ranging from $50 to $5,000, depending on the laws of their state. The maximum loan amount varies from one state to another, ensuring compliance with local regulations. With Check Into Cash, borrowers can access the funds they need to cover unexpected expenses or manage financial challenges.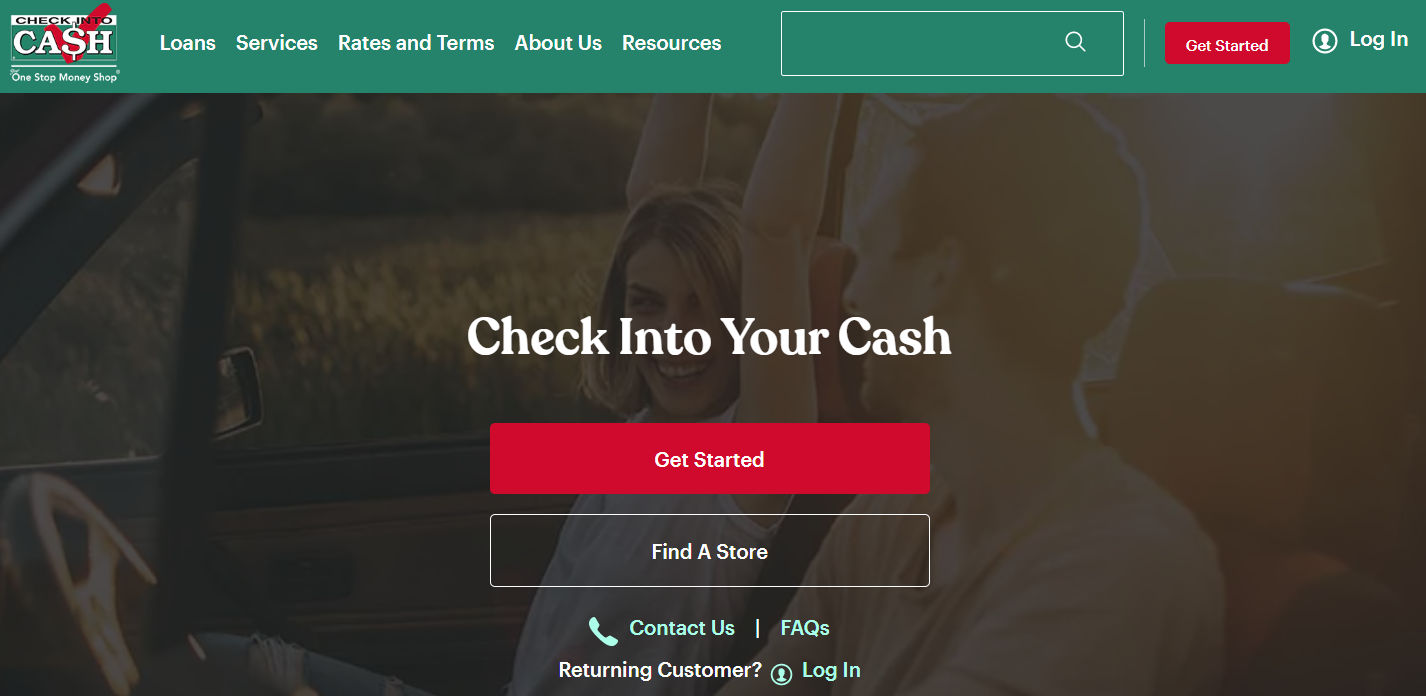 Approved Cash
Approved Cash is a trusted financial institution specializing in offering payday loans and cash advance services, catering to individuals needing immediate financial assistance. Whether you're facing unexpected expenses or find yourself short on funds, Approved Cash is here to provide the solution you need today. Applying for their loans is straightforward, ensuring quick access to the required funds.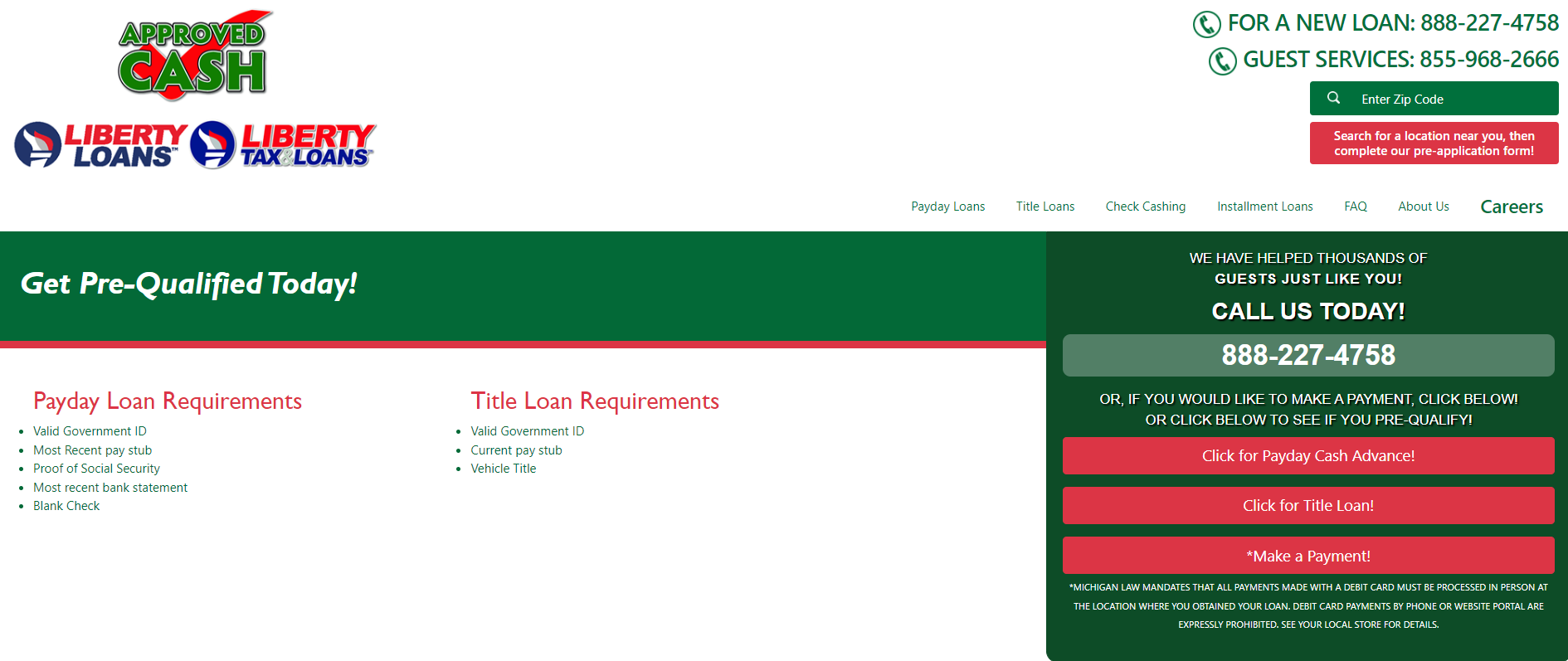 Editorial Opinion
Important
How to Choose a Lender
Make sure to confirm whether the lender is licensed to operate in your state. You can verify this information with your state regulator or attorney general.

Check if the lender is a member of a reputable association, such as the Community Financial Services Association of America. Membership in such organizations may provide an extra level of reliability.

Carefully review all the terms and conditions of your payday loan contract.

Thoroughly examine the interest rates on payday loans and ensure that your contract includes a detailed breakdown of the total cost of the loan.

Take advantage of your right of rescission. Usually, you can rescind the loan within three days after signing the agreement. Alternatively, there is typically a "cooling-off" period, which allows you several days to thoroughly review the contract before making an informed decision to enter into a consumer loan agreement based on the terms specified by the lender.

Choosing a payday lender is a significant decision that demands careful consideration and a good understanding of how such organizations operate.
Methodology
At Finanso, we've carried out a comprehensive analysis of over 100 lenders, assessing them based on 35 different parameters across six key categories: accessibility of loans, customer relations, quality of service, interest rates, and transparency of conditions.
In each category, we carefully considered the most critical factors in selecting a lender. These factors include the interest rates, available loan amounts, minimum credit score, minimum income, application fees, and the speed at which funds are transferred.
At Finanso, we highly value our users, which is why we also focus on the quality of customer service, user reviews, and additional features that can aid our users in making a well-informed decision.
Our ultimate goal is to provide insightful recommendations and expert advice to assist you in selecting a lender that best caters to your specific needs.
Additional Resources
Sources