World Wide Fund Visa Card®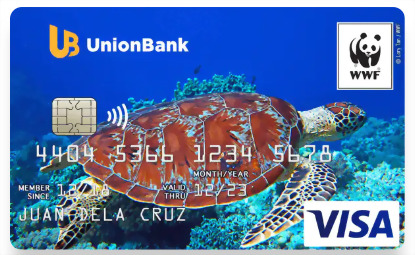 World Wide Fund Visa Card®
About credit card
WWF-Philippines has teamed with Unionbank to provide you this special card, which not only has all of the benefits of a Unionbank credit card, but also allows you to participate in WWF-Philippines' conservation activities. Just by using your credit card, you can help WWF's initiatives. Earn rewards points while enjoying flexible payment plans, installment and discount programs.
Features
Below are some features of this card:
Inhouse installment. You will experience lower monthly payments for your financial requirements with UnionBank's in-house installation facility. You can use EasyConvert to convert your direct transaction into set monthly installments and EasyTransfer to transfer your existing credit card balances into your current UnionBank card to pay in monthly installments. You can also use EasyCash to change your available credit to cash for unexpected costs and pay in monthly installments. Please keep in mind that all in-house installment applications are dependent on approval.
Charity. 0.5% of your spending at any retail establishments are being sent to the WWF.
Pros and cons
Consider these pros and cons of this card before applying for it.
Pros
The card lets users earn reward points while spending.
The card has an inhouse installment program.
Cons
The card has a higher monthly balance maintenance requirement.
The card also has a higher annual fee.
How to apply for the Union Bank World Wide Fund Visa card?
Follow the steps carefully:
Visit the Union Bank website.
Go down and click on Cards. Click on Credit card.
Go up and click on See cards.
Look for and click on the World Wide Fund Visa card.
Click on Apply now.
Select if you have a reference code or not.
Choose if you are a Union Bank customer or not, input your account number or your card number if you are.
Select World Wide Fund Visa card.
Choose if you have a principal card with another bank or not.
Select if you have a valid ID and a financial document or not, click on Next when done.
Input all the needed data and information and then follow all the onscreen descriptions to complete your application.
Make sure you meet the below requirements before applying:
You must be between 18-70 years old.
You must fill out the application form correctly.
You must have a copy of a valid government-owned ID card with your picture and signature on it.
You must have a copy of your source of income.
You must have an alien certificate of registration if you are a foreigner.
This site is protected by reCAPTCHA and the GooglePrivacy Policy and Terms of Service apply.

Dear guest, please leave your feedback
Leave a review and get 20 FinCoins to your account!