UnionBank Platinum Visa Card®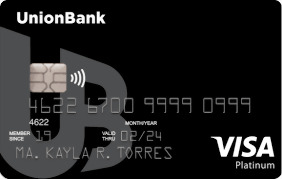 UnionBank Platinum Visa Card®
About credit card
Users of the Union Bank Platinum Visa card enjoy 24/7 concierge services. The card will be a good choice for those who can enjoy additional bonuses and rewards as compared with the Classic or Gold cards.
Features
Visa Platinum Concierge. Through the online Concierge service, users have access to customer service in seven Asian languages.
Free travel insurance. Users have a coverage limit of ₱10 million when they charge their travel fares to their Union Bank platinum Visa card.
Free airport lounge access. Users enjoy unlimited pre-departure lounge access at Marhaba and Paggs. Amenities and facilities available in the lounges include buffet, Wi-Fi access, cable TV and shower facilities.
Longer credit terms. Users can enjoy 53 days credit at 0% interest if full balance is paid.
Pros and cons
Below are some ups and drawbacks of the card:
Pros
Users get 24/7 customer care service.
Users get access to luxury travel insurance.
Cons
There are no options for most retirees to get registered.
The card's applicants need to have an annual income of at least ₱600,000.
How to apply a UnionBank Platinum Visa card?
If you are interested in a UnionBank Platinum Visa card, you can apply through the steps given below:
Visit the Union Bank official website.
Go down and click on Cards. Click on Credit card.
Go up and click on See cards.
Look for and click on UnionBank Platinum Visa card.
Click on Apply now.
Select if you have a reference code or not.
Choose if you are a Union Bank customer or not, input your account number or your card number if you are.
Select UnionBank Platinum Visa card.
Choose if you have a principal card with another bank or not.
Select if you have a valid ID and a financial document or not, click on Next when done.
Input all the needed data and information and then follow all the onscreen descriptions to complete your application.
Before you apply, please, make sure you meet the following requirements.
Eligibility requirements
The applicants must meet these requirements to be eligible for a UnionBank Platinum Visa card:
Must be aged 18 to 70 years.
Must have a minimum annual income of ₱600,000.
Documentary requirements
These are generally required documents from an applicant for a UnionBank Platinum Visa card:
The applicant will be required to provide a government-issued ID with photo and signature.
In order to ensure that the applicant can undertake the financial obligations of the card, they are required to provide one of the following:
Income Tax Return or Certificate of Compensation Payment and Tax Withheld or similar documents.
Certificate of Employment or Employment.
This site is protected by reCAPTCHA and the GooglePrivacy Policy and Terms of Service apply.

Dear guest, please leave your feedback
Leave a review and get 20 FinCoins to your account!