UnionBank Platinum Mastercard®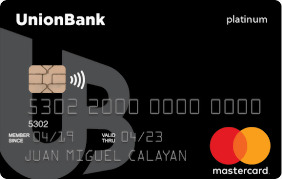 UnionBank Platinum Mastercard®
About credit card
Receive cashback on everything, and be part of the platinum club. Experience platinum benefits with a Mastercard that offers a 1% cashback on everything from groceries to large purchases.
Features
What are the features or benefits of the UnionBank platinum Mastercard?
Unlimited savings. Earn a 1% cashback on every purchase. No bars on how much you can earn. The cashback you make does not expire so you can redeem it at your convenience.
General acceptance. Cardholders enjoy making payments conveniently with the card accepted at over 30 million establishments and ATMs worldwide.
Free airport lounge access. Enjoy unlimited pre-departure lounge access by presenting your valid UnionBank Platinum Mastercard credit card, unused boarding pass carrying your name, and a valid photo-bearing government-issued ID.
Pros and cons
We'll look at some of the ups and downs of being a UnionBank Platinum Mastercard holder.
Pros
The payment convenience is guaranteed with the acceptance of this card by over 30 million establishments worldwide.
They're additional benefits, such as airport lounge access.
Con
The fees associated with this card type are relatively steep.
The card's annual minimum fees are very high.
How to apply a
UnionBank Platinum Mastercard®?
You can get UnionBank platinum Mastercard in two primary ways. They are; branch applications and online applications. To apply online:
Visit the Union Bank official website.
Go down and click on Cards. Click on Credit card.
Go up and click on See cards.
Look for and click on UnionBank Platinum Mastercard.
Click on Apply now.
Select if you have a reference code or not.
Choose if you are a Union Bank customer or not, input your account number or your card number if you are.
Select UnionBank Platinum Mastercard.
Choose if you have a principal card with another bank or not.
Select if you have a valid ID and a financial document or not, click on Next when done.
Input all the needed data and information and then follow all the onscreen descriptions to complete your application.
Below are some of the requirements for acquiring a UnionBank platinum Mastercard
Eligibility requirements
To be eligible for a UnionBank platinum Mastercard, an applicant must meet these requirements.
You have to be between 18-70 years old to apply.
You must fill out an application form.
You must have a minimum gross annual income of ₱600,000.
Documentary requirements
These documents are required from a card applicant.
Proof of identity. The applicant has to provide a valid government ID with a photo and signature.
Proof of income. As proof of payment, the following documents would suffice

Income Tax Return (ITR)
Certificate of employment or employment contract.
Latest 3-months payslips
BIR Form 2316 or a similar copy.
Proof of pension.
This site is protected by reCAPTCHA and the GooglePrivacy Policy and Terms of Service apply.

Dear guest, please leave your feedback
Leave a review and get 20 FinCoins to your account!