UnionBank Lazada Credit Card®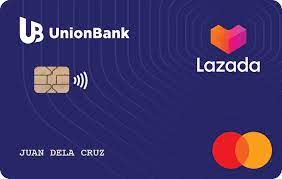 UnionBank Lazada Credit Card®
About credit card
UnionBank and Lazada have collaborated to launch a credit card, the UnionBank Lazada credit card, aimed at frequent Lazada consumers. Cardholders of the UnionBank Lazada credit card receive 6x Lazada credits for every ₱200 spent at Lazada, LazMall, and Lazada's key merchants to shop online. It comes with a physical and virtual credit card that you can manage using the UnionBank online app. Consequently, you may do transactions online without having to bring your physical card with you.
Features of the UnionBank Lazada credit card
This card has several key features, some of which are described below:
You can earn reward points on every spending you make and convert your rewards after every other purchase to your Lazada wallet.
You can also earn ₱6 Lazada credits for every ₱200 spent on Lazada.
You earn ₱1 Lazada credit for every ₱200 spent at all other merchants.
You can apply for a card and, as a newly authorized card, will get ₱5,000 in Lazada wallet credits as a welcome gift. There are certain restrictions, however.
You get a free monthly delivery of up to ₱50 with a minimum purchase of ₱2,500. There are certain restrictions too.
You get free ₱250 discount coupons for a minimum purchase of ₱5,000, but this is only during mega sales (5 mega sales all year round). There are also certain restrictions.
Besides, this credit card accepts contactless payments and sends a paperless electronic statement of account to your email address. The minimum annual income requirement is ₱360,000, with an annual fee of ₱3,000 waived for the first year.
Newly approved cardholders will receive a welcome gift of ₱5,000 as Lazada credits through the Lazada app. They are eligible for this if they use the card at Lazada for a single or cumulative retail expenditure of ₱20,000 within 60 days of its acceptance. Bill payments, recurring expenses, and non-Lazada other purchases are not eligible for credit.
Other purchasing bonuses like online shopping include a free ₱50 monthly shipping coupon, a free ₱250 discount voucher for five Lazada sales throughout the year, exclusive discounts and exclusive deals from LazMall retailers, and access to the most recent Lazada offers through the Unionbank mobile app.
Pros and cons
The UnionBank Lazada credit card has so many benefits and drawbacks, and it is critical to understand them before applying for it so that you can make informed selections. The following are some of the product's pros and cons.
Pros
The card's application is entirely online. There is no need to go to the bank to get the card.
The UnionBank Lazada card comes with credit life insurance.
The UnionBank Lazada credit Mastercard includes a virtual card that allows you to do online transactions, like shopping, at Lazada online stores or other online stores without carrying your credit card.
Cons
There is a risk of getting high-interest rates if you miss a payment.
The card has annual fees, like the cash advance fee, which cardholders must pay as they use.
How to apply for a UnionBank Lazada credit card?
To apply, follow the procedures below:
Visit the official UnionBank website. Check the website, too, for the formal criteria. Continue if you pass all of them.

Click on Cards, then scroll down and click on either Credit; scroll up and click on See cards.

Click on UnionBank Lazada credit card.

Go down and click on Apply now.

Enter your contact details: your name, mobile number, email, etc.

Click on Next, go through the declaration, and click on Accept if you accept.

On the next page, you must enter your personal details, like age, etc., and click on Continue when done.

Enter your work details on this page and select your account purpose and estimated monthly transaction. Click on Continue when done.

A one-time password will be sent to your mobile phone number. Input this password and click on Continue.

Confirm your details and click on Submit.
This site is protected by reCAPTCHA and the GooglePrivacy Policy and Terms of Service apply.

Dear guest, please leave your feedback
Leave a review and get 20 FinCoins to your account!