UnionBank Classic Visa Card®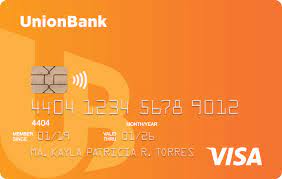 UnionBank Classic Visa Card®
About credit card
Being at the forefront of your game is your first objective for sure if you lead a fast-paced existence. UnionBank Classic Visa card is one of the most popular UnionBank credit cards. With this UnionBank credit card, you will get all of the features and advantages that correspond to your professional lifestyle.
Principal cardholders can automatically pay important utility bills like electricity and insurance payments, so they don't go unnoticed. In addition, for every ₱35 charged to your card, you will receive one reward point. Build these rewards points to redeem a variety of benefits, including shopping gift certificates, movie and airline tickets, petrol purchases, and even cash rebates to offset your card's annual fees and other purchases.
Features of the UnionBank Classic Visa Card®
Below are some of the features of this card from UnionBank:
Zero monthly installments. You can acquire a 0% payment plan for 3 to 36 months at partnering retailers.
Promotions. Users can enjoy free Fish N' Chips with a minimum purchase of ₱1,000.00 or a 10% rebate with no minimum purchase required when they use their UnionBank classic Visa credit card.
Reward points. Earn points are you spend, e.g., get one reward point for every ₱200.00 spent.
Flyer miles. Airmiles can be obtained by converting reward points.
Balance transfer. Enjoy a low-interest balance transfer payment from 3-36 months at a monthly interest rate of as little as 0.99%, depending on your payment period.
Bills payment convenience. More bills equal more issues, especially when the due dates are forgotten. With auto bills payment, you cannot skip monthly dues on all of your payments. Charge your expenses to your UnionBank Classic Visa credit card automatically via the bank's website or mobile app to pay your bill amount on the due date. With this, you have worry-free payments.
Pros and cons
Below are some of the perks and drawbacks of the UnionBank classic Visa credit card. This will help you know if it is the right card for you.
Pros
The card offers users reward points when they use it, and the points can be redeemed in many ways.
The card offers a 0% installment plan for up to a term of 36 months.
The card also offers users up to 30% discount on partnering stores and restaurants in the whole of the Philippines.
The card is available for both residential Filipino citizens and foreign resident individuals.
The application process for this card is fully online-based.
The card offers exclusive deals like the auto insurance and travel rewards.
The card allows users to manage them from the site or mobile app.
Cons
The bank charges annual fee, which includes membership fees, cash advance fees, etc.
The card's interest rate is higher than its competitors.
The cardholders are in danger of overspending, especially when points can be earned while purchasing.The card has a lower credit limit compared to competitors.
How to apply for a UnionBank Classic Visa Card®?
The application process for this card is simple. Follow the steps below to apply with little stress:
Visit the official UnionBank website.
Click on Cards, then scroll down and click on either Credit, scroll up and click on See cards.
Click on UnionBank Classic Visa Card®.
Go down and click on Apply now.
Enter your contact details: your name, mobile number, email, etc.
Click on Next, go through the declaration, and click on Accept if you accept. Note that they could be changed without prior notice. Always check.
On the next page, you must enter your personal details, like age, etc., and click on Continue when done.
Enter your work details on this page and select your account purpose and estimated monthly transaction. Click on Continue when done.
A one-time password will be sent to your mobile phone number. Input this password and click on Continue.
Confirm your details and click on Submit.
This site is protected by reCAPTCHA and the GooglePrivacy Policy and Terms of Service apply.

Dear guest, please leave your feedback
Leave a review and get 20 FinCoins to your account!