The North Face Visa Card®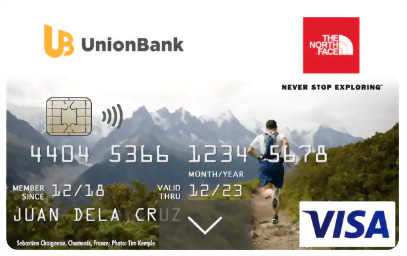 The North Face Visa Card®
About credit card
The North Face VISA card allows you to get the right tools for travel and everyday life. It also offers you a 30% credit limit with other unique features.
Features
Annual discounts. With the North Face Visa card, you can get year-round discounts like 5% off shopping at The North Face, The Travel Club, and R.O.X, 30% discount on fees, and priority registration at TNF-sponsored events such as TNF100, Thrill of the Trail, Great Campout, etc.
Treats and freebies. You get your first annual fees waived with the North Face Visa card. You can also spend ₱10,000 cumulatively in the North Face (TNF) store and the Travel Club (TTC) within three months using your North Face credit card and get The North Face premium items for free. Present your accumulated receipts at the TNF or TTC store to redeem. You also get a 20% discount on all regular-priced TNF items on your birth month.
Rewards. With the North Face Visa card, you can earn one reward point for every ₱20 spent with the card at all properties. You can redeem your reward points for ₱500 and ₱1,000 free GCs to use at the north face stores.
Pros and cons
Below are the pros and cons of the card:
Pros
The card has an average interest rate.
The card offers rewards, freebies, discounts, etc.
Cons
The minimum annual income requirement is very high.
The card has a yearly maintenance fee.
How to apply a credit card?
To apply for this card, you have to follow the steps below:
Visit the Union Bank official website.
Go down and click on Cards. Click on Credit card.
Go up and click on See cards.
Look for and click on North Face Visa card.
Click on Apply now.
Select if you have a reference code or not.
Choose if you are a Union Bank customer or not, input your account number or your card number if you are.
Select North Face Visa card
Choose if you have a principal card with another bank or not.
Select if you have a valid ID and a financial document or not, click on Next when done.
Input all the needed data and information and then follow all the onscreen descriptions to complete your application.
Eligibility
Applicants must be between the ages of 18 to 60 for principal card holders and 14 to 60 years for supplementary card holders.
Applicants must be Filipino.
Foreign applicants must reside in the Philippines.
Applicants must have a total income of at least ₱50,000 per month.
Applicants must be existing cardholders.
Document requirements
A valid government-issued ID with a photo and signature (SSS, UMID, TIN, passport, driver's license, etc.).
Taxpayer identification number (TIN).
This site is protected by reCAPTCHA and the GooglePrivacy Policy and Terms of Service apply.

Dear guest, please leave your feedback
Leave a review and get 20 FinCoins to your account!