Suy Sing Visa Card®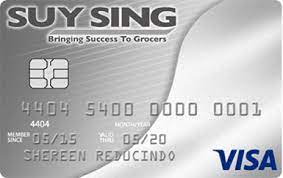 About credit card
The Suy Sing Visa card allows you to enjoy rebates and rewards with the Suy Sing Commercial Corporation, one of the leading One Stop Grocery distributing Philippine companies.
Features
Reward points. With the Suy Sing Visa card, you can get reward points and redeem your discount as soon as you collect at least 500 points which is equivalent to ₱500. You can call 841-86-00 to redeem.
Discounts. With the Sun Sing Visa card, you can earn a 0.5% rebate on all your Suy Sing purchases.
Credit card access. With the Suy Sing Visa card, you can share your credit card access with family members and friends who are a minimum of 14 years old.
Pros and cons
Below are the pros and cons of the Suy Sing Visa card:
Pros
The card has a 0% installment plan.
The monthly effective interest rate is average at 3.5%.
Cons
The annual income requirement is very high.
The rewards can only be earned at Suy Sing branches.
How to apply a credit card?
To apply for this card, you have to follow the steps below:
Visit the Union Bank official website.
Go down and click on Cards. Click on Credit card.
Go up and click on See cards.
Look for and click on Suy Sing Visa card.
Click on Apply now.
Select if you have a reference code or not.
Choose if you are a Union Bank customer or not, input your account number or your card number if you are.
Select Suy Sing Visa card
Choose if you have a principal card with another bank or not.
Select if you have a valid ID and a financial document or not, click on Next when done.
Input all the needed data and information and then follow all the onscreen descriptions to complete your application.
Eligibility
Applicants must be between the ages of 18 to 60 for principal card holders and 14 to 60 years for supplementary card holders.
Applicants must be Filipino.
Applicants must reside in the Philippines.
Applicants must have a total income of at least ₱50,000 per month.
Applicants must be existing cardholders.
Document requirements
A valid government-issued ID with a photo and signature (SSS, UMID, TIN, passport, driver's license, etc.).
Taxpayer identification number (TIN).
Employed applicants
Final ITR (form 1701), compensation payment and withholding tax certificate, or similar document.
Last three months' payslip.
Employment certificate or contract of employment.
For self-employed
BIR form 2316 or similar document.
Pension certificate.
Bank statement from another bank for the last three months.
Additional requirements for foreigners
Alien registration certificate (ACR) or similar document.
This site is protected by reCAPTCHA and the GooglePrivacy Policy and Terms of Service apply.

Dear guest, please leave your feedback
Leave a review and get 20 FinCoins to your account!