Racks Visa Card®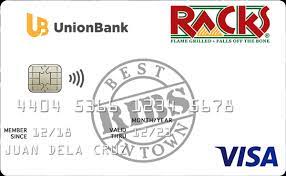 About credit card
When you use your Union Bank Racks Visa card for the first time for a minimum expenditure, you will receive a free welcome goodie at any branch. Depending on your minimum food purchase, you may also receive meal freebies ranging from mac and cheese to carbonara pasta. Your normal spending will also be rewarded as you will receive one point for every twenty dollars charged to your card. Your acquired points can be traded for free meal coupons at Racks.
Features
Some of the features are listed below:
Welcome treat. When you use your Racks Visa card for the first time and make a minimum purchase of ₱800 at any Racks location, you will receive a free classic Caesar salad. These meals are also complimentary when you use your Racks Visa card to dine at any Racks location.
Dining rewards. Every ₱20 spent with your Racks Visa card earns you one reward point. You can also exchange your points for free meal vouchers at Racks.
Pros and cons
Do go through these pros and cons before applyinging for the card.
Pros
The card holders earn reward points as they spend.
The points can also be redeemed right at Racks.
Cons
The card is limited to just Racks.
The card has many fees and charges.
The interest rate is high.
How to apply for the Union Bank Rasks Visa card?
Follow the steps carefully:
Visit the Union Bank website.
Go down and click on Cards. Click on Credit card.
Go up and click on See cards.
Look for and click on the Rasks Visa card.
Click on Apply now.
Select if you have a reference code or not.
Choose if you are a Union Bank customer or not, input your account number or your card number if you are.
Select Rasks Visa card.
Choose if you have a principal card with another bank or not.
Select if you have a valid ID and a financial document or not, click on Next when done.
Input all the needed data and information and then follow all the onscreen descriptions to complete your application.
Make sure you meet the below requirements before applying:
You must be between 18-70 years old.
You must fill out the application form correctly.
You must have a copy of a valid government-owned ID card with your picture and signature on it.
You must have a copy of your source of income.
You must have an alien certificate of registration if you are a foreigner.
This site is protected by reCAPTCHA and the GooglePrivacy Policy and Terms of Service apply.

Dear guest, please leave your feedback
Leave a review and get 20 FinCoins to your account!