UnionBank PlayEveryday®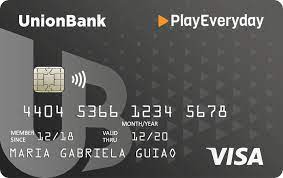 About credit card
UnionBank PlayEveryday® credit card is the Philippines' first gamified card program for millennials. The groundbreaking tool delivers a series of adulting tasks that make banking enjoyable, simple, and rewarding.
UnionBank PlayEveryday® card, available as a debit or credit card, allows users to earn more play points through conducting card daily transactions, installing the UnionBank web app, signing up for another UnionBank PlayEveryday® credit card, and other activities. It also allows them to customize and utilize one of a dozen avatars when taking on each gaming challenge.
Cardholders can use PlayEveryday to:
Rank higher the more they play since this is how play points are accumulated.
Get gamified loyalty program.
Earn extra play points when they advance to the next rank and enjoy exciting perks.
Participate in the weekly leaderboards.
Claim and redeem rewards using UnionBank online.
A cardholder's game ranking rises from rookie to hall of fame as they progress and earn bonus points for each milestone reached, dependent on the card usage. Secret features can also be unlocked by reaching high-level ranks and a leaderboard for comparing points with other players.
They can enjoy reward items instantaneously via UnionBank online once they have accumulated enough play points. Cardholders can swap points for items and services at over 100 alliance merchants through the rewards program.
Features of the UnionBank PlayEveryday®
These cards have features that allow you, the user, to enjoy the excitement of being an adult. In addition, when you collect play points with every transaction, you can level up and redeem special incentives, and deposits are protected by the PDIC up to ₱500,000 per depositor. Some of the features are:
You do not need maintenance balances. You can open a savings account without any need to maintain a balance. However, you will be charged a ₱500 annual fee.
You gain points while using the cards. For every ₱20 Visa you spend, you get one play point.
You get to win play points. There are many ways to win play points listed on UnionBank's website.
You can personalize. The cards can also be personalized in any way you choose.
You get discounts and privileges. The cards have several advantages, such as the ability to use them anywhere in the world.
Pros and cons
Before applying for one of these cards, weighing the benefits and drawbacks is usually a good idea as this will help you make an informed decision. The pros and cons of these cards are listed below:
Pros
UnionBank PlayEveryday® card offers the ability to get a savings UnionBank account without maintaining a balance.
The card also lets users earn reward points while using it. The points can now be redeemed using the UnionBank online app.
The cards also offer the ability to set your PlayEveryday profile and choose your avatar.
Cons
The cardholders are at risk of overspending, especially when there are points to win while spending.
The users are also at risk of being defrauded, especially with the gaming and all other online activities that come with having one of these cards.
How to apply for the UnionBank PlayEveryday®?
The application process for this card is not complicated. Follow the steps below to apply without much stress:
Visit the UnionBank official website. Check the site for the official requirements. Continue if you pass them all.

Click on Cards, then scroll down and click on either Credit or Debit. Depending on the type of card you want, scroll up and click on See cards.

Click on PlayEveryday.

Go down and click on Apply now.

Enter your contact details: your name, mobile number, email, etc.

Click on Next, go through the declaration, and click on Accept if you accept.

On the next page, you must enter your details, like your age, etc., and click on Continue when done.

Enter your work details on this page and select your account purpose and estimated monthly transaction. Click on Continue when done.

Confirm your details and click on Submit.
You can also apply by using the UnionBank online app to run the first QR code scan on the website.
This site is protected by reCAPTCHA and the GooglePrivacy Policy and Terms of Service apply.

Dear guest, please leave your feedback
Leave a review and get 20 FinCoins to your account!