Home Depot Visa Card®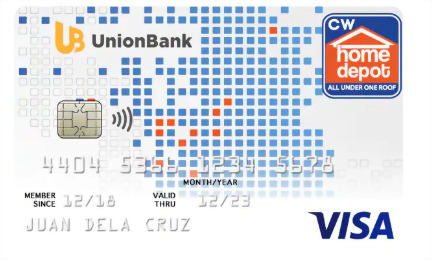 About credit card
The Home Depot Visa card is a lifestyle concentrated card which allows its holder to enjoy payment convenience and exclusive privileges from its wide array of shopping, dining, and leisure credit features.
Features
Below are some of the features of this card:
Double Zero Deal. The Double Zero Deal is a home Depot Visa card feature that guarantees:
0% interest on your purchases or payments for the first three months.
0% interest on three and 6-month installment terms for Home Builder Superstore items (nails, paint, tools, locks, bathroom fixtures, etc.)
CW Home Depot. You could live in the comfort of your dream home with Home Depot's exclusive benefits. At CW Home Depot, you access everything you need to renovate or build your home under one roof.
Pros and cons
What are the advantages and the downsides of the Home Depot Visa card?
Pros
Cardholders enjoy exemption from interests for particular transactions.
Cardholders can use the rewards when redeemed for Depot gift certificates, gas, dining, and shopping gift certificates.
Cons
The cardholders should be aware of other fees other than maintenance fees.
The application process may be time-consuming and tedious for some people.
How to apply for the Home Depot Visa card?
Follow the steps below to apply:
Visit the Union Bank official website.
Go down and click on Cards. Click on Credit card.
Go up and click on See cards.
Look for and click on Home Depot Visa card.
Click on Apply now.
Select if you have a reference code or not.
Choose if you are a Union Bank customer or not, input your account number or your card number if you are.
Select Home Depot Visa card.
Choose if you have a principal card with another bank or not.
Select if you have a valid ID and a financial document or not, click on Next when done.
Input all the needed data and information and then follow all the onscreen descriptions to complete your application.
Requirements to apply for this card include:
Eligibility requirements
To be eligible for a Home Depot Visa card, an applicant must meet these requirements.
You have to be between 18-70 years old to apply.
You must fill out an application form.
Documentary requirements
The following documents are required from a Home Depot Visa card applicant.
Proof of identity. The applicant must provide a valid government ID with a photo and signature.
Proof of income. As proof of payment, the following documents would suffice:
Incomes Tax Return (ITR).
Certificate of employment or employment contract.
Latest 3-months payslips.
BIR form 2316 or a similar document.
Proof of pension.
Latest three months copy of bank statement of account (SOA).
This site is protected by reCAPTCHA and the GooglePrivacy Policy and Terms of Service apply.

Dear guest, please leave your feedback
Leave a review and get 20 FinCoins to your account!