Don Bosco Alumni Association Visa Card®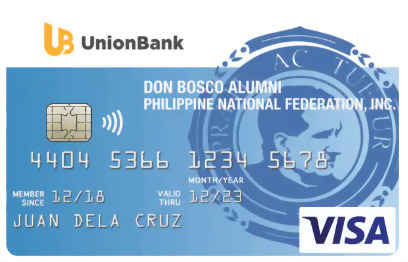 Don Bosco Alumni Association Visa Card®
About credit card
The Don Bosco Alumni Association Visa card offers a convenient avenue for sharing the benefits of a Don Bosco education with individuals from humble backgrounds.
Features
What are some characteristics of this product?
Membership to World Confederation of Don Bosco Past pupils. As a cardholder, the card serves as valid means of identification as a Don Bosco alumni.
Support for scholarship programs. As a Don Bosco Alumni credit cardholder, you support scholarships propagated by the Filipino National Federation of Don Bosco. These amounts will automatically be donated on your behalf:
50% of your annual fee.
0.5% of your spending at retail establishments.
1% of interest on your revolved balance.
Rewards. When you own a Don Bosco Alumni Visa card, you immediately become a paid member of the World Confederation of Don Bosco Past Pupils, which is based in Rome.
Pros and cons
Below are the advantages and pitfalls that come with this product:
Pros
The card offers convenient disbursal of commitments at a due date.
The card serves as a finance tool and a means of identification.
Cons
The card's payments, when late, attract fees. These fees are also subject to spontaneous change.
The card is limited.
How to apply a credit card?
You can apply for a Don Bosco Alumni Visa card online by going to the Unionbank website or downloading the bank's mobile app. Whether you're using the web or the mobile app, follow these steps to apply for the card:
Visit the Union Bank official website.
Go down and click on Cards. Click on Credit card.
Go up and click on See cards.
Look for and click on Don Bosco Alumni Association Visa card.
Click on Apply now.
Select if you have a reference code or not.
Choose if you are a Union Bank customer or not, input your account number or your card number if you are.
Select Don Bosco Alumni Association Visa card.
Choose if you have a principal card with another bank or not.
Select if you have a valid ID and a financial document or not, click on Next when done.
Input all the needed data and information and then follow all the onscreen descriptions to complete your application.
Before applying for this card, you must first meet the requirements below.
Eligibility requirement
To be eligible as a Don Bosco alum Visa card holder, the applicants:
Must be 18-70 years old to apply.
Must have a landline.
Documentary requirements
Proof of identity. One copy of a valid government ID with a photo and signature.
Proof of income.
One copy of your source of income. E.g.,
income tax return (ITR),
Certificate of employment, or employment contract.
Latest 3-months payslips, BIR form 2316, or a similar document.
Evidence of pension, latest three months copy of bank statement of account (SOA).
An alien certification of registration (ACR) or a document with its equivalence is required for foreign applicants.
This site is protected by reCAPTCHA and the GooglePrivacy Policy and Terms of Service apply.

Dear guest, please leave your feedback
Leave a review and get 20 FinCoins to your account!