Burgoo Visa Card®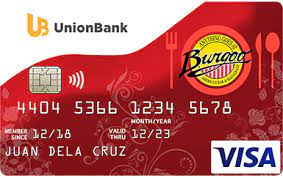 About credit card
With this Visa card, you can treat your family to Burgoo. Bring the whole family to Burgoo for some quality time together and delicious meals. You can also use your card to get unique rewards.
Features
The card has some very good features, some of them are listed below:
Welcome treat. You can get a free appetizer. Simply produce the voucher together with your Burgoo Visa card when ordering to receive your welcome gift.
Dining discounts. You can save up to 15% at Burgoo, Eat&Go, and Gumbo: Get 15% off dining purchases between ₱300 and ₱5,000, and 10% off purchases beyond ₱5,000. It should be noted that it cannot be combined with other promotions, and there are no split bills.
Dining rewards. Earn one point for every ₱20 spent with your Burgoo Visa card, and redeem your points to receive free Burgoo meal vouchers.
Birthday treat. When you use your Burgoo Visa card to dine at Burgoo, Eat&Go, or Gumbo, you may save up to 20%. Simply display the birthday coupon that will be delivered to you together with your Burgoo Visa card when you place your order. You receive 20% off dining expenditures between ₱300 and ₱5,000, and 15% off dining transactions beyond ₱5,000. Please keep in mind that this cannot be combined with any other offers.
Pros and cons
This section talks about the perks and downsides of this card.
Pros
The card offers reward points while you are spending.
The card offers discounts.
Cons
There is a risk of overspending since you get reward points the more you spend.
The card is limited.
How to apply for the Union Bank Burgoo card?
Follow the steps carefully:
Visit the Union Bank website.
Go down and click on Cards. Click on Credit card.
Go up and click on See cards.
Look for and click on the Burgoo Visa card.
Click on Apply now.
Select if you have a reference code or not.
Choose if you are a Union Bank customer or not, input your account number or your card number if you are.
Select Bugoo Visa card.
Choose if you have a principal card with another bank or not.
Select if you have a valid ID and a financial document or not, click on Next when done.
Input all the needed data and information and then follow all the onscreen descriptions to complete your application.
Make sure you meet the below requirements before applying:
You must be between 18-70 years old.
You must fill out the application form correctly.
You must have a copy of a valid government-owned ID card with your picture and signature on it.
You must have a copy of your source of income.
You must have an alien certificate of registration if you are a foreigner.
This site is protected by reCAPTCHA and the GooglePrivacy Policy and Terms of Service apply.

Dear guest, please leave your feedback
Leave a review and get 20 FinCoins to your account!