Ateneo Alumni Association Visa Card®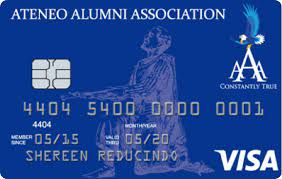 Ateneo Alumni Association Visa Card®
About credit card
This card is used to support the educational, healthcare, livelihood, and heritage projects of the Ateneo Alumni Association (AAA). Users automatically donate 50% of their annual fees, 0.5% of their spending on retail establishments and 1% of the interest on revolving balance to the foundation. The following are some of the features associated with the card.
Features
Online banking. Users can pay bills, do cash transfers, or check their balance with their mobile phones.
Car insurance. Users can get a 12 monthly installment plan with 0% interest and a reasonable price.
Rebates. Users can earn rebates or reward points which can be redeemed for free gas.
24 hours of customer service. Users can have their questions answered and problems resolved through customer service 24 hours a day and seven days a week.
Pros and cons
Below are some benefits and drawbacks of the card:
Pros
Users can have access to card services worldwide.
Users are directly supporting the Ateneo Alumni Association projects.
Cons
There is no option for most retirees to apply for the card.
The discounts and promos will not benefit most members of the general population.
How to apply a credit card?
If you are interested in an Ateneo Alumni Association Visa card, you can apply through the steps given below:
Visit the Union Bank official website.
Go down and click on Cards. Click on Credit card.
Go up and click on See cards.
Look for and click on Ateneo Alumni Association Visa card.
Click on Apply now.
Select if you have a reference code or not.
Choose if you are a Union Bank customer or not, input your account number or your card number if you are.
Select Ateneo Alumni Association Visa card.
Choose if you have a principal card with another bank or not.
Select if you have a valid ID and a financial document or not, click on Next when done.
Input all the needed data and information and then follow all the onscreen descriptions to complete your application.
Before you apply, please make sure you meet the following requirements:
Eligibility requirements
The applicants must meet these requirements to be eligible for an Ateneo Alumni Association Visa card:
The user must be aged 18 to 70 years.
The user must have a minimum annual income of ₱360,000.
Documentary requirements
Proof of identity. The applicant must provide a government-issued ID with a photo and signature.
Proof of income. To ensure that the applicant can undertake the financial obligations of the card, they are required to provide one of the following:
Income tax return or certificate of compensation payment and tax withheld or similar documents.
Certificate of employment or employment contract.
This site is protected by reCAPTCHA and the GooglePrivacy Policy and Terms of Service apply.

Dear guest, please leave your feedback
Leave a review and get 20 FinCoins to your account!