Alpha Phi Omega Visa Card®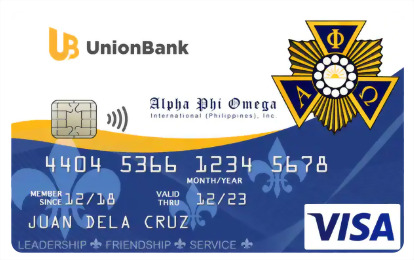 Alpha Phi Omega Visa Card®
About credit card
Users of the Unionbank Alpha Phi Omega Visa card support the Alpha Phi Omega (APO) fraternity through donations. On subscription, users will have 50% of their annual fees and 0.5% of spending on retail establishments donated to the APO national administrative office on their behalf.
Features
Below are some features of the card:
Life insurance. Card users get as much as ₱400,000 in credit and cash in the event of a user's or family member's death. The same insurance covers permanent disability. If a user suffers a temporary disability, they're entitled to 5% of their balance or ₱500 (whichever is higher) for the first 12 months of disability until 60 years of age.
Inhouse installment facility. This allows users to pay one-time bills through credit and pay back in installments. The credit balance can also be converted to cash and paid back in installments.
Pros and cons
Below are some ups and drawbacks of the card:
Pros
It can be used to pay bills and perform other financial transactions.
Its users can enjoy 0% interest for installment programs for 36 months.
Cons
Users should beware of several fees besides the usual maintenance fees.
Users like those working with armed forces, aeronautics, and the mentally disabled will need different insurance.
How to apply for a
Alpha Phi Omega Visa Card®?
If you are interested in a Unionbank Alpha Phi Omega Visa card, you can apply through the steps given below:
Visit the Union Bank official website.
Go down and click on Cards. Click on Credit card.
Go up and click on See cards.
Look for and click on UnionBank Alpha Phi Omega Visa card.
Click on Apply now.
Select if you have a reference code or not.
Choose if you are a Union Bank customer or not, input your account number or your card number if you are.
Select UnionBank Alpha Phi Omega Visa card.
Choose if you have a principal card with another bank or not.
Select if you have a valid ID and a financial document or not, click on Next when done.
Input all the needed data and information and then follow all the onscreen descriptions to complete your application.
Before you apply, please, make sure you meet the following requirements:
Eligibility requirements
Must be aged 18 to 70 years.
Must have a minimum annual income of ₱360,000.
Documentary requirements
Proof of identity. The applicant must provide a government-issued ID with a photo and signature.
Proof of income. To ensure that the applicant can undertake the financial obligations of the card, they are required to provide one of the following:
Income tax return or certificate of compensation payment and tax withheld or similar documents.
Certificate of employment or employment contract.
This site is protected by reCAPTCHA and the GooglePrivacy Policy and Terms of Service apply.

Dear guest, please leave your feedback
Leave a review and get 20 FinCoins to your account!