TALA on Google Play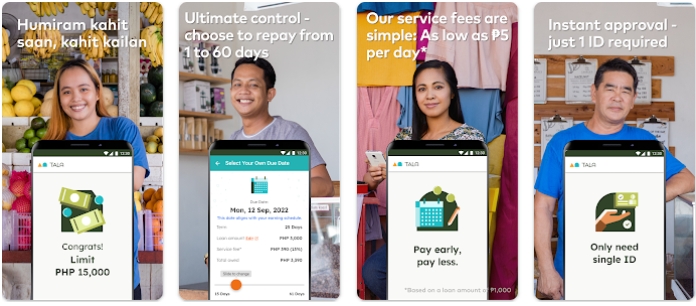 Tala allows Filipinos to access different loan products easily from the app. The mobile app is well-designed and allows customers to apply for a loan easily.
How to download the app?
Go to Google Play Store
Search for Tala Philippines App
Download the Tala Philippines App
Your download will be complete in a couple of seconds.
How to register?
Open the Tala Philippines App
On the home screen, tap the Sign Up button
Enter your registered mobile number and Verify it using a verification code that Tala will send to your mobile number.
After verification, tap the Next button
Input a four-digit PIN that you can remember. Note that you will need this PIN when accessing your Tala account
Tap Continue button to complete the registration process
Tala Loan app has a clean and well-designed user interface. The app design has navigable menu structure, allowing users to navigate the app easily. The app has a fast loading time and responsive support. Tala app is only available for Android users.