Security Bank World Mastercard®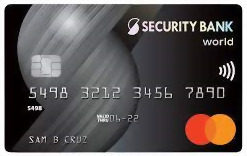 Security Bank World Mastercard®
About credit card
Security Bank World Mastercard® holders use it to pay for purchases and travel expenses worldwide. The principal cardholder can apply for up to five supplementary cards for family members and loved ones.
Features
With the Security Bank World Mastercard®, you can access the latest offers in the travel industry through Mastercard Concierge Services. The Mastercard Airport Experience (MCAE) enables you to enjoy membership to more than 1000 lounges in 500 airports worldwide. You enjoy global access to the latest offers in the transport industry and earn one reward point for every ₱20 spent.
New cardholders enjoy a ₱3000 welcome gift for in-store and online purchases. A one-time password is supplied to you via SecureCode to safeguard against online fraud. You are exempted from paying the annual fee in the first year as you enjoy the lifestyle you want with its high credit limit.
Pros and cons
A high credit limit and global acceptance are among the benefits World Mastercard® holders enjoy. However, the card has its demerits. Your financial needs should guide you in determining whether this card is ideal. Its pros and cons include:
Pros
You enjoy complimentary travel insurance when you pay for travel expenses using World Mastercard®.

You get online purchase protection insurance of up to 200 USD coverage.
Cons
You are charged $32 for excess lounge visits, thus limiting the number of visits.

You are charged a high annual membership fee of ₱5000 for the principal card and ₱2500 for supplementary cards.

You must earn a minimum gross income of ₱3,000,000 to qualify for the Security Bank World Mastercard®.
How to apply for a Security Bank World Mastercard®?
You must be a Filipino citizen or resident to apply for the Security Bank World Mastercard®. As a principal cardholder, you must also be between the ages of 21 and 65 and have been employed as a regular employee or self-employed for at least three years.If you are self-employed, bring your ITR, two years of AFS, business permit, and DTI/SEC registration. If employed, submit one month's pay stubs or a signed COE or ITR.
Visit the Security Bank website
Tap on Cards
Select World Mastercard®
Click on the Apply now button at the bottom.
Go through the pre-qualification form.
If you qualify, fill out the registration form on the next tab and click Submit.
The bank will contact you once your application is processed.
This site is protected by reCAPTCHA and the GooglePrivacy Policy and Terms of Service apply.

Dear guest, please leave your feedback
Leave a review and get 20 FinCoins to your account!