Security Bank Next Mastercard®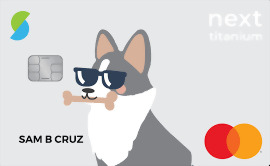 Security Bank Next Mastercard®
About credit card
Next Mastercard® holders can use it to purchase goods, pay for services, and repay their loans in installments. You require no upfront fee to use this card. The balance is broken down into equal installments payable up to 12 months.
Features
Security Bank Next Mastercard® enables you to pay for expensive goods in installments. With a Security Bank Next Mastercard®, you can spread out the cost of expensive items. The card has no annual fee, and you can use it for a variety of expenditures, including rent, travel expenses, paying for school fees, and online purchases. When you make large purchases with this card, the total cost automatically converts to a 12-month easy repayment plan. The card also offers a $200 online purchase protection insurance.
Pros and cons
Security Bank Next Mastercard® helps you purchase goods on credit and is accepted globally. Its SimplyPay feature allows you to settle various payments and repay in easy installments. However, like any product, it has advantages and disadvantages. Therefore, before you apply for Next Mastercard®, check out its pros and cons.
Pros
The card comes one-time time password security feature for online transactions.
The card is cheaper since it attracts no annual fee.
The card allows you to get up to 5 supplementary cards for your loved ones.
The card's SimplyPay feature helps you pay for utility expenses and purchase expensive goods.
The Next Mastercard® installment plan allows you to travel and have a vacation even when you lack enough funds.
Cons
You need a high gross annual income requirement of ₱600000 to be eligible.
You do not qualify for this card if you are unemployed and have not been in a profitable business for at least 12 months.
You will be charged a high transaction fee for over-the-counter payments.
Your late payment and returned checks charges are high.
How to apply for a Security Bank Next Mastercard®?
Before completing the Next Mastercard® application process, ensure you comply with all requirements. Next, follow these steps to apply for the Mastercard:
On the Security Bank's homepage, go to Cards and select Next Mastercard®
Click on Apply now and fill out the eligibility form. When complete, a registration form pops up.
Fill out all the fields in the registration form and tap on Submit. Ensure you attach all the required documents before submission.
The bank will review your application and process it in two weeks.
This site is protected by reCAPTCHA and the GooglePrivacy Policy and Terms of Service apply.

Dear guest, please leave your feedback
Leave a review and get 20 FinCoins to your account!