Security Bank Platinum Mastercard®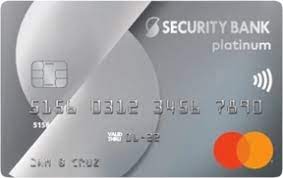 Security Bank Platinum Mastercard®
About credit card
The Platinum Mastercard® offered by Security Bank enables you to meet all your travel expenses. It is accepted globally, incorporates travel insurance, and may be used for online transactions.
Features
Security Bank Platinum Mastercard® holders have access to hundreds of airport lounges globally. When you use this card to purchase a ticket, you instantly qualify for 30-day travel insurance coverage. The insurance provides up to $10 million in compensation to the primary cardholder and qualified family members. Additionally, if you use this card to shop, you will receive travel benefits such as automatic cashback.
Besides that, you get up to $200 in online purchase protection insurance. You and your guests are entitled to two complimentary lounge visits yearly in over 1000 lounges in 500 airports worldwide.
Pros and cons
Platinum cardholders enjoy many benefits, including online purchase protection and travel insurance coverage. However, before applying, you should analyze its benefits and drawbacks and determine if it meets your financial needs.
Pros
You pay for international transactions in US dollars.

You earn reward points for every ₱20 spent. You can redeem the points online in exchange for products and other exclusive deals.

You earn automatic cashback from participating overseas merchants when you pay travel expenses and purchase goods.
Cons
You must be a regular employee or in a profitable business for a minimum of 3 years. Self-employed customers under three years in business are not eligible for this card.

You will be charged a high annual membership fee of ₱4000.
How to apply for a Security Bank Platinum Mastercard®?
Before you apply for Security Bank Platinum Mastercard®, ensure you meet the pre-qualification requirements, like a minimum gross income requirement of ₱ 780000. Follow these four steps when applying for a platinum Mastercard® online.
Visit the Security Bank website and click on Cards on the homepage.

Select Platinum Mastercard® and click on Apply now. A new tab will open containing the pre-qualification requirements. Read all the conditions and ensure you meet the qualifications for the card before applying.

Click Next and fill out the application form. Input all the required information and attach relevant documents.
Tap on Submit and wait for feedback from the bank.
This site is protected by reCAPTCHA and the GooglePrivacy Policy and Terms of Service apply.

Dear guest, please leave your feedback
Leave a review and get 20 FinCoins to your account!