Security Bank Corporate Mastercard®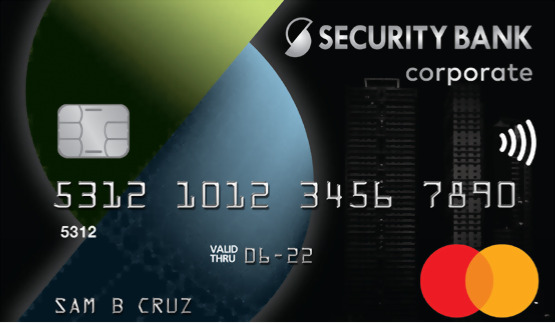 Security Bank Corporate Mastercard®
About credit card
Security Banks offers the Corporate Mastercard® to select employees within the approved corporate line. The Mastercard helps manage purchases, expenses, and spending associated with business activities.
Features
As a Corporate Mastercard® holder, your annual fee will be waived for the first year. You can also convert your transactions to ChargeLight and benefit from low monthly payments. You also get up to ₱5 million in travel insurance coverage. However, you qualify for insurance coverage when you charge your travel expenses to your card, such as airline tickets and other modes of public transportation. Furthermore, when you use the card for all business-related expenses, you are eligible to relax at the Marhaba Lounge NAIA Terminal 1 and Terminal 3. Not only that, but you can get a cash advance of up to 50% of your card limit. You can withdraw cash from any ATM worldwide that accepts Security Bank, BancNet, Megalink, Mastercard, Cirrus, or Maestro.
On the other hand, the company can pay Security Bank Mastercard® by auto-debit from the company account, in person at any Security Bank branch nationwide, or by using Digibanker, a cash management system. The company can also limit where the cardholder can use it. For example, the cardholder may be unable to use the card at supermarkets, alcohol stores, and gambling establishments if these purchases are not considered business expenses.
Pros and cons
If you are considering applying for this Mastercard, here are the benefits and drawbacks you should keep in mind. These includes:
Pros
You decide whether to apply for multiple Corporate Mastercard® cards or just one.

Your cardholder can use their corporate cards to make installment payments at participating merchants.
Cons
The cardholder to whom a Corporate Mastercard® is issued cannot request a supplementary card.

The Corporate Mastercard® attracts an annual fee of ₱2000 after the first year is over.
How to apply for a Corporate Mastercard®?
To apply for the Security Bank Complete Cashback Platinum, follow these steps:
Visit the Security Bank website.

Click on Business.

Click on Cards and then tap Get accredited Now.

Fill in the details on the Corporate Card Accreditation Form.

Click Submit.

Wait for communication from Security Bank on whether your Corporate Mastercard® has been approved and when you can pick it up.
This site is protected by reCAPTCHA and the GooglePrivacy Policy and Terms of Service apply.

Dear guest, please leave your feedback
Leave a review and get 20 FinCoins to your account!