Security Bank Classic Rewards Mastercard®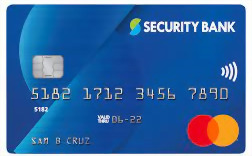 Security Bank Classic Rewards Mastercard®
About credit card
As a first-time user, you can earn non-expiring rewards on your credit card with this card. When you use your Classic Rewards Mastercard®, you earn one reward point for every ₱20 purchase.
Features
SecureCode will prompt you to enter a one-time password (OTP) whenever you transact online with your Mastercard. SecureCode is a simple yet effective way to help protect your card information from fraudsters. As a result, you must enter an additional password and the usual credit card details when using your card.
You can claim rewards such as airline miles and gift cards upon making purchases and earning rewards. Additionally, you can purchase items from the Security Bank rewards catalog. Ensure you know how many points your credit card has before you select an item. A detailed breakdown of your reward points can be found on the monthly electronic Statement of Account (eSOA).
Pros and cons
A first-time cardholder needs an easy-to-maintain card to manage their finances better. Therefore, before applying for the Classic Rewards Mastercard®, understand the pros and cons. These includes:
Pros
You can access a cash advance and withdraw money from any ATM worldwide operated by Security Bank or BancNet.

You will not pay any annual fee for the first year.

You will have access to the Marhaba Lounge NAIA Terminals 1 and 3.
Cons
You will be charged an annual fee of ₱2000 as the primary cardholder. If you are a supplementary cardholder, you will be charged ₱1,000.

You will be charged ₱500 per occurrence every time you exceed your approved credit limit.
How to apply for a Security Bank Classic Rewards Mastercard®?
Visit your nearest bank to apply for the Security Bank Complete Cashback Platinum. Then, proceed as follows:
Visit your nearest branch and ask a representative to help you apply for a Mastercard.

Provide the representative with your personal information, including your name, address, date of birth, and SSS or passport number.

Present proof of identification such as a driver's license or passport and proof of income such as pay stubs.

Fill in the application form.

Present the completed form with the necessary documents to a bank representative.

Wait for communication about picking up your card once it has been approved.
This site is protected by reCAPTCHA and the GooglePrivacy Policy and Terms of Service apply.

Dear guest, please leave your feedback
Leave a review and get 20 FinCoins to your account!