Zuki App by SB Finance
SB Finance Zuki app is a mobile application that allows you to easily apply for a loan whether you are also a non-Security bank client. The app is user-friendly, easy to access its features, and is available for Android and iOS devices. You can access four loans: personal, Hooloogan, MotorsikLOAN, and Car4Cash.
To download the Zuki app, follow these steps:
Zuki App for Android
Downloading the Zuki App on Android is easy.
Install the Google Play Store app on your phone. If you don't already have it, download it from one of your browsers, like Chrome, Brave, or Microsoft Explorer.
Tap the Google Play Store app and search for the Zuki App. Tap on its icon and then click

Install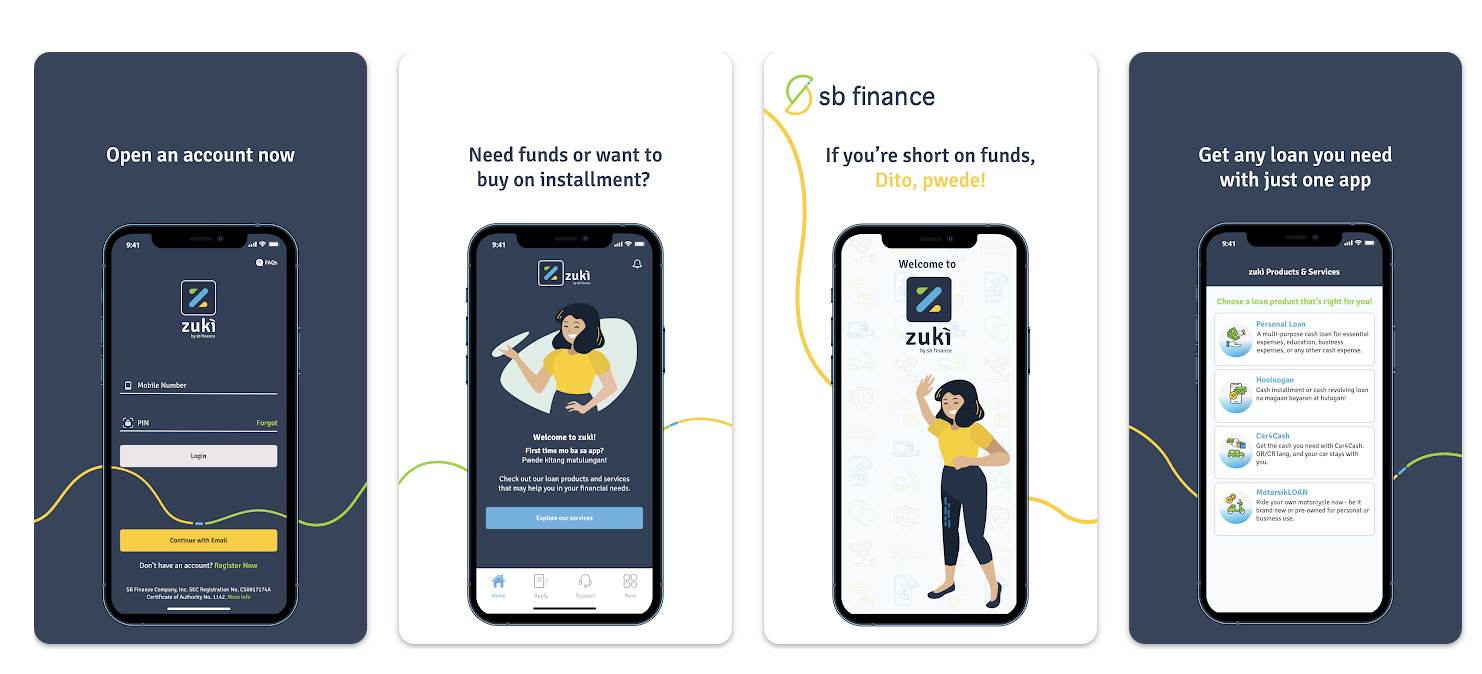 Zuki App for IOS
To download the Zuki App on your Apple product like iPhone or iPad, follow these steps:
Open the App Store app.
Search for the Zuki App, then tap Get to start downloading it.
Click Install and wait while your device downloads and installs the app.

How to register on Zuki App by SB Finance?
To register on the Zuki app, follow the steps that were given earlier on how to download the Zuki app, then log in using the following steps:
Download the Zuki app
Click on Register Now, click Next
Enter the important information, such as your name, email address, and birth date, and then click Next
To log in, enter your mobile number and PIN.
Features of the Zuki app
The Zuki app lets you access these services or products.
Personal loan. You can access a personal loan when you need funds to cater for school, business, or travel expenses. You can take a credit facility of ₱30,000 to ₱2 million for 12-36 months at a 1.89% monthly add-on rate. No collateral or credit card is needed for a personal loan.
Car loan. You can apply for a car loan and borrow up to 80% of the purchase price, repaying it over 12 to 60 months. A down payment of 20% of the purchase price is required. Furthermore, you are eligible for free comprehensive insurance for the first year, which covers damage and repair costs as well as natural disasters. However, it does not protect against third-party liability.
Car4Cash. If you opt for a loan with collateral, you can use your car's OR/CR to get the cash you need. If you are pawning your car's OR/CR, SB Finance does not take your vehicle. Therefore, you are left with the necessary funds and a car to ensure your mobility is not affected. You can get a loan for up to ₱2 million and repay it in 12 years.
Hooloogan. You can also access the Hooloogan to access a cash credit line starting from ₱10,000 to ₱200,000. You can use it for cash loans or in-store financing at accredited merchant partners. For the cash loan, you pay it in installments of up to 48 months. However, you are charged 3.5% for every Instant Cash loan request.
MotorsikLOAN. The credit facility lets you purchase a brand new or pre-owned motorcycle unit through SB Finance. For brand new motorcycles, SB Finance allows you to buy at their partner dealers, while for repossessed motorcycles from the bank's warehouses. Therefore, the motorcycle is covered by a manufacturer's warranty.