RCBC Bankard Visa Platinum®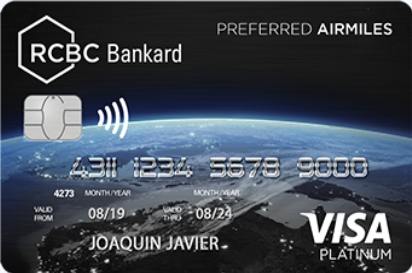 RCBC Bankard Visa Platinum®
About credit card
The Visa Platinum credit card offers you a convenient way to make payments. You can earn free international flights through preferred airmiles for every ₱25 you spend overseas and ₱48 spent locally. Visa Platinum cardholders have access to Skyview Lounge for the principal cardholder and one companion. In addition, you can request for a temporary 100% increment to your credit limit while traveling.
Features
Visa Platinum is the ideal card for traveling and other purchases. You will enjoy many perks while traveling and as you make international purchases. Its main features include:
Visa concierge service with free travel insurance. Enjoy priority treatment in hotel and restaurant reservation, flight booking, and trip planning 24/7 with a free insurance cover against accidents and any discomfort while traveling.
E-commerce purchase protection of up to $200 per year to compensate for loss of goods or damage.
Free flights from preferred airmile. Convert your reward points to airmiles and enjoy a free flight.
Cash advance and increased credit limit while traveling. You can request for a temporary credit limit increase to cater for your travel expenses.
Balance conversion and transfer. Transfer your loan from other credit cards and repay at a lower interest using the RCBC Visa Platinum.
Pros and cons
Analyzing the benefits and drawbacks of the Visa Platinum is crucial to help you determine if the card meets your financial needs.
Pros
100% increase to your credit limit while traveling.
Reward points for every ₱25 overseas spend and ₱48 local spend convertible to airmiles.
Enhanced security through the EMV chip and one-time password for online purchases.
Complimentary priority passes to 1300+ airport lounges worldwide with free travel insurance.
Conversion of straight purchases to monthly installments.
Cons
High annual membership fee of ₱5000 for principal card and ₱2500 for supplementary cards.
High service fee of 3.5% of your purchases for foreign currency transactions.
How to apply for

RCBC Bankard Visa Platinum?

You can apply for the Visa Platinum credit card in a few steps.
On the RCBC Bankard homepage, scroll down to credit cards and select Premium Cards.
Click Apply now under Visa Platinum.
Fill out the online application form and add documentary requirements.
Digitally verify yourself. The bank will contact you to verify the information on your application form.
After confirmation, wait for the bank to contact you when your card is ready.
Annual maintenance
i
Annual maintenance cost of the financial product
This site is protected by reCAPTCHA and the GooglePrivacy Policy and Terms of Service apply.

Dear guest, please leave your feedback
Leave a review and get 20 FinCoins to your account!