JCB Platinum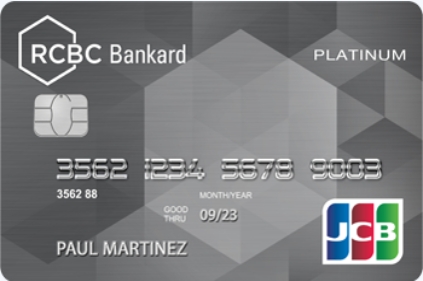 About credit card
JCB Platinum gives you access to world class benefits and many other offers, such as complimentary access to airport lounges and JCB Plaza lounges located in more than 50 cities. You can exchange points for airmiles, a cash rebate, shopping vouchers, or cash credit to your RCBC Bankard. You can also enjoy free travel insurance and purchase protection for your international travels.
Features
Before considering the JCB Platinum credit card, you need to understand some of its features. The following are some of them.
Exclusive travel privileges. With this RCBC Bankard credit card, cardholders can enjoy world class privileges and offers such as free platinum airport lounge service, discounts for car rental services, 24/7, and access to JCB Plaza lounge located in major cities worldwide.
Budget management. RCBC Bankard JCB Platinum card has features that can help you manage your budget. The Unli Installment tool allows you to convert your straight purchases to installments for a maximum of 36 months. With the Spend Monitor tool, you get real-time SMS advisories on every credit card spending. The Spend Analyzer tool helps you keep track of all your credit card spending, while the Fast BillsPay tool allows you to experience convenient and rewarding bills payment. You can also use the Balance Conversion tool to convert your outstanding statement balances to installments and the Balance transfer tool to consolidate your credit card bills in one card.
Enhanced security. The JCB Platinum card has two main security features. First, the EMV chip technology allows cardholders to experience increased security and reduces fraudulent activities on their cards. The Credit Protect Plus tool protects your financial commitments from unforeseen life events such as accidents and deaths.
Rewards. Your JCB Platinum credit card allows you to earn rewards that you can redeem for airmiles, cash rebates, and shopping vouchers.
Pros and cons
Before you apply for a JCB RCBC Bankard Platinum credit card, you can check the following advantages and disadvantages to ascertain that it can meet your needs.
Pros
You get access to world-class travel benefits and offers, such as complimentary access to more than 50 airport lounges and JCB Plaza lounges.
You can enjoy up to 20% on car rental services.
You get access to a 24/7 concierge desk.
You earn flexible, non-expiring rewards points for every spends and more points from transactions made in Japan.
You get unlimited free access to the Skyview Airport lounge as the principal cardholder and one travel companion.
You can enjoy free travel insurance of up to ₱1,000,000 and purchase protection for all your international travels.
You get a bonus travel limit every time you travel.
You get 0% installment on all purchases abroad.
You can instantly access your cash worldwide because your card is accepted internationally.
Cons
You pay an annual membership fee of ₱3,600.
You pay a membership fee of ₱1,800 per year for the supplementary JCB RCBC Bankard Platinum credit card.
How to apply for JCB Platinum Credit Card?
Before applying for a JCB RCBC Bankard Platinum credit card, cardholders must confirm that they meet the applicant's qualifications. Basically, you must be between 21 and 65 years old as a principal cardholder and 13-65 as a supplementary cardholder. You can complete your credit card application by following these steps upon meeting these qualifications.
Go online to RCBC Homepage and click on Credit cards.
Next, scroll down to Credit Cards and select Premium Cards.
Click Apply now under JCB Platinum.
Read the card's terms and click I Accept at the bottom of the page.
Fill out the required details in the application form: pre-qualification details, your personal information, employment and financial information. Ensure that you have provided the correct details in each field.
The bank will verify your application digitally before you complete it.
Submit your application form and wait for verification and processing. Once your card is ready, the bank will notify you of your card delivery.
Annual maintenance
i
Annual maintenance cost of the financial product
This site is protected by reCAPTCHA and the GooglePrivacy Policy and Terms of Service apply.

Dear guest, please leave your feedback
Leave a review and get 20 FinCoins to your account!