RCBC Bankard Hexagon Club®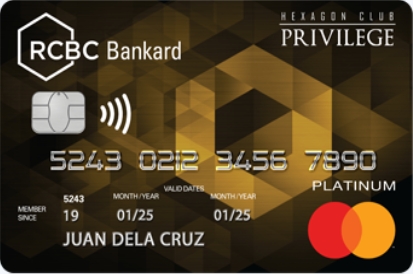 RCBC Bankard Hexagon Club®
About credit card
RCBC Bankard Hexagon Club® grants you membership to the Hexagon Club. You can use this Rizal Commercial Banking Corporation credit card for general purchases and travel expenses. To apply for this premium card, you must have a good credit history and at least ₱100,000 in your savings account.
Cardholders enjoy premium banking service and get invitations to Hexagon Club exclusive events in addition to priority treatment in partner merchants. In addition, you earn flexible non-expiring rewards points on all your purchases and other special perks during international travel.
Features
The RCBC Hexagon Club card has the following features.
Waived annual fee. Accountholders in RCBC bank that pass the evaluation criteria can apply for this card at zero annual fees for life.
Enhanced security and e-commerce purchase protection. In addition to the EMV chip and one-time password, the cardholders get free insurance cover for online purchases. The credit protect plus shields you from unforeseen life events.
Priority service and no ATM withdrawal fee. Every Hexagon Club member enjoys the exclusive privilege of a dedicated Business Relationship Manager and access to ATM services free.
Free travel insurance and access to world-class lounges. Hexagon Club members get free travel insurance when they use the Hexagon Club card to buy airline tickets and pay for other services.
Fast bills pay and rewards. Hexagon Club members enjoy fast settling of bills direct from the bank account and access to cash advances from any RCBC bank branch and affiliate ATMs. Members earn reward points for money spent, which they can redeem for purchases and gifts.
Bonus travel limit during the travel period. Hexagon Club members can request a credit limit increase when traveling to avoid financial constraints. The limit is, however, restored after the travel period.
Pros and cons
Hexagon Club Platinum card has benefits and drawbacks. Your financial needs should guide you to determine if it is ideal and affordable. Check out the pros and cons if you are planning to invest in this credit card.
Pros
You enjoy premium banking services and perks, including Hexagon Club privilege services.
You get gree access to the Hexagon Club privilege events and perks from the bank and partner merchants.
You enjoy enhanced security to ensure your funds are safe by the EMV chip, purchase protection, and one-time password.
You can access the fully loaded international travel benefits, such as travel insurance and purchase protection.
You get waived branch fee and free ATM withdrawals.
You enjoy worldwide coverage of up to $200 on e-commerce purchases.
You get one free checkbook and manager's check per year.
You get free ATM insurance when you become a hexagon member.
Cons
You must have good credit standing to qualify for the commercial banking corporation, RCBC Hexagon Club credit card.
You must maintain a ₱100,000 balance in your savings account to qualify for membership, which can lock out low-income earners.
How to apply for an RCBC Hexagon Club?
You can apply for the RCBC Hexagon Club credit card, become a member of the Hexagon Club today, and enjoy a total RCBC banking experience in the following steps.
On the RCBC Homepage, scroll down and click on Credit cards.
Choose Premium cards, scroll down, and click on Apply now under Hexagon Club. Ensure you meet all the requirements and have supporting documents. You must be 18-65 years old with a minimum of ₱100,000 in your deposit account.
Click on Apply now and complete the application form after accepting the terms of the card.
Attach all the required documents such as a government-issued photo-bearing ID and a copy of your latest payslip if you are an employed applicant. Applicants owning private businesses should provide the latest bank statement showing a month's sales as proof of income.
Submit your application and wait for verification and confirmation. Once the bank verifies your application digitally, it will process your card and notify you when and where to collect it when ready.
This site is protected by reCAPTCHA and the GooglePrivacy Policy and Terms of Service apply.

Dear guest, please leave your feedback
Leave a review and get 20 FinCoins to your account!