RCBC Bankard Flex Visa®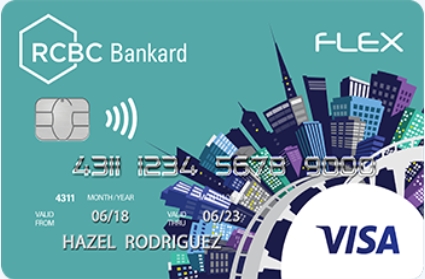 About credit card
RCBC customers can use their Flex Visa credit cards for local and international purchases and earn 2x rewards points in two preferred categories. You can choose to earn points after using your card for dining, clothing, travel, or transportation. For expensive products, the bank allows you to convert straight purchases to installments and repay your loan at low-interest rates for up to 36 months.
There are many ways to use your RCBC Bankard Flex Visa rewards points. You can redeem them and get shopping vouchers and cash rebates or use them as cash credit to your deposit account.
Features
This credit card from RCBC bank has the following outstanding features.
Enhanced security. The EMV chip on every card and one-time pin for online purchases protect your funds against fraud. Besides, the RCBC transactions online and the credit protect plus feature shield you against fraud.
Expense management. You can convert straight purchases to installments through the Unli Installment and get an SMS after every transaction to help monitor your expenses.
Attractive travel perks. Access to world-class lounges when you pay travel expenses with the Flex Visa Bankard and 0% installment on international purchases are perks you get from this credit card. Furthermore, you enjoy free travel insurance and purchase protection.
Global acceptance. You can use your card for payments and purchases anywhere in the world.
Pros and cons
A Flexi card is the most flexible as it allows you to choose rewards and determine how to redeem them. However, it also has some drawbacks, like the high effective monthly rate on loans. Before securing one, you need to consider the pros and cons of the Flexi card.
Pros
You get access to many travel perks, including free travel insurance and access to world-class lounges.
You earn rewards points in your preferred categories, which you can redeem for shopping vouchers and miles to travel for free.
You enjoy convenience and secure online shopping through the one-time pin, purchase protection, and the EMV chip on the RCBC Bankard Flex Visa.
You get more control of your finances with the Unli Installment, which also helps monitor your expenditure through SMS advisories and the spend monitor feature.
You get regular discounts and promotions when you pay for travel and dining using the Bankard Flex Visa.
You can enjoy fast bills payment with balance conversion and transfer to one credit card.
You access credit cash and cash advances on top of your credit limit.
You enjoy a low annual fee of ₱1500 for the principal cardholder and ₱750 for a supplementary cardholder.
Cons
High monthly interest rate on loans.
High transaction fees for foreign currency transactions.
Long wait time of 60 days before you start using the card.
How to apply for RCBC Bankard Flex Visa?
You must be 18-65 years old to apply for the principal credit card and 13-65 years old for a supplementary credit card. In addition, you should have the required documents of identification and proof of income. Once you meet all the requirements, apply for your Flex Visa in the following steps.
Go to the RCBC Homepage, scroll down, and click on Credit cards.
Choose Gold & Classic Cards and click on Apply now under Flex Visa.
Start a new application. Read the customer agreement form and click on "I accept" to continue.
Fill out the required details in the application form on another tab: pre-application details, personal information, employment and financial information. Ensure you provide the correct information in all fields. The bank will verify your application digitally before you complete it.
Submit your application form and wait for verification and processing. Your card will be ready within 10-15 working days.
When ready, the bank will contact you to pick up your card.
Annual maintenance
i
Annual maintenance cost of the financial product
This site is protected by reCAPTCHA and the GooglePrivacy Policy and Terms of Service apply.

Dear guest, please leave your feedback
Leave a review and get 20 FinCoins to your account!