RCBC Bankard Classic®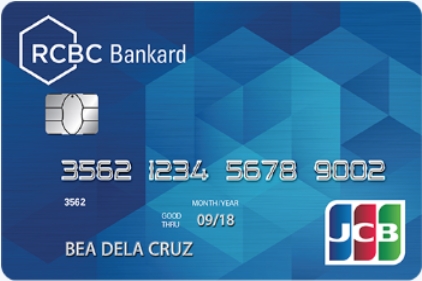 About credit card
The RCBC Bankard Classic Card is one of the most suitable cards for young professionals seeking financial independence. The card allows you to earn flexible, non-expiring rewards points from all purchases you make using it. You can exchange rewards points for airmiles, cash rebates, shopping vouchers, cash credit to your RCBC Bankard or deposit to your RCBC deposit account. In addition, the credit card allows you to enjoy free budget monitoring features to control your spending, free travel insurance and purchase protection.
Features
Budget management. With a Classic Card credit card, you can enjoy budget management features such as Unli Installment, which helps you convert your straight purchases to installment for a period of up to 36 months. You also get other budget management features such as Spend Monitor, which sends you real-time SMS advisories on your credit card spending. Other tools such as Spend Analyzer, Fast BillsPay, Balance Conversion, and Balance Transfer can help you manage your credit card use.
Enhanced security. The EMV Chip Technology allows you t enjoy increased security when you use your card and reduces fraud. You also get Shop Secure, Web Shopper, and Credit Protect Plus features, to enhance your security when using the credit card. Travel. You can enjoy many travel benefits with your Classic Card. For example, you get free travel insurance and purchase protection, access to world-class airport lounges, 0% installment on purchases abroad, and bonus travel limit. You can also enjoy international acceptance when you use this card.
Pros and cons
Before you can consider having the Classic Card, you might need to understand some of the benefits and drawbacks of owning it. Here are some advantages and disadvantages you should first know.
Pros
You can earn rewards points that you can redeem to get airmiles, cash rebates, and shopping vouchers, among other rewards.
You can get cash loan for future plans using this credit card.
You can get cash on top of your available credit by using the YourCash! feature.
You get free travel insurance and purchase protection.
You can enjoy convenient and rewarding utility bills payments with this card.
Cons
The principal cardholder pays a membership fee of ₱1,500 annually.
The supplementary cardholder pays an annual membership fee of ₱700.
How to apply for a Classic Card?
You can apply for a Classic Card online by following these steps.
Go to the RCBC Bankard Homepage, scroll down to Credit cards and select Gold & Classic Cards.
Click on Apply now under Gold Card.
Read the customer agreement form and click I Accept at the bottom of the page.
Proceed to the next page and start your application by filling out the required details in the application form.
The bank will contact you to verify your application digitally before you can submit it for processing.
Wait for approval and delivery of your card.
Annual maintenance
i
Annual maintenance cost of the financial product
This site is protected by reCAPTCHA and the GooglePrivacy Policy and Terms of Service apply.

Dear guest, please leave your feedback
Leave a review and get 20 FinCoins to your account!