PNB Visa Gold®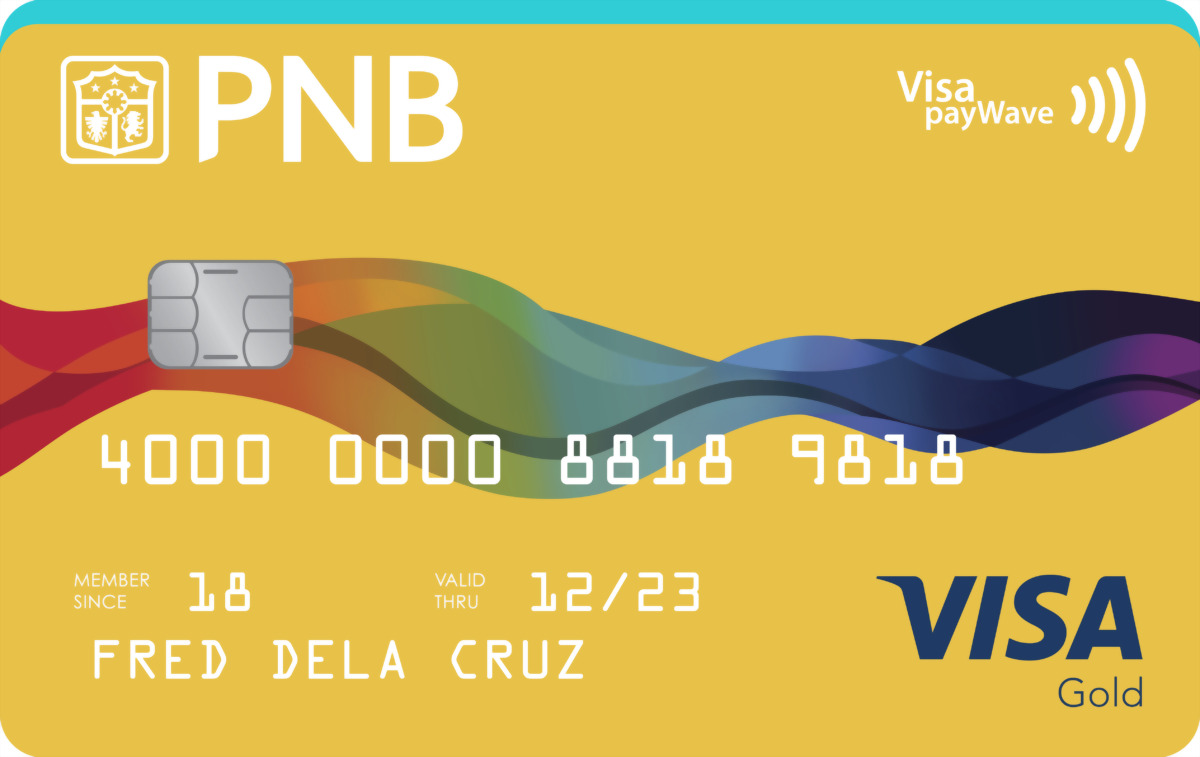 About credit card
The PNB Visa Gold is ideal for users who need to prioritize payments such as basic necessities and even for luxury purchases. The card allows users to enjoy a 1% rebate on revolved interest when they pay a minimum amount due. Users can also travel safely with the free travel insurance coverage of up to ₱1,000,000. They also enjoy free protection insurance coverage of up to ₱250,000 and get fraud transaction insurance for only ₱120 per year.
Features
Card services. Users can view their electronic statement of account (eSOA) from the PNB Internet banking website or their e-mails registered with the card. They can also pay all their credit card bills, check balances, and monitor transactions via the PNB digital app. The card allows users to enjoy up to 30% of their credit limit from BancNet and PNB ATMs across the country.
Card protect. You can enjoy up to ₱250,000 free purchase protection insurance every year for items you have purchased using the credit card. You also enjoy free travel insurance cover of up to ₱1,000,000 and other travel-related issues such as flight delays and lost luggage. The card also provides fraud transaction insurance cover of up to ₱250,000 for ₱120 per year.
Installment programs. This card enables you to make balance transfers from other credit cards at a low interest rate. You can also convert your credit limit into cash and pay light installments at low interest rates. Besides, the card allows you to enjoy a zero % affordable payment plan (ZAPP) for up to 24 months when you shop from selected PNB-affiliated partner merchants.
Pros and cons
Before you apply for the PNB Visa Gold, you can first consider some of its benefits and drawbacks.
Pros
You enjoy low annual fees of ₱600.
You get card protect features like free purchase protection insurance cover and free travel insurance cover. You also enjoy fraud transaction insurance cover for just ₱120 annually.
You have the option to pay your bills in pesos , even for international transactions.
You get free annual fees for life for all your PNB supplementary credit cards.
Cons
You pay a high cash advance fee of 5%.
You pay a monthly effective interest rate of 2%.
How to apply for a PNB Visa Gold®?
You can apply for a PNB Visa Gold® on your mobile device, online, or by visiting a PNB bank branch. To apply online, go to the PNB website, click on Apply for a credit card button, and select the PNB Visa Gold®. Click on Apply, fill in your details and submit the application for approval. If you are a new user, you will need to register as a new member before you can complete the application process.
This site is protected by reCAPTCHA and the GooglePrivacy Policy and Terms of Service apply.

Dear guest, please leave your feedback
Leave a review and get 20 FinCoins to your account!