PNB Visa Classic®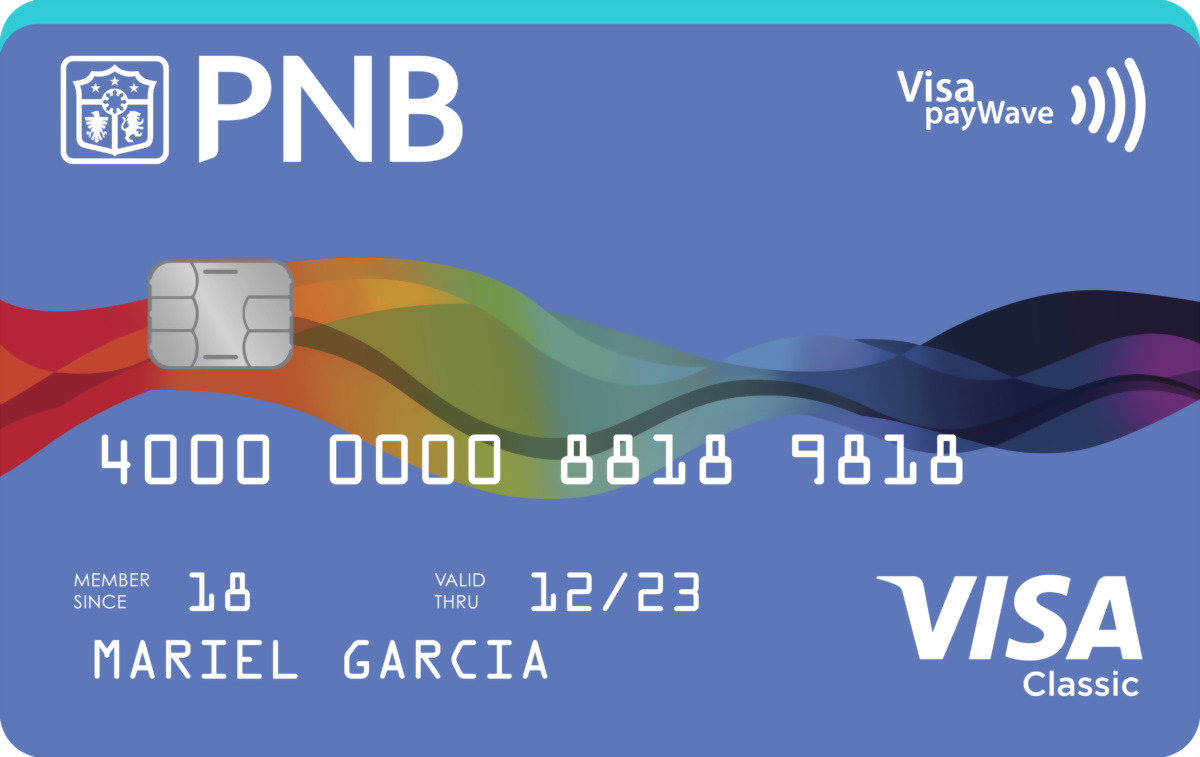 About credit card
The Philippine National Bank offers a Classic Visa credit card to help you pay for necessities, utility bills, and last-minute expenses. You enjoy a 1% rebate on revolved interest and a free annual fee for supplementary cards. Besides, the classic credit card has a card protection feature to keep your transactions secure and prevent unauthorized transactions, and it has a low minimum amount requirement for application.
Features
In addition to making payments for purchases, you can do more with the Visa Classic. Its features in summary are:
Balance transfer. If you have loans with other cards, you can transfer them to Visa Classic and repay them at low interest.
Convert your credit limit to cash and repay it in installments.
Enjoy low interest on purchases when you convert straight payments into installments.
Free insurance cover. The Visa classic includes free travel insurance, purchase protection, and fraud transition insurance.
Electronic statement of account and the digital app. You can check balances and monitor every payment you make through the digital app, in addition to getting a 30% cash advance on your credit limit through ATMs.
Pros and cons
Visa Classic has benefits such as a 1% rebate on the transaction amount and a low annual fee. Knowing its pros and cons can help determine if it meets your financial goals.
Pros
You can access cash advances on your PNB mobile banking app or visit the bank.
Your credit card statement is sent to your email monthly to help track your account activity.
You enjoy payments in pesos, even internationally, which helps you save on currency conversion rates.
You enjoy a low minimum amount for each installment and late payment fees.
You enjoy secure contactless payments with a one-time pin sent to your mobile number.
Cons
No rewards point to credit cardholders on purchases.
Low credit card loan limits and cash advance.
Many requirements for foreign citizens.
How to apply for a PNB Visa Classic credit card?
Before applying for a Visa Classic credit card, you must meet the bank's requirements. The applicants' requirements differ for employed, self-employed, and foreign citizens.
An employed Filipino citizen must have proof of identity, income, and residence. The commonly used identity documents are photo-bearing IDs issued by the government, such as SSS or driver's licenses. You can also use your national ID. Any utility bill can prove your residence, while a payslip or letter of appointment confirms your income amount.
A self-employed depositor needs a photo-bearing ID issued by the government and an audited statement of account for proof of income. In addition, you must have a utility bill document, such as a water or electricity bill.
Foreign citizens must produce a copy of their passport, national ID, or social security number. In addition, they need proof of billing such as telephone or electricity bills.
In addition to the above documents, the applicant's age should be 21-65, with a minimum annual income of ₱120,000.
To apply, visit your nearest Philippines national bank branch and request a PNB visa credit card application form. Fill out the form and attach your document copies plus contact details before submitting it. Note that the bank will only accept your application if you meet the criteria and avail of all required documents.
You can apply online through the mobile app or the bank's website if there is no Philippine national bank branch near your location. Click on Apply for a credit card button on the main page of the PNB website and select PNB Visa Classic. Tap on Apply now and fill out all the details in the online application form. Attach scanned copies of the required documents and submit them.
You will receive a confirmation mail or text on your phone acknowledging receipt of your application. Wait for the bank to process your PNB Visa card and collect it when ready.
This site is protected by reCAPTCHA and the GooglePrivacy Policy and Terms of Service apply.

Dear guest, please leave your feedback
Leave a review and get 20 FinCoins to your account!