The Hello Pag-IBIG app is a companion app for your AUB-powered Pag-IBIG Loyalty Card Plus with an easy-to-use interface. It gives you access to more digital banking options for your account. You must have a Pag-IBIG Loyalty Card Plus powered by AUB and access to a mobile number to register for the Hello Pag-IBIG app. To be eligible for a Pag-IBIG Loyalty Card Plus, you must be a registered member who has contributed at least once in the last six months. To activate the card, you must also supply a valid government ID, fill out the form, and pay ₱125.
The Hello Pag-IBIG app is available for Android and iPhone.
Hello Pag-IBIG on Google Play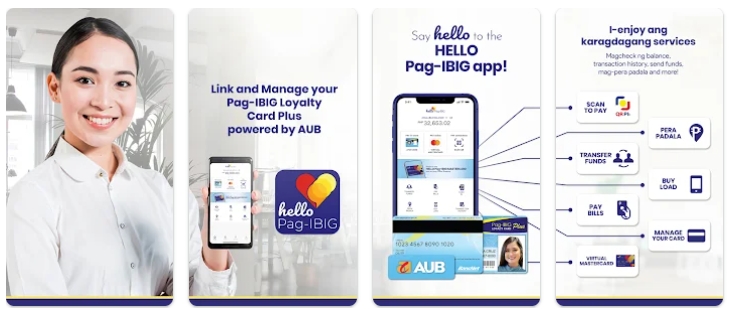 The Hello Pag-IBIG Android app assists you in managing your funds. Open the Play Store on your smartphone to download the Pag-IBIG mobile app. Then, look for the Hello Pag-IBIG app and tap to open it. Finally, click Install.
Hello Pag-IBIG on App Store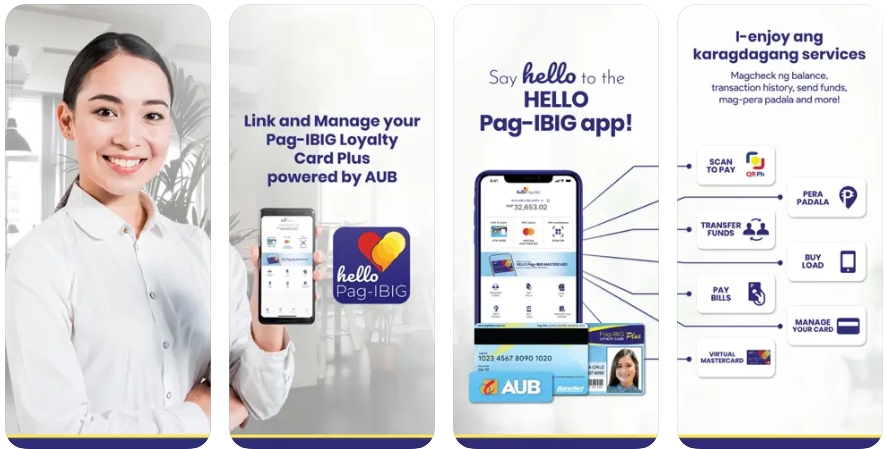 Get the iPhone Pag-IBIG mobile app from the AppStore. Search for the Hello Pag-IBIG button icon and click it. Select Install App, then Download App.
How to sign up for the Hello Pag-IBIG app?
To register an account via the mobile app, follow these steps for Android or iPhone users.
Click the Pag-IBIG app icon on your phone.
Click Next.
Take a front picture of your Loyalty Card Plus.
Take a selfie.
Complete the necessary fields.
Verify mobile number.
Tap to input your signature.
Before checking the box, read and comprehend the terms and conditions.
Select Submit.
You will get a confirmation message if your enrollment was successful at your registered email address.
Features of the Hello Pag-IBIG app
The app allows you to perform Pera Padala. By clicking on Pera Padala, you can send money to a recipient by clicking on Create Request. Then enter the amount, and choose the pick-up location. Enter the beneficiary's information as well as your password. Confirm the transaction and click Done.
Then, through InstaPay, you can transfer money from one of your accounts to a beneficiary's or another account. You can also purchase load. Click Buy Load, and input the recipient's mobile number. Enter the load product name and press the Proceed button. Check the transaction information and then click Confirm. Lastly, enter your password and press the Submit button. Additionally, you can pay bills, manage your card, and scan receipts.
Furthermore, you can access your virtual MasterCard. A virtual debit card with a balance equal to your Hello Pag-IBIG prepaid account connected to your Hello Pag-IBIG account is called the Hello Pag-IBIG Mastercard. The Hello Pag-IBIG Mastercard can be used at any local and international e-commerce site and online apps accepting Mastercard payments. However, it doesn't accrue any reward points or air miles. The annual charge for the virtual MasterCard is ₱100 and will be withdrawn from your Hello Pag-IBIG balance when the card is first activated.
How to pay bills via the Hello Pag-IBIG app?
Access your Hello Pag-IBIG account.
Select the Pay Bills option.
Choose Pag-IBIG Fund from the list of billers and provide the required information.
Enter the Payment Method.
Choose the type of bill.
Enter the Pag-IBIG number.
Enter the required information.
After you're done, click Continue.
You'll be taken to the confirmation page. After reviewing, press the Confirm button.
AUB will provide a system-generated transaction receipt as evidence of a completed transaction.