Metrobank Toyota Card®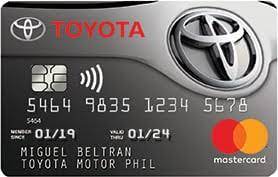 About credit card
The Toyota Mastercard is one of the Philippines' first comprehensive motorist cards. It provides a 3% gasoline rebate at selected Petron stations, a 10% discount on authentic Toyota parts, accessories, labour, and double rewards points at a chosen Toyota dealer.
Features of the Toyota card
Some of the features that come with this card are listed below:
Contactless cards. The contactless credit card enables safe and speedier paperless payments everywhere by tapping the contactless symbol on any contactless-enabled card terminal. Users can experience faster transaction speeds without having to sign for everyday transactions for ₱2,000 or less.
Discounts at Toyota dealers. All Toyota dealers provide a 10% discount on authentic accessories, parts, and labour. There are certain restrictions, though.
0% installment. The 0% installment option is available from a variety of merchant locations. Use the installment option to pay for large-ticket products such as appliances, electronics, tuition, healthcare bills, travel cost, and lodging over 3, 6, 9, 12, 18, and 24 monthly installment terms.
Rewards programs. You will receive one point for every ₱20.00 spent with your Toyota Mastercard. Redeem your points for premium merchandise or flight miles with Philippine Airlines, Cathay Pacific Airlines, or Singapore Airlines.
Pros and cons
Check out some honest pros and cons of this card before applying.
Pros
The card's interest rate charge is average.
The card comes with rebates, rewards, and discounts.
Cons
The card comes with charges, like the over-limit or card replacement charge.
There is always a risk of overspending when it comes to credit cards, and then, in this case, it also comes with points rewards per transaction.
How to apply for the

Metrobank Toyota Card®

?
Below are the steps to apply for a Toyota card:
Visit the Metrobank website.
Click on Menu and then Cards.
Look for the Toyota Mastercard and then click on View card details under it.
Go down and click on either Apply for a principal card or Apply for a supplementary card, depending on what you want.
For supplementary card applicants, go through all the eligibility test steps to make sure you are eligible for a card. You will be given a link to download the card application form if you meet all the requirements.
Download and fill out this form entirely and then send it via email to credit_supplementary@metrobankcard.com.
New card applicants should go through all the eligibility tests, and a new window will open if they meet them.
Input your correct contact, personal, and other details, and go through them thoroughly to make sure they are correct.
Click on Submit.
This site is protected by reCAPTCHA and the GooglePrivacy Policy and Terms of Service apply.

Dear guest, please leave your feedback
Leave a review and get 20 FinCoins to your account!