Metrobank World Card®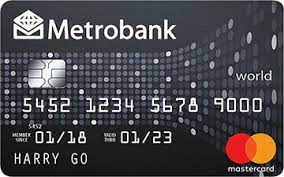 About credit card
According to the bank, the Metrobank World Mastercard allows you to travel where few other cards can. The card introduces you to unparalleled opulence and grandeur. It provides a practically limitless credit limit, giving you the benefit of more spending power whenever you need it.
Features of the
Metrobank World Card®
The card has some useful features. Some are listed below:
Airport experience. Get fast access. Discounts are offered at over 1,000 airports and 500 lounge access across the world, and hundreds of eating, leisure, and retail options.
Free first two supplementary cards. The yearly charge for your first two allocated supplemental cards is eternally eliminated, which allows you to share all Metrobank World Mastercard credit card benefits freely.
E-commerce protection. With E-commerce protection, you can get automatic international insurance for online transactions. Get protection for losses such as inaccurate or incomplete delivery, delivery defect or damage, and non-delivery of online product purchases.
0% installment. Take advantage of the 0% installment option from various merchant businesses. Use the installment option to pay for large-ticket products such as appliances, electronics, tuition, healthcare bills, travel costs, and lodging over 3, 6, 9, 12, 18, and 24 monthly installments.
Pros and cons of the
Metrobank World Card®
Before applying for any product, weighing the benefits and drawbacks is always a good idea. The following are some genuine pros and cons of this card.
Pros
This card has the 0% installment plan.
The card also offers free travel insurance.
Cons
The card comes with high-income requirements.
The card also comes with a very high annual fee of ₱6,000.
How to apply for the
Metrobank World Card®?
Below are the steps to apply for a World card:
Visit the Metrobank website.
Click on Menu and then Cards.
Look for the Metrobank World Card® and then click on View card details under it,
Go down and click on either Apply for a principal card or Apply for a supplementary card, depending on what you want.
Supplementary card applicants should go through all the eligibility test steps to make sure they are eligible for a card. You will be given a link to download the card application form if you meet all the requirements.
Download and fill out this form entirely, and then send it via email to credit_supplementary@metrobankcard.com.
New card applicants should go through all the eligibility tests, and a new window will open if they meet them.
Input your correct contact, personal, and other details, and go through them thoroughly to make sure they are correct.
Click on Submit.
This site is protected by reCAPTCHA and the GooglePrivacy Policy and Terms of Service apply.

Dear guest, please leave your feedback
Leave a review and get 20 FinCoins to your account!