Metrobank Rewards Plus Card®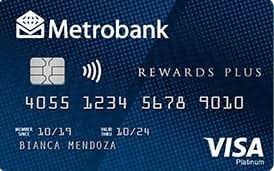 Metrobank Rewards Plus Card®
About credit card
Metrobank Rewards Plus Card® provides one of the most gratifying experiences you can have with a credit card. The card offers two times rewards on gadgets and electronics, telecom and transit, and Internet purchases.
Features of the
Metrobank Rewards Plus Card®
Below are some of the features of this card:
Rewards program. Earn double points on gadgets and electronics, telecommunications and transportation, and Internet purchases. In addition, gain 1 point for every ₱20.00 spent with your Metrobank Reward Plus Visa credit card. Redeem your points for premium merchandise or flight miles with Philippine Airlines, Cathay Pacific Airlines, or Singapore Airlines.
Chip card. Your Metrobank credit card contains an integrated chip that can protect you from credit card theft caused by cloning, which occurs when your personal and account information is duplicated and transferred to a counterfeit card.
Contactless card. With a single touch on any contactless-enabled card processor with the contactless symbol, your contactless credit card allows safe and quicker paperless payments everywhere. You may enjoy faster transaction speeds without having to sign for everyday transactions for ₱2,000 or less.
Pros and cons
Before applying, check the perks and drawbacks of this card.
Pros
This card comes with a protection chip, which protects the card from being clowned.
The card offers reward points per spending.
The card application is online-based.
Cons
The bank will investigate your history before you can be approved.
There is a risk of overspending.
How to apply for the
Metrobank Rewards Plus Card®?
Below are the steps to apply for a reward plus card:
Visit the Metrobank website.
Click on Menu and then Cards.
Look for the Metrobank Reward Plus Visa and then click on View card details under it,
Go down and click on either Apply for a principal card or Apply for a supplementary card, depending on what you want.
Supplementary card applicants should go through all the eligibility test steps to make sure they are eligible for a card. You will be given a link to download the card application form if you meet all the requirements.
Download and fill out this form entirely, and then send it via email to credit_supplementary@metrobankcard.com.
New card applicants should go through all the eligibility tests, and a new window will open if they meet them.
Input your correct contact, personal, and other details, and go through them thoroughly to make sure they are correct.
Click on Submit.
This site is protected by reCAPTCHA and the GooglePrivacy Policy and Terms of Service apply.

Dear guest, please leave your feedback
Leave a review and get 20 FinCoins to your account!