LANDBANK Travel Card®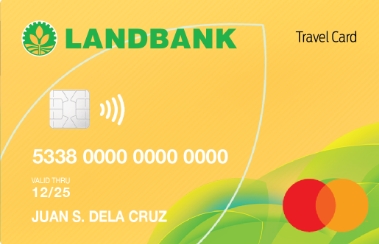 About credit card
The LANDBANK Travel Card is not linked to any deposit account. It is a prepaid card with multiple currencies and wallets that allows you to access funds for travel whenever you want. You must first load it with cash at any Landbank branch. The LANDBANK Travel Card can then be used at ATMs, points of sale, and online at international merchants where Mastercard is accepted. You can also use the prepaid card to obtain credit for up to $10,000 per month.
Features
The LANDBANK Travel Card is valid for five years from the date of application, which makes it easier to use for a long period without having to replace it frequently. The prepaid card is also EMV-compliant. By making it more difficult for criminals to use stolen or cloned credit cards, the EMV microchip protects you and your data. The Travel Card also employs 3D Secure technology, which protects your data from being stolen by hackers when you make online or app purchases. In addition, 3D Secure safeguards your credit card information by requiring a pin or password to complete a transaction. Furthermore, the LANDBANK Travel Card can make contactless payments at any eligible Mastercard merchant.
Pros and cons
Here are some of the benefits and drawbacks of the LANDBANK Travel Card that you should consider before applying for the prepaid card.
Pros
The LANDBANK Travel Card can help you save money on your travel expenses.
The card is useful when traveling abroad because it accepts USD, EUR, JPY, CNY, GBP, CAD, AUD, HKD, SGD, SAR, AED, KRW, and THB.
Cons
You are charged ₱150 for the application, renewal, or replacement fee.
You will be charged a ₱75 transaction fee when you load the LANDBANK Travel Card,
How to apply for a LANDBANK Travel Card?
To apply for a LANDBANK Travel Card, go to any branch near you and inquire about the requirements. Alternatively, contact the customer service department at (+632) 8-405-7000, PLDT domestic toll-free at 1-800-10-405-700, or customercare@mail.landbank.com. Prepare the necessary documents and make sure you have enough money to cover the ₱150 application fee, ₱75 loading fee, and $10 minimum deposit. Then go to a Landbank branch and request a Travel Card application form. Fill out the application form correctly, attach the required documents, pay the fees, and hand it over to customer service. You will be notified when you can pick up the card.
Amount
i
Available amount by the financial product
This site is protected by reCAPTCHA and the GooglePrivacy Policy and Terms of Service apply.

Dear guest, please leave your feedback
Leave a review and get 20 FinCoins to your account!