LANDBANK Gift Card®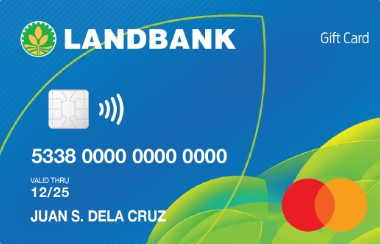 About credit card
Giving someone a gift card is preferable if you do not wish to send them money or a personal check. With a LANDBANK Gift Card, you give the recipient the option to buy whatever they want as long as it is less than or equal to the amount you have loaded onto the card. Moreover, your gift card recipient is not required to use all the funds in the gift cards at once but can do so until the pesos are depleted.
Features
Because gift cards are not deposit accounts, there is no limit to the number of cards purchased per person. However, you can only use the LANDBANK Gift Card in pesos. It is also non-reloadable, which means you can only load it once.
Furthermore, the LANDBANK Gift Card is EMV-enabled and protected by 3DSecure. You can protect your gift card recipient from fraud and identity theft by using an EMV-enabled and 3DSecure gift card. Personal information is protected from being copied or stolen by skimming, thanks to the EMV chip on the back of your gift card. The 3DSecure chip, on the other hand, ensures that anyone using the card to make a purchase must enter their PIN code before completing the transaction.
Pros and cons of LANDBANK Gift Card
Your gift card recipient can use it at contactless points of sale, but only for P2,000. There are other advantages and disadvantages to consider before purchasing a gift card to give to someone. These includes:
Pros
The LANDBANK Gift Card can be used at any point of sale and for online purchases where Mastercard is accepted.
The gift card can be loaded up to ₱100,000, with a minimum load of ₱100.
Cons
You will be charged ₱150 when applying for, renewing, or replacing the gift card.
You will be charged ₱25 if you apply for the gift card and it remains inactive.
How to apply for LANDBANK Gift Card?
To apply for a gift card, go to a Landbank branch and then follow these steps:
Schedule a meeting with a customer service representative.
Confirm the requirements you must meet to be eligible for the gift card.
Fill out an application form with your name, address, phone number, and email address.
Bring all required documents, including valid proof of identification, such as your passport or driver's license.
Submit your application form to the customer service representative and all required documents.&
Wait for confirmation that your gift card application was approved and when you will be able to pick it up.
This site is protected by reCAPTCHA and the GooglePrivacy Policy and Terms of Service apply.

Dear guest, please leave your feedback
Leave a review and get 20 FinCoins to your account!