LANDBANK Agent Banking Card®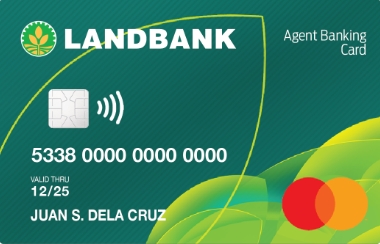 LANDBANK Agent Banking Card®
About credit card
Landbank promotes inclusive growth through agent banking (AB), a branchless financial service, by offering innovative financial products and services made possible by digital banking platforms. Landbank then leverages retail channels, including private entities, to advance greater financial inclusion. The bank can achieve financial inclusion by collaborating with qualifying groups to supply selected banking services to unbanked and underserved communities.
Features
Landbank uses direct agents and agent aggregators to ensure their services are available to more people in underserved and unbanked communities. Direct agents carry out the duties of an agent as outlined in the BSP circular and are affiliated with Landbank. The cash agents contracted by Landbank include cooperatives, financial or non-financial major companies, and micro, small, and medium enterprises (MSMEs). On the other hand, agent aggregators are registered companies that carry out the overall functions of the Landbank agent banking partners while operationalizing AB services using the bank's current payment processing tools.
An Agent Banking Partners (ABP's) duties include:
Receive and distribute cash

Enable online self-service fund transfers, withdrawals, and deposits

Make bills payment services

Withdraw cash grants and the government's conditional cash transfer (CCT) and unconditional cash transfer (UCT)

Complete Know-Your-Customer (KYC) procedures, collecting and submitting loan and account opening application materials

Provide point-of-sale (POS) cash-out only

Provide complementary services like card opening, cash-in, cash-out, fund transfer from one ABC or any peso-denominated LANDBANK and Mastercard prepaid card to another
The Agent Banking Card is also available wherever the Mastercard logo appears. Agents can use the card to make online purchases, withdraw cash from ATMs, and pay worldwide at any point-of-sale (POS) terminal. You can also use the card as an agent to make secure transactions because it has an EMV chip. The EMV chip-enabled card stores information such as your PIN or password. The chip eliminates the need to remember your PIN and allows the Land bank of the Philippines to authorize your transactions quickly. Furthermore, the Agent banking card can make contactless payments at any approved Mastercard merchant. When it's time to reload the card, go to any Landbank or ABP location.
Pros and cons of Agent Banking Partners
The Landbank agent banking program enables it to bring the remote and underserved areas around the Philippines into the financial mainstream. However, as much as agency banking has advantages, it also has disadvantages that you should be aware of. These include:
Pros
Your customers will benefit from potentially lower travel expenses, enjoy lower transaction costs, and access to advanced financial services than they get from rural banks.

You will assist the Landbank to foster greater financial inclusion.
Cons
You can only operate as one of the Landbank agent banking partners in pesos.

You can only have a maximum amount of ₱50,000 at any given moment and a daily withdrawal restriction of ₱30,000.
How to apply for an Agent Banking Card
After assessing the advantages and disadvantages and settling on the Agent Banking Card, you must ensure that you have the appropriate documentation. Documentation may include audited financial statements for at least three years, SEC registration, , or a business permit. Then, go to any Landbank branch near you and ask for a loan application form from customer service. Fill in the blanks with valid and up-to-date information, and attach the appropriate documents. Hand over the application forms to the customer service or banking representative. Landbank will then evaluate the documents, confirming the accuracy of the information you submitted. You will then be notified whether your Agent Banking application was rejected or approved.
Amount
i
Available amount by the financial product
This site is protected by reCAPTCHA and the GooglePrivacy Policy and Terms of Service apply.

Dear guest, please leave your feedback
Leave a review and get 20 FinCoins to your account!