HSBC Platinum Visa Rebate Credit Card®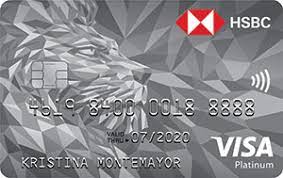 HSBC Platinum Visa Rebate Credit Card®
About credit card
HSBC Platinum Visa Rebate credit card is a good option for people who travel and shop often. The credit card offers a 5% rebate on online shopping and travel spending, 1% on insurance, and 0.5% on other expenditures.
Features
Online banking. HSBC Platinum Visa Rebate credit card allows you to carry out all your banking transactions on the go. You can pay bills and make orders anywhere you are.
Contactless credit card. With this card, swiping is unnecessary. You can use the card with contactless credit card payment terminals.
Auto charge. This feature allows you to pay your bills automatically. It can save customers a lot of time.
Card advance. The card can also be an ATM card for withdrawing cash in the Philippines and other countries.
Fuel savings. Enjoy a 6% rebate on your first Caltex transaction and a 3% rebate on Caltex fuel purchases.
Pros and cons
Below are some ups and drawbacks of the card:
Pros
It is a good option for travel and shopping enthusiasts.
It can save customers a lot of money in energy costs.
The card users have several options for earning rewards.
Con
The income requirement is relatively high.
The service fees are higher than those of the Gold cashback credit cards.
How to apply a credit card?
To apply for this card, you can do the following any of the below methods:
Visit HSBC's official website.
Scroll down and click on Credit cards.
Scroll down, and you'll see a picture of the card labelled HSBC Platinum Visa Rebate credit card.
Click on Apply for credit card.
Fill out the form and follow the directives on the screen to complete your application process.
Call the HSBC customer care hotline at (02)8858-0000 or (02)7976-8000. Alternatively, you can call the domestic toll-free number at +1-800-1-888-8555.
Visit any HSBC branch and fill out a credit card application form.
Eligibility
Applicants must be between the age of 21 and 65 years old.
They must have an annual income of ₱500,000.
Must have owned an existing locally-issued primary credit card for at least 12 months.
Documentary requirements
Proof of identity. You will require one of the following:
Passport
Driver's license
SSS/TIN ID
NBI clearance or voter's ID
All ID proofs must still be valid on the day of the presentation and under the applicant's name.
Proof of residence. These must also be under the applicant's name.
Valid ID containing the applicant's address
Utility bills within the last three months with the stated permanent and primary address
This site is protected by reCAPTCHA and the GooglePrivacy Policy and Terms of Service apply.

Dear guest, please leave your feedback
Leave a review and get 20 FinCoins to your account!