HSBC Gold Visa Cash Back Credit Card®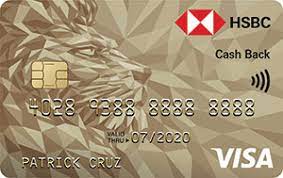 HSBC Gold Visa Cash Back Credit Card®
About credit card
HSBC Gold Visa Cashback credit card is a good choice for students and people who love having a good time away from home. It offers a 5% cashback on dining transactions and 1% on department store transactions. Caltex fuel purchases earn a 3% rebate. Other transactions will get 0.5% cashback.
Features
As an HSBC gold Visa cashback credit card holder, you have access to these features:
Online banking. They provide online access for payment of bills, utilities, flight tickets, and also placing orders. You can also monitor your finances from anywhere and at any time.
Exclusive travel privileges. You get outstanding travel expenses deals with over 27,000 establishments in 160 countries and territories worldwide.
Pros and cons
Below are some ups and drawbacks of the card:
Pros
It can serve as an ATM card in case you need cash.
Its annual maintenance fees are low.
Cons
It has lower opportunities for rewards than some other credit cards.
Its users prefer the 5% cashback on household shopping or utility bills.
How to apply for a HSBC Gold Visa Cashback credit card?
Are you interested in an HSBC Gold Visa cashback credit card? You can apply through the methods given below:
Visit the HSBC website.
Go down a bit and click on Credit cards.
Go down again and click on HSBC GOLD Visa Cashback.
Click on Apply now.
On the next page, click on Check eligibility and apply. Go through the criteria, make sure you qualify and click on Apply now.
Fill up your personal information and click on Continue when done.
Follow the on-screen directives to complete your card application.
Call the HSBC customer care hotline at (02)8858-0000 or (02)7976-8000. Alternatively, you can call the domestic toll-free number at +1-800-1-888-8555. Visit any HSBC branch and fill out a credit card application form.
Before you apply, please, make sure you meet the following requirements:
Eligibility requirements
Must be aged 21 to 65 years.
Must have a minimum annual income of ₱200,000.
Must have owned an existing locally-issued primary credit card for at least 12 months.
Documentary requirements
Proof of identity
You will require one of the following:
Passport
Driver's license
SSS/TIN ID
NBI clearance or voter's ID
Proof of residence
These must also be under the applicant's name.
Valid ID containing the applicant's address
Utility bills within the last three months with the stated permanent and primary address
This site is protected by reCAPTCHA and the GooglePrivacy Policy and Terms of Service apply.

Dear guest, please leave your feedback
Leave a review and get 20 FinCoins to your account!