The My Home Credit app is used by thousands of people across Philippines. It helps Filipinos by offering access to financial services through ethical lending, affordable loans, and customizable instalment plans. All of this comes with no credit card or security request. The application also allows you to purchase on the Home Credit marketplace and get offers and discounts through the Home Credit Smile discounts scheme. You can now reload your account and make payments from your home.
How to download My Home Credit app?
For the time being, the app is exclusively accessible to Android users. To get the app for the Android operating system, follow the instructions below:
Visit the Home Credit website.

Highlight your mouse through About us and click on My Home Credit App.

Click on the Google Play link. This will lead you to the Google Play Store page of the app. Tap on Install to install the app on your smartphone.
My Home Credit on Google Play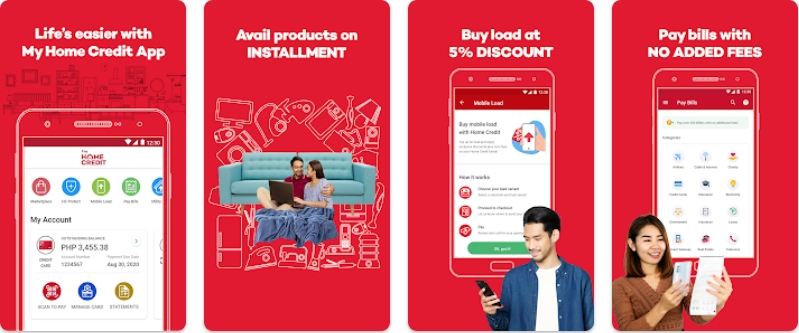 How to register an account with the My Home Credit app?
To access all of the advantages of being a Home Credit customer, you can create a user account with the app by following the instructions below:
Open the My Home Credit app that you downloaded earlier.

Tap on Register.

Inform them about yourself, i.e. fill in your personal information. They want to get to know you better and make sure you're the person you're enrolling for. It is even possible to utilize your Facebook account, which makes things easier. Tap on Next when you are done.

Enter your cell phone number. They will send relevant messages to the phone you supply, but they will not transmit SPAM and will only convey offers that you will be interested in receiving. Tap on Next when you are done.

You will be requested to snap a live selfie shot for verification reasons. To be successful, you must smile at the camera. Home Credit uses the newest technology to make proving your identification straightforward, smooth, and hassle-free; all you have to provide is your face. When you're finished with the verification stage, tap Next.

You will now be prompted to enter a PIN. They believe that convenience is the most critical factor here. A one-time PIN setup protects your Home Credit account and makes logging in more accessible for you. There is no need to remember your login and password. When you're finished, tap on Submit.

Navigate to your email address and click the link to verify your account.
Features
The Home Credit app is one of the simplest methods for gaining control of your debts and money. Some of the features are:
Loan applications and anything else loan-related.

Loan payment. According to them, they will notify you three days before your repayment date to prevent paying further penalties.

Payment progress. With readily available loan data and schedule, they'll assist you in tracking how close you are to loan fulfilment.

Customer support. If you're experiencing trouble with your debts, they'll keep their lines open to listening to your problems.

Home Credit cards.

Simple credit card activation. You can use the mobile app to enrol for a new Home Credit card. Regardless of where you are.

Tracking of your transactions. Take control of your spending habits by reviewing your credit card transactions.

Deciding how secure you want it to be. Set your credit card password to protect your transactions. If you misplace your card, use the app to block it, and then unblock it if you locate it again.

Making payments and transfers easier, quicker, and more secure.