Hyundai Mastercard®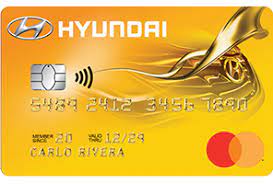 Hyundai Mastercard®
A Hyundai Mastercard® allows you to earn up to 5% rebate for all retail purchases. A Hyundai Mastercard®'s cardholder can earn a 5% rebate on fuel purchases at any preferred gasoline station nationwide and up to 0.5% rebate on other retail purchases at any merchant globally. Cardholders also get a 10% discount when they visit any Hyundai dealer for preventive maintenance services. In addition, Hyundai Mastercard® holders can access a cash advance equivalent to 50% of their credit limit and apply for up to nine supplementary cards for family members.
Features
Cash advance. You can access cash advance using Hyundai Mastercard from any ATM amounting to 50% of your credit limit.
Universal acceptance. Hyundai Mastercard is accepted worldwide by over 30 million businesses.
Rebates and discounts. For all instore and online purchases, you receive a 5% rebate. Whenever you visit a Hyundai dealer for preventive and maintenance services, you are given a 10% discount.
Supplementary cards. You can request for supplementary cards for your family and set a monthly limit to each card.
Pros and cons
Knowing the benefits of a credit card and its drawbacks can help you gauge whether it meets your financial needs. Some advantages and disadvantages of Hyundai Mastercard are as follows:
Pros
You earn rebates on all purchases including groceries, gas, drugs and fuel.
You get up to a 10% discount in all Hyundai centers when you purchase fuel and hire PMS.
Your card is accepted in over 30 million businesses worldwide.
You get cash advance from selected ATMs to meet urgent financial needs without visiting the bank.
Cons
The bank charges an annual membership fee for the principal and supplementary cards and a ₱1500 for late payment.
The bank gives a 10% discount only at Hyundai dealers.
How to apply for Hyundai Mastercard®?
You can apply for a Hyundai Mastercard® by visiting any EastWest bank branch. Once you are at the bank, head over to the customer service desk and request for a credit card application form. Fill out the required details accurately and submit the application to the bank after attaching all requirements such as your government-issued ID, proof of income such as payslip, or BIR and proof of residence. Once approved, your application will be processed within one week.
This site is protected by reCAPTCHA and the GooglePrivacy Policy and Terms of Service apply.

Dear guest, please leave your feedback
Leave a review and get 20 FinCoins to your account!