EastWest Visa Platinum®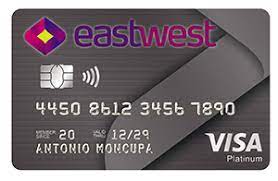 About credit card
The EastWest Visa Platinum® allows you to earn a cash reward whenever you make a purchase using the credit card. You can use your card for dining, golf, travel, and shopping and you enjoy premium perks in luxurious getaways. The card is accepted globally and comes with an insurance cover of up to ₱20 million against travel accidents and discomfort.
Features
The features of the EastWest Visa Platinum® credit card include the following:
Cash rewards program for all purchases you make using the Visa Platinum credit card anywhere.
Premium perks and privileges, including culinary adventures and rejuvenating wellness pursuits in partner businesses.
A free comprehensive travel insurance against accidents and discomfort when you pay for airline tickets using this card. The maximum insurance cover is ₱20,000,000.
Up to nine supplementary cards for your family members. You can assign a monthly sub-limit for each card to control your finances.
Global acceptance enables you to use the card in over 46 million establishments in 200 countries.
A high cash advance limit of 70% of your credit limit.
Pros and cons
Before you apply for a credit card, you should consider your financial needs and goals and determine whether the card meets them by checking out their pros and cons. Here is a summary of the benefits and drawbacks of the EastWest Visa Platinum credit card.
Pros
You have the freedom to choose your rewards from reward points.
You get a high cash advance limit.
You can enjoy premium perks and privileges when you shop at partner establishments.
You get supplementary cards for your loved ones at a friendly annual membership fee.
Cons
Many requirements for eligibility, including a ₱480,000 minimum annual income.
High over-limit charge and interest rate on loans.
How to apply for EastWest Visa Platinum Credit Card?
You can apply for the Visa Platinum credit card at your nearest EastWest branch. If you visit your nearest branch, check the eligibility criteria and ensure you meet all the requirements. Your customer service provider can help you fill out all the required details and attach the necessary documents.
A photocopy of a government-issued ID bearing your photo such as national ID, driving license, or passport
Three latest payslips or appointment letter to your current job if you are employed or
A statement of an audit or BIR 1701 if you are self-employed.
When the bank receives your application, they will approve it if you meet all requirements and process your card within 15 working days.
This site is protected by reCAPTCHA and the GooglePrivacy Policy and Terms of Service apply.

Dear guest, please leave your feedback
Leave a review and get 20 FinCoins to your account!