EastWest Priority Visa Infinite®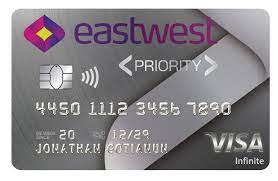 EastWest Priority Visa Infinite®
About credit card
EastWest priority Visa Infinite credit card helps account holders to pay for goods and services globally. You can make local and international payments in over 46 million businesses worldwide and pay in different currencies. A low currency conversion fee of 1.7% of the total cost applies to international payments.
Features
The main features of priority Visa Mastercard Include:
Free lifetime membership for principal and supplementary cardholders. The annual fee has been waived perpetually, allowing you to enjoy free membership with your family.
Airport lounge access. Whenever you buy air tickets using this card, you access lounges in airports and enjoy the comfort as you await your flight.
Low currency conversion fee when you purchase goods or pay for services outside the Philippines.
Global acceptance in over 200 countries.
A high cash advance limit of up to 70% of your credit limit accessible from ATMs.
Up to 9 supplementary cards for your loved ones with a lifetime free membership.
Pros and cons
Analyzing the advantages and disadvantages of EastWest Priority Visa Mastercard can help determine whether it suits your desired lifestyle. Here is a summary of the pros and cons.
Pros
You enjoy a free lifetime membership with no annual fee.
You enjoy a low currency conversion rate when you purchase products in other currencies.
You enjoy promotions regularly listed on the EastWest website.
You get a low over credit limit charge of ₱500.
You enjoy a monthly 1.9% interest rate on loans than other cards.
Cons
Some services are charged a high processing fee, for example, a 5% charge on the total cost when you pay for gaming and gambling.
High minimum annual income requirement for applicants.
How to apply for EastWest Priority Visa Infinite?
You can apply for your EastWest Priority Visa Infinite on the bank's website or visit your nearest branch and fill out an application form. To apply online:
Click the menu bar on the EastWest homepage and select products and services followed by cards.
Click on credit cards and select EastWest Priority Visa Infinite.
Select Apply Now and fill out the registration form
Attached the scanned required documents and submit for approval
You credit card will be processed within 10 to 15 days if you meet the requirements.
You can also avail your application by filling out the application form in your nearest branch. Ensure you attach photocopies of the required documents before submitting it to the customer care.
This site is protected by reCAPTCHA and the GooglePrivacy Policy and Terms of Service apply.

Dear guest, please leave your feedback
Leave a review and get 20 FinCoins to your account!