EastWest Platinum Mastercard®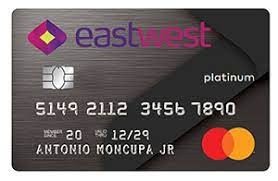 EastWest Platinum Mastercard®
About credit card
EastWest bank provides you with a Platinum Mastercard® for all your payments instore and online. You enjoy a lifetime of waivered annual membership fee when you acquire this credit card and can request for supplementary cards for your dependents free of annual fee.
Features
EastWest Platinum Mastercard offers you a free lifetime membership for your principal and supplementary cards. It is accepted globally and you can purchase goods in different currencies at a low conversion rate of 1%. If you pay for your airline ticket using this Mastercard, you access free insurance cover against accidents and discomfort up to ₱20 million. In addition, cardholders can access a cash advance equivalent to 70% of their credit limit from an ATM.
Pros and cons
Before you consider applying for the EastWest Platinum Mastercard®, you might need to check the benefits that the credit card will offer you and drawbacks of having the card. Comparing the advantages and disadvantages of the card can help you make a decision whether it will suit your needs or not. Here are some pros and cons of the credit card.
Pros
Free lifetime membership for principal and supplementary card holders.
High cash advance limit to help you during emergencies.
Few documentary requirements when applying.
Global acceptance with a low currency conversion rate.
Frequent promos and discounts on online deals listed at the bank's website regularly.
Cons
High minimum annual income of ₱4.8 million locks out low-income earners.
Many requirements on the eligibility criteria.
How to apply for EastWest Platinum Mastercard?
After checking out the pre-qualification requirements for EastWest Platinum Mastercard and ensuring you meet the requirements, you can get the required document and visit your nearest branch to apply.
Fill out the registration form and attach the required documents. A photo-bearing national ID issued by the government, driving license, or passport acts as proof of residence.
Three latest payslips or letter of appointment if you are employed and a statement of audit for self-employed applicants.
Once your application is approved, it will be processed within 10-15 days.
This site is protected by reCAPTCHA and the GooglePrivacy Policy and Terms of Service apply.

Dear guest, please leave your feedback
Leave a review and get 20 FinCoins to your account!